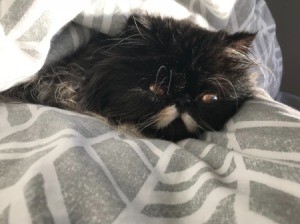 I was wondering if any one can offer advice on introducing and settling a new kitten with an existing one?
We have a 7 month old Persian boy named Pablo (black and white one) and we just bought a 3 month old Persian boy named Diego (red and white) as a companion for Pablo, as Pablo is very affectionate and bordering on needy/dependent and doesn't like being on his own. We spoke to the vet and the breeder and they suggested we could get a friend for him.
After bringing Diego home they have tolerated each other (I think because Pablo is so docile). However Pablo is now following him and tries to swat and pounce on Diego's tail (which he does not like and hisses at him). Diego is not scared and is happily wandering around and playing, using his litter, eating and napping in my arms.
We tried to keep Diego in a separate room last night with all his bits because they didn't seem comfortable with each other. We let Pablo have all of his usual space, but Diego cried the entire night (and very loudly). I tried to settle him about 2:15, but he continued to cry for hours until Pablo woke us at 5:30 (that's his usual wake up time for his breakfast). At this point I brought Diego out as well and they both gobbled up their food (on opposite sides of the room), but Diego finished first and kept trying to eat Pablo's as well.
I stayed up with them and tried to play with them both with a variety of toys. Diego was happily playing, with Pablo mainly just watching him. I kept Pablo's normal routine and gave him his normal morning brush and he relaxed and nodded off. However Diego was also moaning for attention and brushes. A while after Pablo began to start swatting Diego again and seemed agitated and was running and hiding. I felt like he needed a break so I've tried separating them for a while again, but Diego will not stop meowing if he is alone in the other room.
I don't know what to do. My husband and I feel like we can't leave the house (and literally have not slept) because we don't feel 100% comfortable leaving them together and I feel terrible leaving Diego closed in a room crying non stop and I don't want Pablo to be upset because he is such a lovely boy.
Any advice would be greatly appreciated!