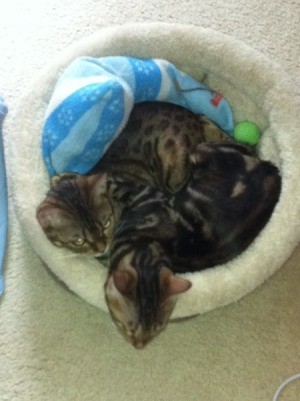 I am looking for help here because we have a unique cat. My wife and I got two Bengal cats from separate breeders, Misty was first and 6 months later came Kiwi. (The first image is of Kiwi and Misty together happily.) After 5 happy years for the four of us, Misty was tragically diagnosed with epilepsy. She was put down about a month ago and it was agonizing losing one of our best buddies.
It has been a month and we decided Kiwi needed a new friend, so we adopted from a shelter this time! We got Elsa from a shelter (the white kitten) and she is an absolutely amazing kitten. She wants to play with Kiwi right away, but we know to take it slow. Many people on here give good advice for cats, but Bengal cats can be very different. Kiwi is stubborn as hell and things only go well on her terms. We have a hard time cutting her nails as she never lets us hold her. She didn't have a problem with Misty so we thought she might be happy with a new buddy (Elsa).
It's been a week and we keep Elsa in a separate room with all the fixings, but it is clear she wants out of the room. It is almost impossible to get Kiwi into a room we want her in, has to be on her terms.
At times Kiwi will tolerate Elsa when we bring her out, we are very careful to monitor the situation, but Kiwi has never ever been violent, not even with bugs. It has been a very stressful week trying to get these two to get along, Elsa is cool with it, but Kiwi is stubborn!
We are trying all the tips we read, but we don't know how long this will take. I don't need them to be best buddies right away, but I do not want to keep Elsa in the room much longer. We tried cracking the door to her safe room and having them play together between it. Kiwi is okay watching Elsa from a distance of about a foot, but as soon as she gets in striking distance she hisses and growls and swats at poor Elsa.
How much longer will this last? We have tried feeding them together in eye sight, but Kiwi is very picky about her food bowl, if we move it too far she simply won't eat, that's how stubborn she is! She will give up and walk away if it's not her way. To this day Kiwi will not let us hold her. I just want to get to a point where Elsa can be released from the room for good. I know they will get along in time they are both loving in their own ways.
Please help us! We feel bad leaving Elsa in the safe room so much, we spend time with her, but still, will Kiwi ever accept her? How long does this take? How can I speed the process up while showing them both respect? How do I know if Kiwi will truly try to hurt Elsa or is it okay to let the swatting happen? Any advice would help!
Thanks!