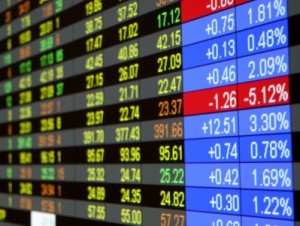 After wallowing through the quagmire of information about investing in the stock market, I finally learned that with the help of direct investments, the investment is not as difficult as it originally seemed. It's pretty easy to find a company that offers DRIP stock, but buying the stock seemed impossible until I visited my bank's website. I laughed at my naivety, and vowed to never overlook the obvious again. After that, purchasing the stock was extremely easy.
The Purchase
If you're comfortable paying your bills online, then buying stock will be rewarding to you. The bank only listed companies that offered the DRIP program. I looked at the companies that I had researched on the S&P 500, and reviewed their policies. While many required a large initial investment, they all allowed me to invest a portion each month, until I had paid the investment. For instance, Wells Fargo required $250 initial investment or $26 per month ($1 being a service fee) for ten months. Others were as low as $10 per month with no length of service.
While my bank offered me no other option, I chose the Common type of stock when purchasing. Be sure to read the entire prospectus offered by the company before buying stock. It will most likely be a separate link during your purchase, but unlike most rights agreements on websites, you'll actually want to read this one.
Pay Per Month
Still flowing through my first stock purchase, I made my way to my payment options. I entered the information for my bank account into the shareholder's purchase form and checked the box to have my investment withdrawn electronically from my bank each month. The other option is to submit a check.
My investment statements are delivered to me through e-mail to save paper, though I could have chosen paper statements. The best part is that I can log onto the shareholder account any time and see my investment's growth. Happily, just this afternoon I earned $0.57 on my half a share. Partial shares can be purchased, and until you have invested enough to purchase one entire share you receive partial dividends. It's not bad considering how much some shares cost.
The Tricky Part
It's not really tricky, but it was clearly the trickiest of the entire process. Choosing the reinvestment options of your stock takes some consideration, but it can be changed at any time. Your options include: full dividend investment, partial dividend reinvestment, or direct cash payment. The money your stock earns is your dividend.
If you choose the full dividend investment option, all of your earnings plus your future investments in the DRIP stock will be reinvested towards more stock purchases. With a strong market and continual investment, you could own several shares of stocks and build upon them as your investment grows. The partial dividend reinvestment option allows you to decide how much of your investment will go into future stocks and how much can be paid to you directly. The direct cash payment is just as it sounds; it pays your dividends to your bank account directly.
The Payout
That's it! Once you click the submit and confirm button, you are an official stock holder. In a few days you will receive a confirmation form in the mail that asks you to confirm your social security number for the investment. From there, you can happily follow your stocks on the ticker and watch your dividends grow.
Eventually I'll have to sell my stocks and reinvest. I suppose that means there's more learning and research on my horizon, but for now I'm confident in my basic investments. Knowledgeable investors need not worry.