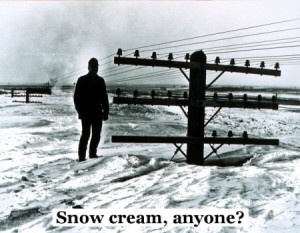 I just read La La La's recipe for snow cream. It brought back a lot of pleasant memories. Thanks, La! Now, why didn't I think of putting out a bowl to catch the snow when I was making snow cream in the middle of the last century? Everyone said 'You're so bright, I bet that's why your Mama calls you 'son''. I guess they were just pulling my leg.
La's recipe uses a tablespoon of vanilla for a gallon of snow. I've noticed other recipes on ThriftyFun that call for what I think is a large amount of vanilla. Pure vanilla extract is a very potent flavoring. Years ago when I baked, I would never add more than one quarter teaspoon to a two layer cake recipe lest the cake tasted strongly of vanilla. With nothing to offset the vanilla except milk, I wouldn't want more than a couple drops to a gallon of snow. Maybe my taste buds are extra sensitive to vanilla. Or maybe vanilla orchids ain't what they use to be. Go figure.
La's recipe has set me uh hankering for snow cream. If we have a nice snow this coming winter, I shall make some, but with a twist. Sometimes, due to the coldness of the snow, it's hard to get all the sugar granules dissolved without nearly melting the snow. First twist: I'm going to try confectioner's sugar, instead. Should be interesting as powdered sugar tastes very different than granulated. Second twist: I'm going to try half and half instead of milk. Again, should be interesting. We shall see. (End nostalgic preamble).
Now, for my question.
A reader replied to La's post, advising waiting for the second snowfall and to use the second snow as it would contain less 'contaminates' than the first. I was taught this, too, as was everyone I knew. But just how true is it?
I started thinking (I do that, sometimes). The second snow would be farther into winter, and more than likely, the temperatures would be colder. Colder temperatures mean we run our furnaces more. This requires more electricity.

To date, over two thirds of our electricity is generated by the burning of fossil fuels. This burning releases, among other contaminates, particulate matter into the air.
If it is colder at the time of the second snow, the coal fired generators should be running more, and more particulate matter would be contaminating the air. If all this holds true, and depending on where you live, a logical conclusion would be that the second snow is 'dirtier' than the first, not cleaner.
I looked for documentation of snow contaminate concentration amounts in the first and second seasonal snow for any locale, but found nothing.
When I was a child, it was believed that the first snow helped rid the atmosphere of cold and flu pathogens, and that once on the ground, it was laden with them. Second snow= less colds and flu? I seriously doubt that.
Could it be that this old wives tale about the second snow being cleaner than the first, have it backwards? Please respond. It you have documentation for either side, please share. If you'd like to add an opinion or just a thought (maybe a snow related memory), I'd love to hear it.
(photo pd NOAA)