Japanese Chin Breed Information and Photos
Photos
Share on ThriftyFunCheck out these photos. Click at right to share your own photo in this guide.
Panda was almost 15 and a Japanese Chin. I raised her parents. Sadly she passed away last Friday in my arms on my birthday.
Having Panda for almost 15 years. She was one of my greatest gifts of love. She was born on Valentines Day 1995. She loved riding in the car, Animal Planet and snuggling in the recliner. Her favorite treats were carrots and Cheerios.
Having lost Panda this Christmas season has made me quite sad living alone, but I'm looking to adopt after the New Year and love another fur baby for as long as I can.
Merry Christmas to all, Sandie.
By Keeper from NC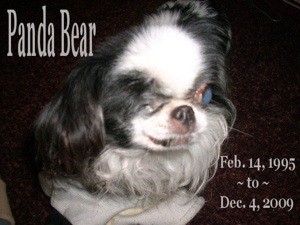 Chewy is our 6 plus year old Japanese Chin. I received Chewy about 6.5 years ago as a gift. We call Chewy our "little soccer boy", he takes his soft balls and bats them around the living room. Chewy is very playful, even when the kids dress him up!
By Tom H. from Commerce, GA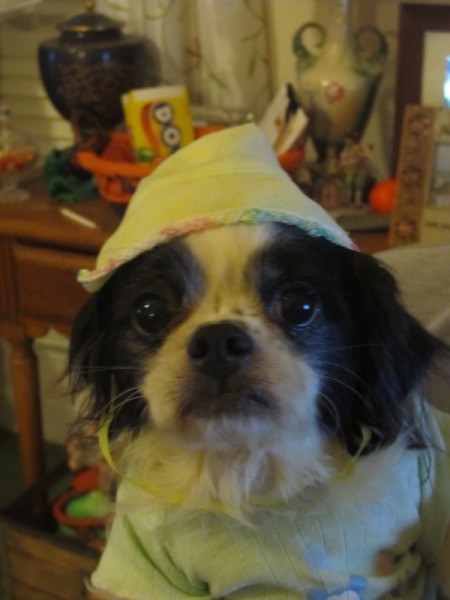 Wendy is 3 1/2 months old and is a Japanese Chin. We got her 2 weeks ago, because my husband was sad from losing our 20 year old friend/pet 6 months ago.

She likes to chew on toes and fingers. She makes you laugh! This photo was with her sweater on. She's only 3 lbs and a tad chilly.

By Ceil from Tavares, FL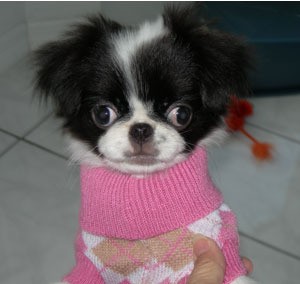 Archives
ThriftyFun is one of the longest running frugal living communities on the Internet. These are archives of older discussions.
December 21, 2009
0

found this helpful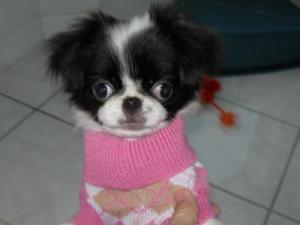 Anyone else here have a Japanese Chin? Panda Bear will be 13 next month. Not a well known breed. They're faithful, smart, guarded at first but very friendly. She's on the smaller side 6.5 lbs.
Keeper from NC
Answers:
Japanese Chin
Oh, what a sweetie! (01/23/2008)

By lavonneann
Japanese Chin
If you are looking for a breeder try Nextdaypets.com. Great web site to find a new dog. (01/23/2008)

By Carla
Japanese Chin
She is beautiful! I had no idea that the Japanese Chin was so small. I always associated them with the Chinese Pekingnese which is much larger. Is she blind, or is that a trick of the camera? I had a pekingnese who went blind and his eyes turned a beautiful shade of blue all over like that. Thanks for sharing, and God bless you. (01/23/2008)

By tedsmom
Japanese Chin
Oh, Panda bear looks like a well loved baby.
We just got our little Chin (Wendy )in Decenber, she will be 4 months old. She is at 5.1 lbs and hoping she doesn't get much larger. Do you know at what age they are full grown?
She is a sweetie also.
(01/24/2008)
By Ceil
Japanese Chin
Not a chin, but we do have a 1 eyed Shih Tzu Rescue who looks as sweet as yours! :) He's a bit bigger, 15 lbs. We'd never owned a small dog before, always had Mastiff's, but this little guy has stolen our hearts. Enjoy your baby. (01/24/2008)

By trish
Japanese Chin
What adorable doggies.
I believe a few dogs have blue eyes naturally, but older dogs' eyes can turn a milky blue when they get cataracts. That happened to my terriers. (01/24/2008)

By Jantoo
Japanese Chin
cell(guest), hope you are back and reading this. Wendy is going to break your heart, laugh, For more info on our furbabies type in AKC,put in J Chin...or just google.I'm curious to know where you got Wendy, I regrettably got Panda fixed. I wished I'd let her have one litter. I think,normal weight is around 10lbs. Pls.keep in touch. (01/24/2008)

By keeper60
Japanese Chin
We purchased Wendy at the one place we didn't want to, must have been meant to be, a pet store. First I saw her, then the hubby fell for her. 3 more visits and while I was at work, he went and got her. She is from 3 generations of champions, or so the papers say. We don't plan to breed her, though I can imagine it would be fun to see little ones from the start. We'd had a Shi-Tzu who lived to be 20 and lost him 6 mo.s ago. Swore no more pets, but as they say, never say never. (01/24/2008)

By CEIL
December 21, 2009
0

found this helpful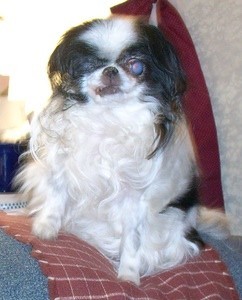 Panda Bear (Japanese Chin)
Panda Bear is 13 years and a "Japanese Chin". I got Panda's Mom, Skoshi and Dad, Typhoon as a Christmas gift in 1992. Skoshi had 2 litters and Panda came from the 2nd, in 1995. Though they're not a well known breed, they should be. I've had Chihuahuas and Poodles as well as several large dogs in my long lifetime. I much prefer a lapdog. Chins are extremely comical, loyal and ask nothing but to be loved.

Panda's favorite trick is looking cute! Loves car rides and wakes me in the morning by walking up my chest and sitting til I wake up. Thank goodness she only weighs 5lbs. She loves to go outside only to turn right around and come back in for a treat. We used to watch Animal Planet faithfully however her very limited eyesight now makes it impossible. She still gives "high fives", shakes with her paw. Her fake cough! is the best trick. She coughs til you pat her on the back.

Panda and I share the same home and I can't tell you in words the constant joy (her breed) she's been in my sometimes trying life.

By Keeper from NC
Answers:
Panda Bear (Japanese Chin)
ahhh my little cutie as always. (01/13/2009)

By ruth
Panda Bear (Japanese Chin)
How sweet, little Panda's pic made it on the internet. She's the best "fur-neice" I've ever had!
Love, Aunt Jane (01/13/2009)

By Jane
Panda Bear (Japanese Chin)
I think she's adorable Keeper you are fortunate to have her (01/13/2009)

By nana_katie
Panda Bear (Japanese Chin)
They have developed cataract surgery. Please get you beloved furbaby sugery. (01/14/2009)

By Dorie
Panda Bear (Japanese Chin)
Darling! (01/14/2009)

By lavonneann
Panda Bear (Japanese Chin)
cutie and a sweetie...ahh!
(01/17/2009)

By meoowmom
Panda Bear (Japanese Chin)
Thank you all for your kind words.Due to Panda's age,she's not a great candidate for cataract surgery and money is tight as we all know.However she does everything as though she were sighted.We just don't rearrange the furniture any more.:D (01/20/2009)

By keeper60
Related Content