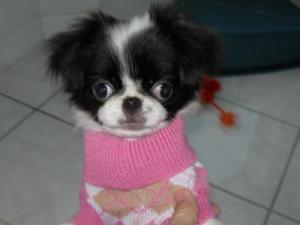 Anyone else here have a Japanese Chin? Panda Bear will be 13 next month. Not a well known breed. They're faithful, smart, guarded at first but very friendly. She's on the smaller side 6.5 lbs.
Keeper from NC

Answers:
Japanese Chin
Oh, what a sweetie! (01/23/2008)

By lavonneann
Japanese Chin
If you are looking for a breeder try Nextdaypets.com. Great web site to find a new dog. (01/23/2008)

By Carla
Japanese Chin
She is beautiful! I had no idea that the Japanese Chin was so small. I always associated them with the Chinese Pekingnese which is much larger. Is she blind, or is that a trick of the camera? I had a pekingnese who went blind and his eyes turned a beautiful shade of blue all over like that. Thanks for sharing, and God bless you. (01/23/2008)

By Pat Giles
Japanese Chin
Oh, Panda bear looks like a well loved baby.
We just got our little Chin (Wendy )in Decenber, she will be 4 months old. She is at 5.1 lbs and hoping she doesn't get much larger. Do you know at what age they are full grown?
She is a sweetie also.
(01/24/2008)
By Ceil
Japanese Chin
Not a chin, but we do have a 1 eyed Shih Tzu Rescue who looks as sweet as yours! :) He's a bit bigger, 15 lbs. We'd never owned a small dog before, always had Mastiff's, but this little guy has stolen our hearts. Enjoy your baby. (01/24/2008)

By trish
Japanese Chin
What adorable doggies.
I believe a few dogs have blue eyes naturally, but older dogs' eyes can turn a milky blue when they get cataracts. That happened to my terriers. (01/24/2008)

By Janice C.
Japanese Chin
cell(guest), hope you are back and reading this. Wendy is going to break your heart, laugh, For more info on our furbabies type in AKC,put in J Chin...or just google.I'm curious to know where you got Wendy, I regrettably got Panda fixed. I wished I'd let her have one litter. I think,normal weight is around 10lbs. Pls.keep in touch. (01/24/2008)
By Keeper
Japanese Chin
We purchased Wendy at the one place we didn't want to, must have been meant to be, a pet store. First I saw her, then the hubby fell for her. 3 more visits and while I was at work, he went and got her. She is from 3 generations of champions, or so the papers say. We don't plan to breed her, though I can imagine it would be fun to see little ones from the start. We'd had a Shi-Tzu who lived to be 20 and lost him 6 mo.s ago. Swore no more pets, but as they say, never say never. (01/24/2008)

By CEIL ACHS