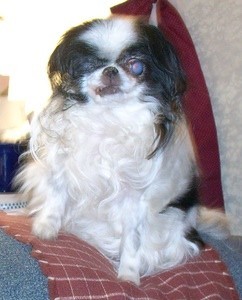 Panda Bear (Japanese Chin)
Panda Bear is 13 years and a "Japanese Chin". I got Panda's Mom, Skoshi and Dad, Typhoon as a Christmas gift in 1992. Skoshi had 2 litters and Panda came from the 2nd, in 1995. Though they're not a well known breed, they should be. I've had Chihuahuas and Poodles as well as several large dogs in my long lifetime. I much prefer a lapdog. Chins are extremely comical, loyal and ask nothing but to be loved.

Panda's favorite trick is looking cute! Loves car rides and wakes me in the morning by walking up my chest and sitting til I wake up. Thank goodness she only weighs 5lbs. She loves to go outside only to turn right around and come back in for a treat. We used to watch Animal Planet faithfully however her very limited eyesight now makes it impossible. She still gives "high fives", shakes with her paw. Her fake cough! is the best trick. She coughs til you pat her on the back.
Panda and I share the same home and I can't tell you in words the constant joy (her breed) she's been in my sometimes trying life.

By Keeper from NC
Answers:
Panda Bear (Japanese Chin)
ahhh my little cutie as always. (01/13/2009)

By ruth
Panda Bear (Japanese Chin)
How sweet, little Panda's pic made it on the internet. She's the best "fur-neice" I've ever had!
Love, Aunt Jane (01/13/2009)

By Jane
Panda Bear (Japanese Chin)
I think she's adorable Keeper you are fortunate to have her (01/13/2009)

By nana_katie
Panda Bear (Japanese Chin)
They have developed cataract surgery. Please get you beloved furbaby sugery. (01/14/2009)

By Dorie
Panda Bear (Japanese Chin)
Darling! (01/14/2009)

By lavonneann
Panda Bear (Japanese Chin)
cutie and a sweetie...ahh!
(01/17/2009)

By meoowmom
Panda Bear (Japanese Chin)
Thank you all for your kind words.Due to Panda's age,she's not a great candidate for cataract surgery and money is tight as we all know.However she does everything as though she were sighted.We just don't rearrange the furniture any more.:D (01/20/2009)

By keeper60