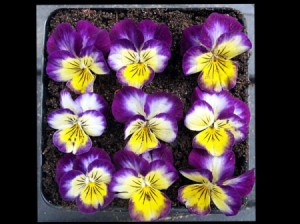 Even though I'm frugal minded and sometimes pay as little as 10 cents for a 6 cell pack of flowers, many of my discounted purchases turn out to be quite nice. Sadly, there's no guarantee I'll be able to find those same flowers next year, even at regular price.
My solution is to save seed for as many of these 'keepers' as I can. When you grow as many flowers as I do, keeping track of all of them can be a chore. I tried writing a description of the flower to go with the saved seed. That didn't work, at all. A picture is the only way to go.
I'll give the pictured viola a name. This is my first saved viola seed this year, so it gets the name 'Viola #1'. On the seed packet, I'll write that name and the word 'pic' ('pic' will let me know there's a picture to accompany the seed). In my 'Saved Seed 2016' folder on my computer will be a picture with the name 'Viola #1', along with any notes I may have made.
There is a little time and work involved, but later I'll thank myself. Rather than thinking 'Now, which viola was this? Did I like it enough to plant it, again? Where did I have it growing? Would it look better here, or there?; one look at the picture and I'll have an answer for all those questions.