EllenB
Gold Post Medal for All Time! 858 Posts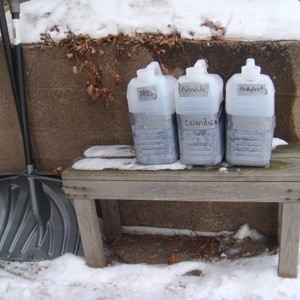 This year, why not skip the grow lights, heat mats, and constant babysitting of seedlings, and give winter sowing a try. The basic principle of winter sowing is to "let nature do the nurturing." All you have to do is sow your seeds in some plastic containers, set them outside in a sunny location, and Mother Nature will take care of the rest.
Winter Sowing Advantages
There's so much to love about winter sowing. There's no need for indoor space, cumbersome lighting systems, constant monitoring of moisture and temperature, and moving plants to larger pots before they ever even see the light of day. Winter sown seedlings are hardier and perfectly acclimated to outdoor growing conditions by the time they are ready to be transplanted. And because they don't have to wait for the snow to melt, they are able to get the earliest possible start once the weather starts to warm.
Supply List:
assorted plastic containers
box cutter
electric drill (or an object with a sharp point)
duct tape
marker
seeds
regular potting soil (not seed starting mix)
Directions:
Collect an assortment of plastic containers. These can be 2 liter soda bottles, gallon milk or water jugs, juice containers, or kitty litter jugs. Wash them in 1 part bleach to 9 parts water, rinse thoroughly, and allow them to air dry.
Use a box cutter to slice the containers apart, leaving about 2 inches of the perimeter uncut so that the top and bottom remain attached by a "hinge." Cut the container so that the bottom half remains deep enough to fill with 3-5 inches of potting soil. I used 20 lb. kitty litter jugs for my containers, which are quite tall, and cut them about 5 inches from the bottom.
Using your electric drill, make several small drainage holes in the bottom of the container. If you're using plastic containers with covers, drill holes in the top as well. This will provide ventilation. For containers like milk or water jugs, simply removing the caps will provide ample ventilation.
Fill the bottom with 3-5 inches of moist potting soil. Make sure you use regular potting soil, not seed starting mix.
Sow the seeds on top of the potting soil. Press them down gently with your hand to ensure they have good contact with the soil. Cover the seeds with a fine layer of additional soil and mist with water to hold them in place.
Close the top of the container and seal the two halves together with duct tape.
Use a permanent marker to label the outside of container with the name and date of the seeds planted.
Set the containers (caps off) in full sun, in a location where they are protected from run-off from roof overhangs.
What to do once your seeds sprout
Once the weather starts to warm and Mother Nature sprouts your seeds, watch them carefully. If you don't see condensation on the sides of your containers, you may need to add water occasionally to keep growing conditions moist. If the soil seems too moist, or the weather is getting too warm, remove the duct tape and open the top of your containers to give the seedlings some air. When it's time to transplant, break off hunks of seedlings and plant them directly in the ground. The best part? They will already be hardened off and perfectly acclimated to your garden's growing conditions.
Which seeds to sow
The best seeds for winter sowing include plants that are hardy to your zone. This includes hardy annuals, perennials, biennials, shrubs, trees, herbs, and even some vegetables. Seeds that need cold stratification to germinate or plants that self-sow easily are also good candidates. For more information on winter sowing, including a list of appropriate seeds, visit:
www.wintersown.org
Comments

MB Norton
Bronze Feedback Medal for All Time! 207 Feedbacks
December 24, 2016
0

found this helpful
Top Comment
I have used this method several times with great success. In fact I will be doing it again in 2017. I found the plants I start myself are much healthier than store or nursery bought.
I move mine to my cold frame once it becomes warm enough and the plants are big enough, and then separate them as needed.
Read More

Comments