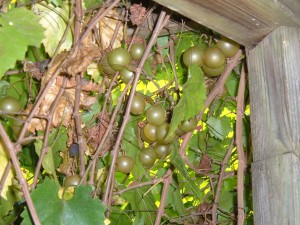 Our scuppernong grapes are ripening fast and they are so good. With us living close to the woods, animals can be a problem when trying to grow fruit and vegetables.
To keep the animals out of the grapevine, this year we tried a new trick using dog hair. I collected a plastic grocery bag full of dog hair from a groomer and put the hair in some netting and hug it on the root of the grapevine. It has been hanging for over two weeks and it still smells like a dog and when it rains, it smells like a wet dog which is even better.
In addition to the dog hair, I put a piece of rubber hose around the root to look like a snake. So far, we haven't seen any signs of animals bothering the grapes.
It's so nice to be able to go to the grapevine and enjoy these delicious grapes. By next week, I believe we will be able to pull them off by the handfuls and I'm hoping there will still be plenty to share.