Keeping Cigarette Smoke from Coming Inside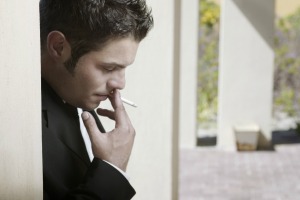 It is very easy for the smoke from a neighbor's cigarettes to seep into your home. This is a guide about
keeping cigarette smoke from coming inside.
Questions
Ask a QuestionHere are the questions asked by community members. Read on to see the answers provided by the ThriftyFun community or ask a new question.
My disgusting chain-smoking neighbor sits on his porch and smokes constantly. The smoke wafts gently over to my house which is approximately 100 feet away. The 30 foot high cedar hedge between us does nothing to stop the smoke. The neighbor sits on his ground floor balcony. The smoke comes in my main floor windows which are about 4 feet higher than his balcony. I need fresh air. I was thinking some kind of fan to suck the smoke away from my windows. Where should I place the fan and at what height. My property line is about 20 feet from my windows. Please help if you can. Thank you.
Sharyl from Hollywood, Florida
July 24, 2007
0

found this helpful
Best Answer
You can set up a fan in one window, close the other windows, and blow the bad air out of your house. This works quite well, especially if you open a window on the opposite side of the house so the air comes in one side and goes out the other. You could add a nice perfume scent to the fan blades, but I'm sure you don't want your neighbor to get the wrong message from you!
April 19, 2013
0

found this helpful
How can I prevent my neighbour's smoke from coming in my windows without having to keep my windows closed? They smoke in front of their house more than 10 times a day, about 4 people smoking. My house is attached to their house. I have 3 little windows in front and can not circulate air through my house or open my front door without smelling smoke. Maybe I could plant something in between our houses. Help please!
By Loni C.
April 21, 2013
0

found this helpful
Have you tried talking to them? If they seem approachable you might be surprised at their shock and horror at the thought they've been inflicting their cigarette smoke on you.
Hopefully you and they can brainstorm some kind of solution. If your homes have a back door, maybe they could smoke back there at their side of the back garden? Maybe at the side, or in their private garden area if they have one?
Good luck, I hope things work out for you. I'm a smoker and would be horrified if I found I'd inflicted my smoking on my neighbour-I hope yours feel the same way. You shouldn't have to keep your windows closed to keep unwanted smoke out.
April 21, 2013
0

found this helpful
Could you place a fan on your porch aimed at their smoke? Might not be too obvious! Or even place one in your window(s) to blow it back out and away. What a horrible thing to have to experience. I just can't believe people continue to smoke with all the evidence against it! My sister always tells smokers sitting next to her that she throws up to the left (if they are on her left) when she smells smoke and conversely to the right. Good Luck!
Related Content