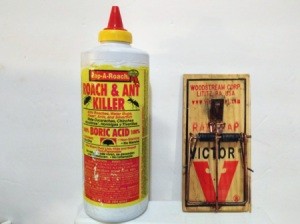 For many years now, I've had an annual visitor. Never the same one, but always arriving at the same time and always choosing to set up housekeeping in the same area of my home.
Field mice they are. Timid little creatures to be sure. I'm certain that in the wild they did quite well, foraging here and yon. Nature's land was their land. A giver of sustinance to keep the body and blood line going for another season.
But, each season ends. Spring's flowers, tender leaves, even moldy crab apples and other bits of fruit are all gone. Summer's grain has been harvested, and its worms, snails and insects are gone, either by death or by secreting themselves for the winter in niches not easily accessible to our tiny, timid friends.
It's been a hard life but it's been a good one, all in all. Mind you, there was danger at every turn. The black snake. Quick as lightning! In the blink of an eye, Mister Field Mouse could be inside that slithering serpent, never to see the light of day again.
Snakes from below, hawks from above, feral cats close at the heels. Danger at every turn. Danger that was tempered though, by the bounty of the land, a few close lady friends and the many little mice sired to insure the perpetuation of the species.
Yes, it's been a good season, after all. But the nip in last night's air will be tomorrow night's first frost, and then a fortnight's hard freeze. One must make preparations quickly lest the end comes much too soon. With a life expectancy of only one year, having a strong will to survive and finding warm refuge in Man's home could mean a doubling of that span. Yes, this little fella has the same innate burning desire as you and I. It wants to live.
What attracts these mice to the area under my sink and the lower cabinets on either side is a mystery to me. No food is kept there. No accessible water is there, only cleaning supplies. Yet just as surely as the days shorten and the nights become bitter, I once again hear those tiny sounds as I sit quietly at night. My guest has arrived.
He doesn't know he's a mouse a bit more than a dog knows he's a dog. He has the potential of being an excellent and devoted pet. To pass the years with some semblance of remaining Human with human compassion, many prisoners befriended these animals only to find their bonding equaled that of any man and his dog.
Were I much younger with lots of time on my hands, I might give it a go at being friends with my guest. I've befriended dogs, cats, birds, bats and rabbits and more. Why not this little creature. He is capable of showing much affection. He just wants to live.
And if we were friends, he could ride in my shirt pocket while I went places, poking his little head out now and then for a peanut or cricket I captured just for him.
But, I'm old. My patience went the way of my youth. My aches and pains dictate that I not even attempt to house train a tiny mouse. A small spring loaded trap will put an end to my fantasizing of a friendship with this shy, harmless creature.
This year has been the odd one to say the least. Spring has just begun and my visitor has made an unexpected and very early appearance. His stay was abruptly cut short by that deadly snap of the spring loaded metal against wood, with his tiny head between the two. A mouse in my house in the Spring? Just a one time thing, for sure.
Not so. The very next night, there were more sounds. Heavy, loud sounds. This must be a big one. A larger trap ruled out any doubts. It wasn't a larger mouse, though. It was a rat. Two nights later, another rat met his demise. Three nights later, another mouse. I've never had such happen.
Before I could empty the trap and bury the last rat, I heard the sounds of another. This is insane. Why so many and why now? Well, I found out why, but I won't tell it here lest I am thought to be prejudiced against new immigrants to the neighborhood. I take pride in not being prejudiced but I have no control over what other people say or think.
This last rat has decided he will stay. He had fitted his new quarters with all manner of accoutrements ranging from bits of tinfoil to cellophane to soda can tabs. He completely avoids any contact with the baited trap. He leaves his calling cards all over the place and pees like a beer hound on Saturday night. I am miffed.
I took everything from under the sink and cabinets. I washed down all surfaces with a strong bleach solution. I washed everything I had taken out and put it all in dishpan-like tubs.
The wheels started turning. Boric acid will kill ants. It has a burning effect. Once, I sprinkled some on my plants to kill insects that were eating the plants. Over a few days, it burned the leaves so badly, the plants almost died.
Well sir, before putting the tubs into the cleaned sink area and cabinets, I spread a thick layer of boric acid all about. I set back and waited to see what would happen. About half an hour later, my unwelcome guest returned.
He made his usual entry sounds, then nothing. No scuffling about, no loud gnawing sounds, no constant re arranging of all the treasures he had hoarded. Nothing. Silence.
I was hoping the boric acid would give him enough of a hot foot to make him want to stay away. Looks like it did. Or maybe he just doesn't like walking through it. Whatever the case, this is the first night in many where I've been able to sit at my kitchen computer for any length of time and not be distracted by all that racket.
The cleaning supplies are in tubs. They wont come in contact with the boric acid. There are no small children about to plunder under the sink. If there were, I would have a lock on the doors. So, there is no reason the acid can't stay where it is.
I didn't give life. I figure I have no right to take it. But when it comes to urine stains and rat doo under my sink, philosophy and charitable thoughts go out the window. The boric acid stays, just a much thicker layer than recommended for roaches.
With this deterrent in place this Fall, I doubt there'll be any guests for an over winter stay. Suits me. That way I wont have to wrestle with my conscience about how morally wrong I might have been when shortening the lifespan of a poor little creature who had only a year from birth to death, anyway.
Due to a huge issue with ants around my home, I always keep a ready reserve of boric acid on hand. It's relatively cheap and relatively safe. After I clean, I always put down a dusting behind and under stove, refrigerator, in all cracks and crevices. Anywhere I think an ant or roach might travel. It has paid off. Unlike my neighbors, I have never had a roach infestation in all the years I have lived here.
Now, I have found that just more of what I have been using all along is an excellent deterrent to mice and rats, as well. Several days after my liberal layer was laid down, there have been no sounds or other evidence to indicate another displaced rodent plans to set up housekeeping in my home. Boric acid will deter mice and rats. A good thing to know.