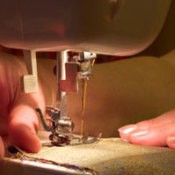 Tips for keeping your seams together while sewing from the ThriftyFun community.
Use Tape
I'm new to sewing. Pinning fabric together doesn't always leave me with matched seams. I tried an experiment which worked well for me. I used tape to hold the fabric together and ended up with matching seams!
By Christi from NC
Use A Card
One way to keep seams matched is to put a recipe card under the left pressure foot when sewing, and moving forward as you advance. It holds the top fabric in place, and that is what shifts as you sew. This is especially handy for matching stripes or plaids. I use it for almost any seam to stop the shifting. I do pin the fabric together first. Give it a try.
By Wisgal
Keep The Bottom Layer In Place
it is the nature of the machine to pull the bottom layer through a little ahead of the top layer, watch how the feed dogs work. You can overcome this by using a walking foot, sometimes it depends on the type of your material as well. Trying holding your finger gently behind, as the fabric feeds through, causing a "bunch-up", as that will help control the pulling through of the bottom layer and the stretching of material.
By fauxpaslover
Glue Stick
I'm an old seamstress but find that aside from the wonderful walking foot, it is possible to put seams together with an ordinary glue stick. The glue will wash out first wash and is harmless if left on. I learned to use it making drapes commercially. To keep satin, etc. from fraying, run the stick along the cut line before you cut. Wipe the scissors as necessary.
By siris.
Double Sided Sewing Tape
You can use double side tape which is made for sewing. I use it to put in zippers you will get the zipper in place almost perfect all the time.
By patg
Read More

Comments