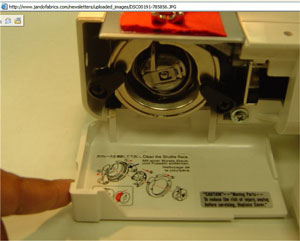 The needle wasn't coming up, after going down into the bobbin area, so I removed the lid off the bobbin area and took out the pieces in there. Now I can't figure out how to put (the 3 pieces) back in. It's the bobbin holder, the thing that goes in, and an outer ring. The thing the bobbin holder goes in, doesn't seem to fit anyway I put it.
Is there an ONLINE diagram or photo, showing directions how to put it back in? Or can someone take some photos and post them for me please? I would REALLY appreciate it.
I'm completely lost, and late for a birthday project I was trying to finish. (Photo shows the pieces that won't go back together.)
Thanks,
DJ_DJ
Answers
By Martha (Guest Post)
April 4, 2007
0

found this helpful
The secret is to have your needle at the highest point possible. Then, put the shape that looks like a half moon with the spool in first. The half moon shape goes on the right side. Then place the circular "frame" over it and quickly slide the black braces into place. Then you'll be able to insert the bobbin case. I'll try to take pictures on my machine and post them tonight if this is not clear.
By Sandy/Pittsburgh (Guest Post)
April 4, 2007
0

found this helpful
I had a machine given to me with no instruction booklet, so I went into the manufacturers website, gave it the model number, and it let me print out the manual on my home printer for free. It was singer.com by the way.
Sandy/Pittsburgh
April 4, 2007
0

found this helpful
It also helps if you tip the sewing machine back while doing this so everything doesn't fall out before you snap the blace fins closed.
By (Guest Post)
April 4, 2007
0

found this helpful
Look at the diagram on the door to the bobbin area, just to the right of your finger in the photo. That is a drawing of how it fits together. Good luck!
Denise
Make money on line without sponsoring anyone!www.MyBerryTree.com/bt97975
Read More Answers