After sitting for 9 months, my Memory Craft 6000 will not start. The light over the needle is on, so I know it has power.
I would have to assume it's the motherboard? Is it cheaper to repair or buy a new machine?
Answers

November 24, 2020
0

found this helpful
Best Answer
Repair techs usually say to always first check the fuses if you're dealing with a computerized machine so maybe you can find the fuse box and take a look.
www.thriftyfun.com/Janome-Memory-Craft-6000-Keeps-Blowing...
www.fixya.com/.../t2570952-fuse_janome_memory_craft
sewingmachinenut.blogspot.com/.../new-home-janome-memory-craft-6000...
I would say to consult with real sewing machine people when you are dealing with this type of machine before you decide to dump it as many things can be repaired if you find the right person to ask.
There are several very good sewing machine forums that will probably be able to help as these are machine people and they usually love to help solve problems. These members know which questions to ask to get to the 'root' of the problem and they provide instructions in 'simple' language.
You may have to join the site before asking question and occasionally may ask for pictures.
www.quiltingboard.com/.../
sewing.patternreview.com/.../board.pl
vintagesewingmachinesblog.wordpress.../.../
The following links are just information about the machine:
vintagesewingmachinesblog.wordpress.../.../
www.fiddlebase.com/.../

November 26, 2020
0

found this helpful
Best Answer
Before taking this into the repair shop I would look in your manual or even call the company to get some help with the machine. A lot of time a fuse has blown on the machine and it isn't the memory board at all. A lot of times this is so easy to fix and it might not even be the fuse. Check the bobbin winder and make sure it is pushed all the way to the right first. Now check to see if you have selected a pattern stitch and pick the length and width of the stitch. Then make sure your buttonhole is disengaged. If this isn't the issue check the fuses.
Answer

this Question

I've been using a Singer Heavy Duty 4452 sewing machine and it suddenly stopped sewing properly. It skips several stitches on the top of the fabric and the thread on the bottom is messy and bunched up, then it stops and the needle won't move until I take the fabric out.
It does this on both thick and thin fabrics. I'm not sure what the issue is or how to fix it.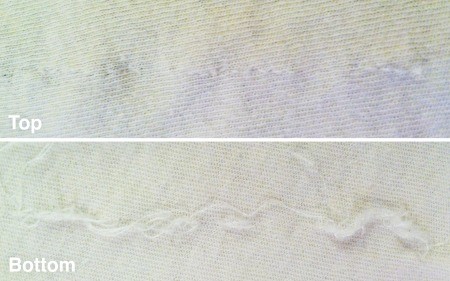 Answers

Iceskater
Silver Answer Medal for All Time! 320 Answers
October 10, 2021
1

found this helpful
Best Answer
Here are a few easy things to check first:
-- Is the machine threaded correctly?
-- Is the bobbin the proper size? (This is a big problem for me since I pick some up at thrift stores and garage sales; it's hard to tell with the naked eye. I finally just ordered all new ones per my machine's manual).
-- Make sure the needle is positioned fully and correctly to left, right, or center, and tight against the top and back housing.
-- Finally, and perhaps most likely, this could be an incorrect tension setting. Try to move the tension dial a bit both ways, stitch on some scrap fabric, and see if it makes a difference.
Answer

this Question

Does anyone know where I can get a power board for this machine. It is not 2 years old and it's failed C&C no help. I returned the first machine after 8 months because the display failed, they eventually replaced it.
When it works I love it, but I wouldn't buy again or recommendation sorry to say.
Answers

August 3, 2020
1

found this helpful
Best Answer
If this machine was replaced recently and it has gone out again the machine should still be under warranty from the company. I would not order the power board for this machine if I were you. I'd take it back and explain to them the issue you are having with this machine and how it has already been replaced once. I would demand that they give you a different machine or different model that does not break every 6 to 9 months and needs to have the motherboard changed out in the machine.
There is really no power board for the machine it is actually a motherboard that controls the machine and this is what has gone out again. There is a defect in these boards and the company needs to do something about all of this.

August 4, 2020
1

found this helpful
Best Answer
Your machine is over 2 years old and you had to have it replaced after only having it for 8 months probably means you have no warranty left on this machine.
The only suggestions that I can make is to try asking for help at your Sears Service Center.
They may have a generic board that would work or they may tell you to toss it.
www.service-center-locator.com/.../sears-service-center.htm
Google Butterick sewing machine repairs with your zip code and call or visit to see what they tell you about this part.
You might call or visit your local Michael's or JOANN's and ask if they know of any shop that works on Butterick machines.
Answer

this Question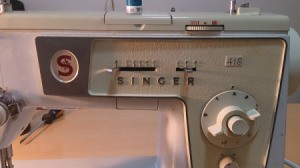 I have been using a Singer 418 since I found it last year. It is my first and it took me a while to learn to use it, but I finally got there - until I started a project with a stretchy fabric (yesterday). In the last 24 hours I learned lots about needles, puckering, thread breaking, feeding mechanism, presser feet, tension, cleaning, using the right stitches, etc. In the process I solved a few problems, but now I got stuck with one I can't solve on my own: the rotary hook stopped moving.
I opened the base and I can't see any broken gears or belts (see photo).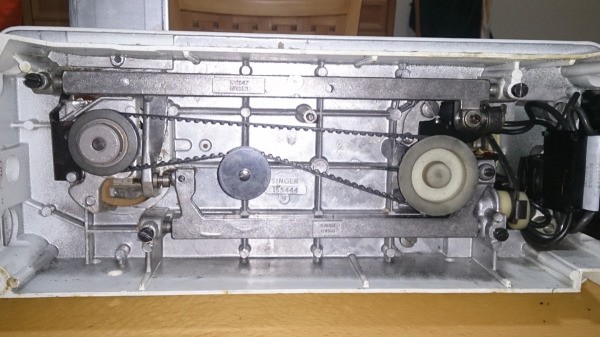 When I turn the hand wheel, the needle goes up and down normally, the feed dogs move normally, but the hook system stays still. I can move it by hand and it moves smoothly, but it would seem that the part that is supposed to engage the gears in this area is somehow not engaging, and I can't figure out what it is.
I purchased a user manual, but it doesn't cover this. The manual has a picture of the machine with the word 'Stylist' engraved on the front. My machine only has 418 on the front, it doesn't say Stylis (see photo). The bobbin case holder is different from the manual and I could not remove the bobbin case to get to the hook (last photo).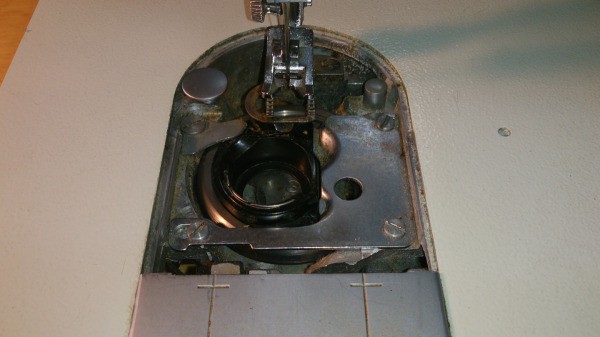 Can you help me with this? I'm not sure which of the screws around the bobbin case holder is the tension screw, but I know I must not 'screw' that! Thank you!
By Laura L.
Answers

February 16, 2014
1

found this helpful
Best Answer
More than likely the silicone gears have worn just enough that the rotary hook will no longer engage. That's going to be a fix for the Singer qualified repair tech - check adverts until you find the ones that say 'Singer factory trained' or 'Singer warranty service approved repairs' - no, your vintage machine is no longer under warranty but all warranty approved service techs will have been exposed to vintage AND modern machines:) The repair will cost you around $50USD (around £30 here in the UK because there are so many salvage parts machines floating about) but splash out and have your vintage machine checked over and serviced - the total for repair and service will bring it in around $90USD (£60-£75 UK).
About your user guide...click this link and go through the free downloads until you find the one that looks EXACTLY like yours:
www.singerco.com/.../search **If you get to the search page instead of the 418 page, key in only the numbers and a page with several models will come up - click till you find your machine:)
The '418 Stylist' was sold in Singer Sewing Centres around the world; the '418' was marketed through Sears - NOT branded as a Kenmore btw, but as a Singer 418). Because yours doesn't say Stylist, it is one of several 418 models (there were variations, a new one every year) and the above link will help you find your correct manual.
Answer

this Question

I bought an Empisal 760c overlocker 3 days ago. As I was busy sewing it jammed and wouldn't sew again, please see attached images. I was sewing 2 layers of faux fur, when it jammed.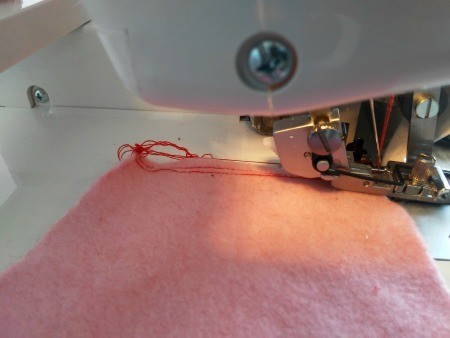 The first thing I did was to re-thread the machine and change the needles, but it is still not working. Could it be something that is out of place, maybe something troubleshooting could fix? I am desperate for assistance, I have a launch deadline month end.
Your assistance will be greatly appreciated.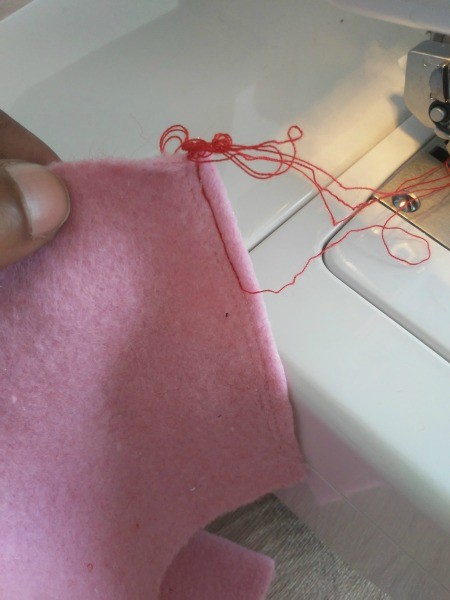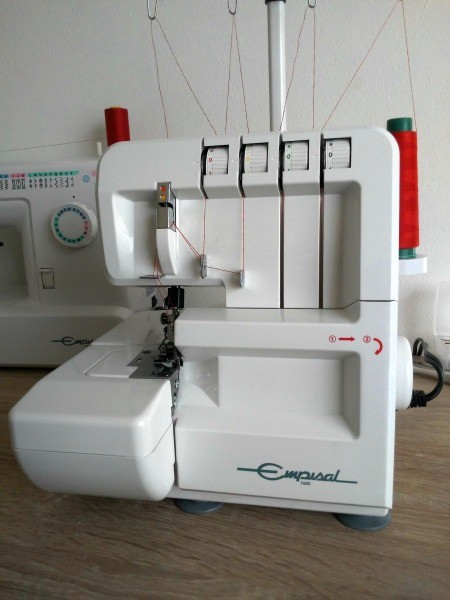 Answers

July 8, 2020
0

found this helpful
Best Answer
Yes there is another prolem it is in your bobbin area that is causing you the issue. You need to remove the bobbin and check this area for any thread or fur that might have gotten in there. There are 2 latches on the canister of the area that need to be remove or moved over so you can remove the 2 metal pieces so you can clean out this area. Check under the feed dog to make sure there are no thread there and clean them out.

July 18, 2020
0

found this helpful
Best Answer
You have good instructions for cleaning your bobbin but I think you may be causing the problem with the material you are sewing as this type of material has lint and 'pieces' coming off all the time.
I would suggest you a stabilizer fabric over your material so maybe all that gunk will not stop up your machine.
If you're still having trouble or cannot understand exactly what to do I would suggest you visit a Michael's or JOANN store and see if they can recommend someone to help you.
You may have to pay a charge but it will get your machine going so you can finish your project.
Any sewing store has people that can help with this as almost all overlocker machines are very similar except maybe the threading as this is one of the most intricate things about each machine.
Sears Service Center is also a good place to ask for help and they will sometimes do the repair (one like this) while you wait - much cheaper bill.
Please think about the stabilizer as it really helps when working with this type of material.
Answer

this Question
My machine would not sew, so I opened it up dusted and oiled it, now it only moves at a snail pace. Help?

By Pat A

Answers

March 23, 2015
0

found this helpful
Best Answer
I teach sewing here in Scotland, and do some repair-refurb on vintage machines. Your problem sounds as though it could be in the foot control - a fraying wire, 'gummy' connection or loose wire. But it could also be in the machine where the connection is made between foot control and machine. Only a trained tech will be able to quickly and relatively inexpensively determine the problem and solve it.
This really isn't a home sewer DIY. You could spend a lot of money replacing the foot control only to continue having the same problem. The best thing to do is take your machine (and foot control) to a qualified repair tech. Be sure to get an up-front estimate, and ask what a total servicing would cost, too. You'll be amazed at how well your machine sews after a proper servicing, and a good tech will give you a heads up regarding developing failures.
Word of warning - vintage sewing machine parts can be difficult to source no matter what country your machine is sewing in. Many of us techs use salvage parts we find on jumble and car boot (flea markets in the US) sales. The trouble is these parts wear out quickly, and as we can never be sure of the conditions these parts laboured under with the original machine owner, we can't vouch for the longevity of the part.
Some parts are universal (but not many) and are 'new-milled', making them a lot more reliable and a lot more expensive. Hard to find, too - a good repair tech will know where to find them, and will tell you if the replaced part is new or salvage - if he/she doesn't say, be sure to ask!
I can look at a machine and on the spot be able to advise my students if the machine is worth fixing or should be replaced by a comparable new model machine that comes with the bonus of being under warranty.
The only vintage machines worth keeping forever are the old treadle and hand crank models as those parts last centuries - I have several:)
If the machine is a 'modern vintage' (meaning it was built in the last half of the 20th century or early part of the 21st) and runs on electricity) your gran sewed your christening-graduation-wedding dress on, you may be willing to keep 'er running no matter the cost, but for the most part, after a certain point it's best to make that a display piece and buy a modern machine for reliability.
Answer

this Question