I have been using a Singer 418 since I found it last year. It is my first and it took me a while to learn to use it, but I finally got there - until I started a project with a stretchy fabric (yesterday). In the last 24 hours I learned lots about needles, puckering, thread breaking, feeding mechanism, presser feet, tension, cleaning, using the right stitches, etc. In the process I solved a few problems, but now I got stuck with one I can't solve on my own: the rotary hook stopped moving.
I opened the base and I can't see any broken gears or belts (see photo).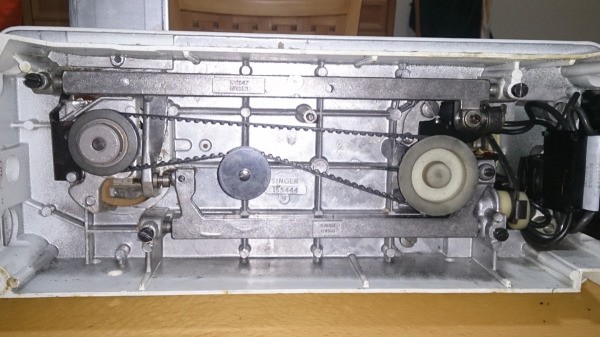 When I turn the hand wheel, the needle goes up and down normally, the feed dogs move normally, but the hook system stays still. I can move it by hand and it moves smoothly, but it would seem that the part that is supposed to engage the gears in this area is somehow not engaging, and I can't figure out what it is.
I purchased a user manual, but it doesn't cover this. The manual has a picture of the machine with the word 'Stylist' engraved on the front. My machine only has 418 on the front, it doesn't say Stylis (see photo). The bobbin case holder is different from the manual and I could not remove the bobbin case to get to the hook (last photo).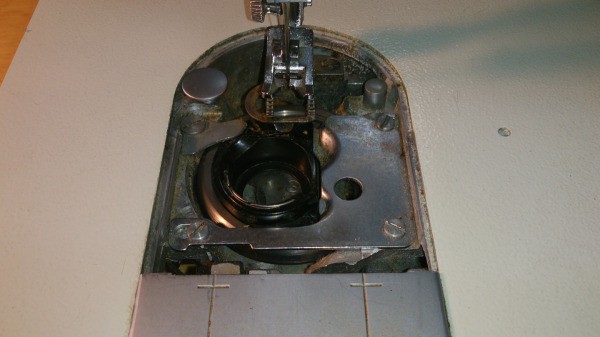 Can you help me with this? I'm not sure which of the screws around the bobbin case holder is the tension screw, but I know I must not 'screw' that! Thank you!
By Laura L.