I have a Singer Brilliance machine. The bobbin winder shaft at the top right hand of the machine has a small metal piece that allows the bobbin case to slide in and stay locked. This fine metal piece has been dislodged from the plastic shaft and lost. Now the bobbin case will not turn and the thread will not wind on the bobbin. How do I repair this?
Answers
August 19, 2018
0

found this helpful
Have you tried Singer customer service? www.singer.com/support
They can tell you the best solution! Good luck!
August 21, 2018
0

found this helpful
Thanks for the site but couldn't find the shaft item. In any case thought of a way to solve it. I just wrapped some paper onto shaft so that bobbin fits in snug and the winding began turning.
August 21, 2018
0

found this helpful
That's what this country needs - more innovative people who can find an unconventional way to solve a problem!!
Glad you solved your problem and now you can enjoy using your machine again.
August 21, 2018
0

found this helpful
Cool!! Post a photo of your fix so we can see and learn from it!! I love DIY success stories!! Thanks for sharing!!
Answer

this Question

...
I have a Singer 4423. The bobbin got stuck on the bobbin winder, we had to pull hard and the post the bobbin sat on came out of the machine. We have put it back in, but bobbin winder now doesn't turn.
After taking top off the machine there is a metal spring with a bit on the end that fits in somewhere. I cannot figure it out.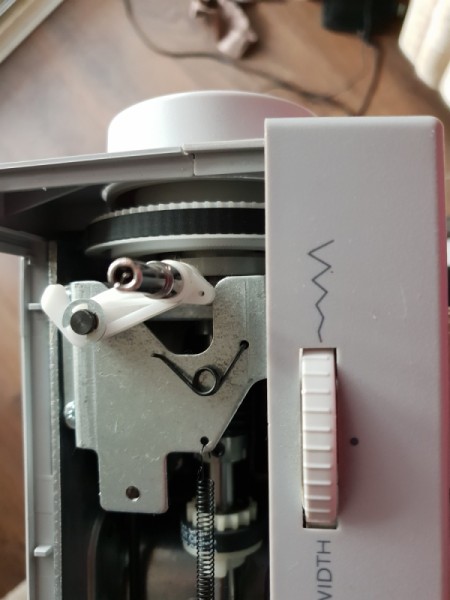 Please help.
Answers
December 6, 2018
0

found this helpful
If you don't want to pay a service fee, which I think you will need as it seems you have broken a part, you can buy a product called Sidewinder. It is a stand-alone bobbin winder. It costs about $30.
December 8, 2018
0

found this helpful
This is a cleaning and maintenance video but there may be something in it if you watch that can give you an idea of repair if that is possible: www.youtube.com/watch?v=u5thMOE3Ofg
You can always call Singer customer service and ask for their input:
Hope you can find an easy solution!
December 8, 2018
0

found this helpful
obviously you probably need to consult a professional but it sounds like the piece got stuck due to a lack of lubrication and possibly a thread in the mechanism lost its way and created the lack of turning which then ejected the spring mechanism, thus rendering the machine nonfunctional
you must figure out where the metal piece came from as ths was instrumental to the turning mechanism
December 9, 2018
0

found this helpful
You have a problem that only a professional can help you with.
Check out this site as they have a marvelous Singer network and these responders know everything there is to know about Singer sewing machines.
You will have to join (free) but you can ask your question and someone will tell you what to do - in very plain English.
Be sure to tell them everything that happened and also your level of expertise with this machine so they will know how to answer.
Answer

this Question

...