Repairing the Bobbin Winder on a Singer Sewing Machine?

I have a Singer Brilliance 6160 sewing machine and I have just started experiencing some problems with the bobbin winding mechanism. On the one hand, the bobbins are not so nicely wound as they used to. I mean, sometimes the winding is not homogeneous and there is more thread at the top or bottom of the bobbin. On the other hand, the machine used to stop when the bobbin was full and now it doesn't. It can continue forever, putting thread even out of the bobbin. Does anyone have had the same issue?
Thank you.
Answers

Judy
Gold Post Medal for All Time! 677 Posts
January 7, 2018
1

found this helpful
Best Answer
The bobbin winder tire may be worn out. Replace it.
Answer

this Question
8 More Questions
Ask a QuestionHere are the questions asked by community members. Read on to see the answers provided by the ThriftyFun community or ask a new question.

I got this machine, a Singer 7444, brand new. The problem happened very soon after I got it. When I go to wind a bobbin, my machine makes a terrible grinding noise and the sewing needle will continue to rise and fall, though slowly. It seems like something isn't disengaging. One of my neighbors suggested oiling it, but I don't know where or even how to access the parts to oil. Could I have done damage by not looking into the problem sooner? If I go to get it repaired, will it likely be inexpensive?
Thanks for your feedback!
Answers

DCA
Bronze Answer Medal for All Time! 220 Answers
November 22, 2015
0

found this helpful
Best Answer
You should return the machine to the store of purchase. Either they fix the problem or replace the machine. If too much time has passed (yes-you should have checked the problem immediately), I suggest a repair shop-you can get an estimate of cost before repair.
Answer

this Question

Hi, I saw a number of threads on sewing machines, so I thought I could see if anyone has any insight before I consult a professional (would like to fix the problem on my own if possible).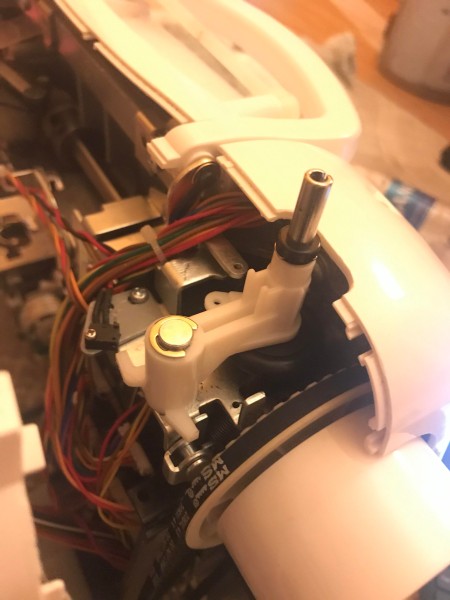 I bought a Singer 8763 from Goodwill which worked, besides the bobbin winder which was broken. Thus, I ordered a replacement. I believe I was able to put the new bobbin winder in correctly, but cannot seem to fit the spring into place without the bobbin winder locking into place and not being able to change positions. Does anyone know the correct way the bobbin winder and spring are supposed to be placed? Please help!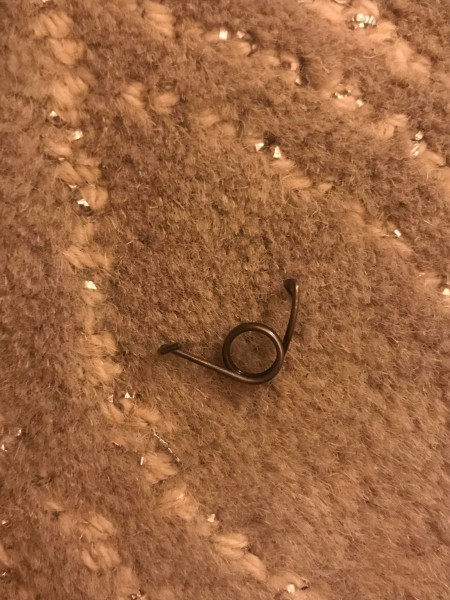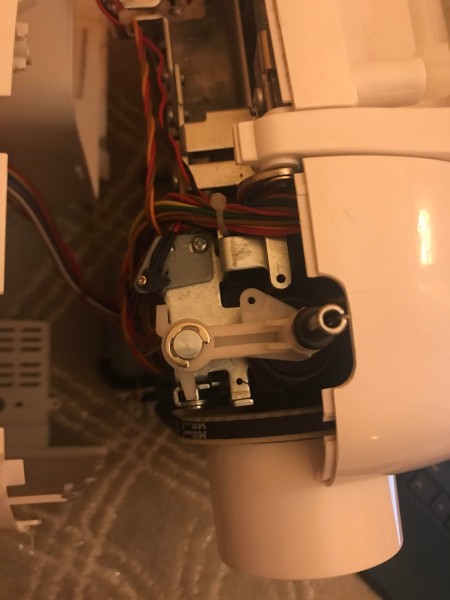 Answers

January 18, 2021
0

found this helpful
It would be nice if companies offered help with problems but most do not have sufficient tech personnel to answer questions so they usually respond with a form letter providing the address of a Singer sales and repair shop.
However, there are a couple of forums that are usually very helpful and can provide diagrams of so many types and, truthfully, these are sites to keep as they can help with so many problems (that you may have in the future).
Here are the links - join and post your question.
www.quiltingboard.com/
sewing.patternreview.com/.../board.pl?replies=1
I did mean to ask if you tried contacting the shop where you made your purchase to see if they could help you?
Here is a link to a free manual.
www.singer.com/.../support?title=8763

October 20, 2021
0

found this helpful
Did you ever get this resolved? I have the Exact same problem with the exact same model! I cannot find answers.
Thanks!
Answer

this Question

I have a Singer Brilliance machine. The bobbin winder shaft at the top right hand of the machine has a small metal piece that allows the bobbin case to slide in and stay locked. This fine metal piece has been dislodged from the plastic shaft and lost. Now the bobbin case will not turn and the thread will not wind on the bobbin. How do I repair this?
Answers

August 21, 2018
0

found this helpful
That's what this country needs - more innovative people who can find an unconventional way to solve a problem!!
Glad you solved your problem and now you can enjoy using your machine again.
Answer

this Question

I have a Singer 4423. The bobbin got stuck on the bobbin winder, we had to pull hard and the post the bobbin sat on came out of the machine. We have put it back in, but bobbin winder now doesn't turn.
After taking top off the machine there is a metal spring with a bit on the end that fits in somewhere. I cannot figure it out.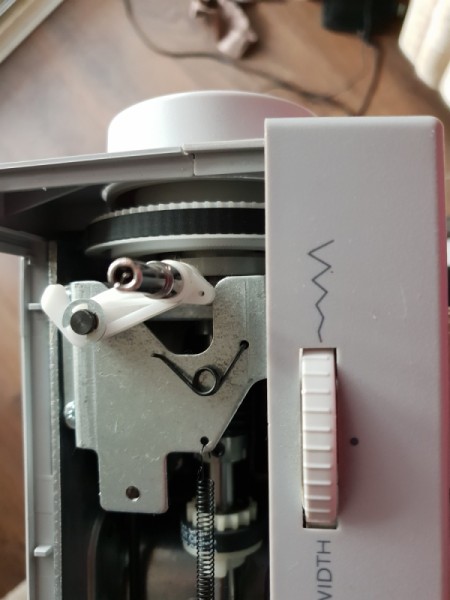 Please help.
Answers

Judy
Gold Post Medal for All Time! 677 Posts
December 6, 2018
0

found this helpful
If you don't want to pay a service fee, which I think you will need as it seems you have broken a part, you can buy a product called Sidewinder. It is a stand-alone bobbin winder. It costs about $30.

Hello
Bronze Post Medal for All Time! 107 Posts
December 8, 2018
0

found this helpful
obviously you probably need to consult a professional but it sounds like the piece got stuck due to a lack of lubrication and possibly a thread in the mechanism lost its way and created the lack of turning which then ejected the spring mechanism, thus rendering the machine nonfunctional
you must figure out where the metal piece came from as ths was instrumental to the turning mechanism

June 13, 2020
0

found this helpful
I had a similar issue and fixed it. The vertical end of the spring goes into the little hole on the white arm of the bobbin winder. It must go in from the bottom (underside) of the bobbin winder. I had to use needle-nose pliers and push the spring quite tight but when it popped into the hole the bobbin winder worked perfect and would "stay put" in either the engaged or disengaged position. The other end of the spring went into the only hole in housing that was within reach and must go in first before doing the bobbin winder end.
Answer

this Question

I purchased my Singer 9022 new and have had this machine for many years. It's been amazing, however, now my bobbin winder won't wind. I can hear it whirling when pressing the floor pedal, but the bobbin will not turn. I was trying to remove the top to take a peek, but can't figure out how.
I removed all screws (3) that I saw, but there's something else holding it down. Any help appreciated, as well as, what I do I need to look for when top is off.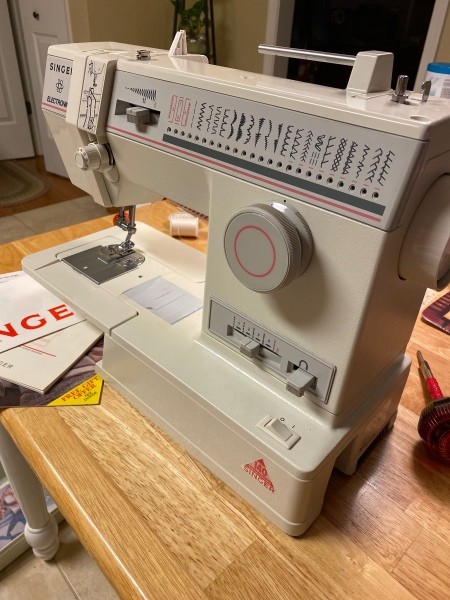 Have a wonderful Easter.
Answers

poehere
Bronze Post Medal for All Time! 105 Posts
April 13, 2020
0

found this helpful
First off check out this post here from Thrifty Fun they have some great information on the post and some photos for you to go by. www.thriftyfun.com/Repairing-the-Bobbin-Winder-on-a.... Now I need to find you a manual so that you can take your machine apart.
I am not sure if you still have the manual that came with the machine or not. But if you don't go here to download your manual.
www.manualslib.com/.../Singer-9022.html

April 14, 2020
0

found this helpful
Thank you for the info. I have all books /manuals that came with, but no troubleshooting info in them. Unfortunately, I could not find an answer. (We did finally figure out how to remove top... but it all looked normal nothing standing out to cause problem) So, I have since dropped it off for service and repair by a professional.
Answer

this Question

I have a Singer 7470 and the bobbin starts to wind, but then immediately shuts off with a beeping sound. I have to turn the machine off and then on to clear the display. Any thoughts?
Answers

poehere
Bronze Post Medal for All Time! 105 Posts
April 17, 2020
0

found this helpful
Normally this is an issue with the main circuit board. In some of the newer machine this has to be changed out and can be quite expensive if you need to take it to a repair shop. Most of the newer machines are electronic and run with a circuit board or a mother board inside the units now.
If you continue to have this fault then the board needs to be repaired.
Answer

this Question

I have a Singer 9810c sewing machine. The bobbin winder is not locking. Even if I set it up to wind it won't keep the winder in the right position. How do I solve this problem?
Thanks!
Answer

this Question

I am a beginner sewer. I borrowed a machine, a Singer CG 500/550, and somehow the piece that you put the bobbin onto to put thread on the bobbin came unhooked within the machine. I opened the machine up, but have no clue how to connect the piece again. Help?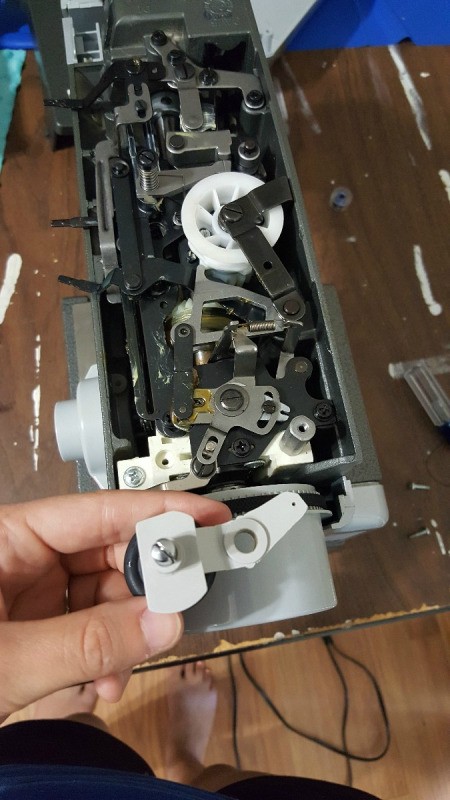 Answer

this Question
Published by ThriftyFun.
© 1997-2022 by Cumuli, Inc. All Rights Reserved.
https://www.thriftyfun.com/Repairing-the-Bobbin-Winder-on-a-Singer-Sewing-Machine.html