Does anyone know how to get rid of snakes and keep them away? Too many snakes in and around my garden. They seem to be living in the crevices of an old stone fireplace.

Thanks

Ralphed

Answers:
Keeping Snakes out of my Garden
Sulfur from a garden center will keep snakes away. However, if they are garter snakes they are probably benefiting the garden area, less bugs, rodents, etc. They do not stay where there is no food, so consider that before you get rid of them, you may end up with a bigger problem with mice, etc. If they are poisonous, then by all means, use powdered sulfur. As for killing them, I have no idea, but I did see my father use a cast iron skillet once, it worked too. (07/02/2004)
By Dee
Keeping Snakes out of my Garden
As long as the snakes are not poisonous, they are helpful critters. They eat rodents and also king snakes eat baby rattlers. When I found a king snake I named him Elvis. (07/02/2004)

By Linda
Keeping Snakes out of my Garden
I live in Florida near a swamp and have tried a very old remedy that works well for keeping snakes away, moth balls. Snakes hate it. Sprinkle around the perimeter of your yard or the area you want to keep snake free. Keep out of reach from pets and children. (07/03/2004)

By Patti Isaac
Keeping Snakes out of my Garden
If you live where you can have barnyard animals. I have heard that guinea fowl will kill snakes. Give it a try. (07/03/2004)

Keeping Snakes out of my Garden
Here's a link to an article we just posted.
thriftyfun.com (08/20/2004)

By ThriftyFun
Keeping Snakes out of my Garden
Hey give the snakes a break. They actually help you believe it or not. They get rid of the rodents in your garden which actually eat your plants. (11/25/2005)

By Snakeluver
Keeping Snakes out of my Garden
If they're garter (often called "garden snakes") you should keep them. They are beneficial pest removers. Cats tend to like them for a snack and that can keep the population down. Other snakes, while scary to some of us also keep down the rodent population.

If they are poisonous snakes, you can call your local humane society or ASPCA. I think they'll help you out by removing the poisonous snakes for you and releasing them into more remote, wilderness areas. (04/07/2006)

By Cynthia
Keeping Snakes out of my Garden
Will mothballs or sulfur hurt the yard animals or the horses? I really need to keep the snakes out of my garden.
Editor's Note: Mothballs are toxic. They can cause harm to animals livers. Sulfur can also be poisonous in large amounts.
(03/28/2007)

By Rox
Keeping Snakes out of my Garden
Some species of snakes, are venomous (or "poisonous", as many people say) and must be removed when they get too close to humans or domestic animals. The Copperhead, the Canebrake (or Timber) Rattlesnake, the Eastern Diamondback Rattlesnake, the Pygmy Rattlesnake, the Water Moccasin (or "Cottonmouth"), and the Eastern Coral Snake.

We called a professional to remove a copperhead that was living in a shed. For anyone trying to remove a venomous snake it's a good idea to get a professional instead of a bite.
(07/07/2007)

By Julia
Keeping Snakes out of my Garden
The following information was taken from SnakesAreUs.com which is based in Georgia. I hope this helps everyone. Visit the website for much more information.
A Snake Free Yard

Are you living with snakes? Almost everyone has snakes on their property and for some reason does not want them there. Southeastern Reptile Rescue understands that not everyone is like us and does not appreciate a black rat snake sharing the garage. Because of this, we are here to give you information on how to snake proof your home without killing the snakes.

You must first understand that we at Southeastern Reptile Rescue do not believe in evolution. We believe in Almighty God who created all life and has a purpose and plan for everything. We are not trying to get everyone to love snakes as we do. We know that is impossible. We do however wish to give people understanding and discount the many myths surrounding snakes and show that some snakes are not bad to have around.
Snakes do a wonderful job of keeping the rodent population in check. And, there are some of God's other creatures that keep the reptiles population in check. Man already does enough damage to the environment through pollution and habitat destruction. Let's not make it worse by destroying the creatures that we built our houses on top of. Remember, they were here first.

Sotheastern Reptile Rescue also offers Snake Removal Services.
We are licensed by the state of Georgia for Snake Removal.
For more information go to our website at www.snakesareus.com

Guide to a Snake Free Yard

Basic things you can do to lessen snake encounters on your property:
Clean, clean, and clean some more. A snake will always look for a place to hide. Snakes are normally not found out in the middle of a clean and open yard, but rather in brush piles, under houses, leaves and other debris. Eliminate areas where snakes may want to hide.

A snake on your property is not there because it appreciates the view. Snakes live to eat and eat to live. If there is no food, a snake will soon leave and go to where the food is.

Get rid of possible food sources for snakes. Bird feeders attract more than birds. They also attract snakes. The snakes are not there for the seed, but rather the birds, squirrels, and mice that fallen bird seed attract. Do not leave garbage or any other items lying around for long periods of time that may begin to attract mice and rats.

Chemical controls. Southeastern Reptile Rescue does not endorse snake repellent or any other chemicals. We do this not because they are harmful to snakes, but because we have never found any that actually work. Diet, body temperature and other biological aspects of snakes complicate the potential for developing such snake controls.
Some retailers sell snake repellent in their garden sections. If it actually did what it claimed, we would have a link right here for you to buy it from us so we could benefit as well. Jason, of Southeastern Reptile Rescue has personally spoken with the president of a local company who specializes in snake removal and pushes the sale of its $200. plus snake treatment using the snake repellent. Jason was told by this president that he himself does not believe that the repellent actually works and that it is more for the customers peace of mind than anything else. We disagree. We believe it is more for a piece of the customers' wallet. If having snake repellent sprinkled around your house allows you to sleep better at night, then buy it. But, we will not sell it to you.

After all, people's fear of snakes is psychologically based, I guess the cure should be, also. Various home remedies have been suggested for repelling snakes and several have been tested to determine if they repel black rat snakes. Treatments included moth balls, sulfur, gourd vines, a tacky bird repellent, lime, cayenne pepper spray, sisal rope, coal tar, creosote, artificial skunk scent, and musk from a king snake (king snakes eat other snakes). None of these remedies prevented the snakes from crossing them.

So what does all this mean? We cannot totally prevent snakes from entering our property, but we can lessen the chance of them choosing to stay. Instead of living in fear, we must learn to co-exist with snakes instead of always trying to kill them.
(10/15/2007)

By SnakesAreUs.com
Keeping Snakes out of my Garden
My brother puts hemp rope around his yard. He lives in an area that has rattlesnakes and he has kids and animals. He put the rope around the bottom of the fence and has yet to have a problem.
(05/27/2008)

By Kaye
Keeping Snakes out of my Garden
We saw a snake in our house and it ate my hamster. So, we put mothballs out and then we went to the local pharmacy and got cinnamon capsules. We threw them up by the house and haven't seen a snake less than about 100 yards from the house since. (08/07/2008)

By snake hater
Keeping Snakes out of my Garden
I was burning some yard waste Saturday and when I pulled a dry old branch out of the edge of the yard by the woods there was a copper head. He curled around the branch so I shook him off in a 5 gallon bucket and covered him up. I have 5 children all under 10 and two dogs on runners right by where I found him.

After reading everything here and talking to Snakes Are Us I've decided to take him to work with me tomorrow and turn him loose in the bosses office. I'm kidding, I'll let him go in the woods at lunch while I'm out 4 wheeling. If it wasn't for the kids the dogs and the cats spending so much time outside I'd just toss him back in the woods behind the house. Anyway no reason to kill him, he's caught I'll just help him find a home in another neck of the woods. (05/18/2009)

By Rod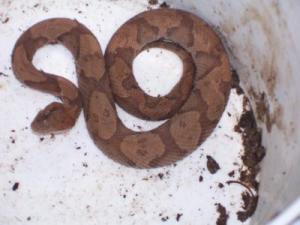 Keeping Snakes out of my Garden
I really would love to see what research all these people are looking at, but lime, mothballs, sulfur, and diesel "do not" keep snakes away.

If you have snakes in your yard and don't want them there, get rid of the rodents and cover they find in your yard. If you have horses and there's feed all over the place, it doesn't take too much brainpower to figure out why rodents are there, and in turn why snakes are there. Use metal containers whenever you can, keep your property free of debris, and keep the place clean.

As for killing the snakes, here are the stats. 86% are men. 64% of those are trying to be tough guys and take care it it themselves. Venomous snake bites can be avoided by simply calling someone with training to deal with them. If you grew up in the country and saw 20 of them growing up, you're still not an expert.

Why should you listen to me on this over the guy at Home Depot who recommended lime? Because if you Google "field herpetology" my site is the third one down. I know my way around a snake, and find hundreds each year. (01/13/2010)

By Bryan