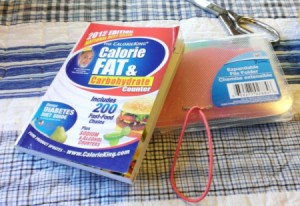 I am a big fan of the little book called Calorie King. It has every bit of information you might need to know what fat, calories, sodium and, my personal nemesis, sugar/carbs you are ingesting. Because I am trying desperately to lose enough of the last 25 pounds to get off insulin, I was hefting it around or forgetting it at home.
Originally I was going to rip up the book, find a binder to keep it in, and punch holes. I couldn't find a binder without six holes and the thought of that much work was daunting.
So I came up with a dollar store solution. With a coupon holder, I separated the things I need to watch for and simply keep those pages I need with me. I could get this on my phone, but I share data with my daughter and her family so I thought this would work even when I forget my phone or it's dead.
You can do the same with a little time and your own labels. This is really going to help me and I think it could help you if you are struggling with your "healthy food choices" like I am.
PS: Check out the fast food section, it will shock you!
N-JOY!