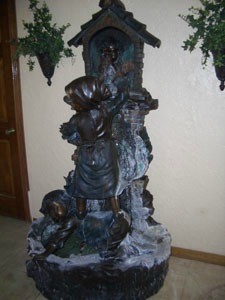 I have a lovely indoor water fountain that I'd stopped using because I had to clean it too often. Now, I use it all the time thanks to a tip from my local florist. Her tip for keeping it clean was to add a little bleach to the water that is recycled. This keeps it so nicely that I only have to clean it every once in a while.
By Marie from West Dundee, IL
Editor's Note: Too much bleach in the water could be a concern if you have children or pets, especially cats who drink out of the fountain. Having said that, bleach is used to clean contaminated water after floods, 1/8 to 1/4 teaspoon of regular unscented 5.25% household bleach per gallon of water should be fine (Source: CDC.gov).
Read More

Comments
I have a table top water fountain which I love. To keep it clean, and the water fresh, I add some vinegar every time I add more water to it. My cats also love to drink from this, so it also benefits the cats, since vinegar helps to cut down on the flea problem as well!
Read More...

I have several indoor water fountains. It is not practical to use distilled water because I go through a couple gallons a day. Is there any way to keep these clean, free of water deposits, short of tearing them down and scrubbing them every week..
Thanks! Debby
Answers

Harlean
Bronze Post Medal for All Time! 148 Posts
January 7, 2005
1

found this helpful
You could try running the water through one of the filter pitchers that are available at Lowe's, Walmart etc. Their are several brands. Pur is one that comes to mind as I have that brand attached to my kitchen cold water faucet. Or if you use a dehumidifier in your house, the water collected there might be more pure than tap water.
Harlean from Arkansas.
By Anita (Guest Post)
January 8, 2005
1

found this helpful
Try adding some vinegar to your water each day. That works to clean the coffee pots when it's built up...so maybe some added to the water would PREVENT the build up...
By Susan from Hamilton (Guest Post)
January 8, 2005
0

found this helpful
I add a cap full of bleach once a week no deposits and it smell like I have been cleaning..lol
:)
By Fran Marie. (Guest Post)
January 9, 2005
0

found this helpful
Brita also has a faucet attachment that is good for 1000 gallons-yes, 1000. Compare to the cost of distilled.
By Peaches (Guest Post)
January 10, 2005
0

found this helpful
I have 2 fountains that I use often and we have hard water also,so I use half water and half vinegar in mine and it keeps the scale and scum out.

June 30, 2016
0

found this helpful
I have a garden fauntain too, probably 50 gallons total. I had been dealing with the white build up too. Do you think I can use vinegar in mine and how much. The water splashes so, I need to replace some of the water evryday.
Thanks...

August 9, 2017
0

found this helpful
Add a tiny bit of bleach ... 1/4 tsp to each gallon of water or white vinegar works well too.

August 28, 2017
1

found this helpful
Try white, regular vinegar, lots of people use it in fountains

Judy
Gold Post Medal for All Time! 677 Posts
August 28, 2017
1

found this helpful
I second the use of vinegar. Cheap and non-toxic.
Answer

this Question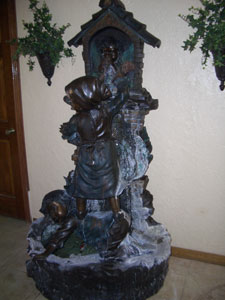 I have 2 indoor brass water fountains that have accumulated hard water deposits of calcium lime I believe, on the surface of where the water trickles down on the fountains. I once used the CLR Limeaway but it removed some of the paint that the brass has. Is there anything out there that I can use to clean away the deposits? The sculptured brass fountains have lost a lot of their beauty because of the white deposits all over them.
Jesse from El Paso, TX
Answers

June 20, 2008
0

found this helpful
Vinegar. Wet some towels and place them on the area and let sit, and then rinse and repeat as necessary.

Louise B.
Silver Feedback Medal for All Time! 337 Feedbacks
June 21, 2008
1

found this helpful
Vinegar is an acid, as is CLR, but it is not as strong. It should be enough to remove the lime deposits. Don't let the vinegar sit for a long time. I would just spray it on the lime, let it fizz and bubble, maybe scrub with an old toothbrush. And then rinse off. If one application doesn't do the trick, repeat as many times as you need to.
In the future you could use softened water, or distilled water to avoid the lime deposits.

June 29, 2016
1

found this helpful
Listen guys...from a California point of view, using distilled water seems so wrong. Take the time to just add a teaspoon of vinegar once a week . Be responsible and meet your needs too.

January 1, 2019
0

found this helpful
I use distilled vinegar in my 10 gallon outdoor fountain. I use the water from my refrigerator filer and add about one half cup of vinegar for each gallon of water added.
I got a 2 gallon pack of distilled vinegar at Sam's Club for $3.47 This keeps it free of mineral deposits.
Answer

this Question