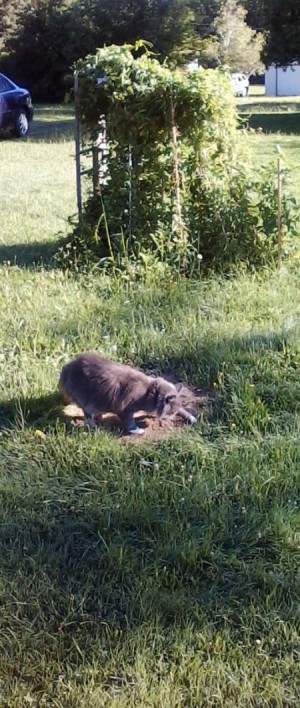 Because cats like soft, dig-able soil, every year my flower gardens were at risk of my cat using them as a litter box and digging up my new seedlings, flowers or plants, but I found an answer!
Last year I bought sand (nothing fancy, just two of the cheapest bags I could find) and made an outdoor litter box by dumping the sand into a small pile, behind a stand of plants growing up a trellis, so she would feel safe to go out in the open.
I brought kitty outside and placed her in the 'kitty sandbox' and she immediately knew what to do and went to the bathroom! Occasionally we will go out and scoop up hard pieces, but the weather makes it largely self cleaning and there is no smell! This saves us time and money since she goes more outside than inside in the nice weather and reduces our buying of as much litter as in the past.
I have never seen her go in the garden again, to use it as a litter box, but she does check out the rabbit that lives in there. :) I have never seen any other cat use the box either since I think they avoid another cat's fecal scent.
Now my plants can grow unimpeded by my kitty!