January 21, 2011
0

found this helpful
Can I use cat litter to house train my male Red Nose Pitbull, Chico? Please, I need to know. I can't keep him outside and inside is my only option.

By Gustavo from Goldsboro, NC
Answers:
Litter Box Training a Puppy
There are oodles of suggestions in the ThriftyFun archives below and here's a couple other links that might be of help to you:
http://www.kturby.com/litter/litter.htm

http://www.ehow.com/how_4890163_make-litter-box-large-dog.html (02/17/2010)

By Deeli
Litter Box Training a Puppy
My Pomeranian learned to use a litter box and cat litter, from watching my cats! It has come in really handy during nasty weather. (02/17/2010)

By Jron7667
Litter Box Training a Puppy
We use cat litter. Its fine to use. (: good luck. (03/03/2010)

By EpicShane
February 15, 2010
0

found this helpful
I am going to adopt a Yorkie-poo puppy in September. I want to know how to house train it to a litter box. I have an old Sheltie now and he was house trained to outside when I got him. I may have to move to apartment, and want the puppy to be comfortable with going indoors and outdoors. I run a small business and am on the road a lot. Thanks again.
Susan from Hamilton
Answers:
Litter Box Training a Puppy
This is for Enmenc from US; I have used the WizDog potty trays and they are great. The dogs can't shred the paper and they are very easy to clean up. I just got a second dog and am looking at getting another tray. I would highly recommend WizDog. (01/02/2009)

By Kim
Litter Box Training a Puppy
To control the smell I would either use Air freshener or some of that kitty litter that gets rid of the smell. You can use pretty much any litter as most of them say odor control on them. (02/19/2009)

By John L.
Litter Box Training a Puppy
I guess I am probably a little late to respond hopefully by now you've trained your dog. But if you are still looking for an indoor potty solution can I recommend the PupHead Potty? It is a grass mat in a tray that the dogs really love. Here's more info: erratic.ws (08/30/2009)
By veda815
August 4, 2008
0

found this helpful
I need help with litter box training my puppy. Anyone have any tips?
Debora
Answers:
Litter Box Training a Puppy
My sister has 2 little chihuahuas that are paper trained. Originally, she used the "wee wee pads" designed for puppies, but we found that the pads that you use to put on the bed under a person with incontinence were actually cheaper. These are found right there with the pads (like Poise). (03/14/2008)

By bailegirl
Litter Box Training a Puppy
Suggestions, please, for litter box training a 1 year old large dog who is trained to go outdoors. Although someone is usually home to let him out, there will come the day when he is in his room (a back bedroom of the house) and we can't get there in time.
Thanks. (03/18/2008)
By cookwie
Litter Box Training a Puppy
PS Dog is in this room when we are not home - the rest of the time he has free run of the house and yard. (03/19/2008)

By cookwie
Litter Box Training a Puppy
PPS Dog will have the free run of the house once he learns some manners - so a litter box is a must. (03/20/2008)

By cookwie
May 29, 2007
0

found this helpful
I'm thinking of getting a miniature poodle. I would like to train the dog to do its business indoors. Has anyone tried the Wiz Dog for their small dog or do wee-wee pads or litter training seem to work better?

Thanks!
Enmenc from US
Answers:
Litter Box Training a Puppy
I have a T-cup Chihuahua that I litter box trained. I've never heard of the Wixz-Dog, but I assume it's much like a litter box. I started her out using puppy pads. I then bought a big plastic sweater storage box. I removed the lid and put it away for another use. I then took a box cutter and on one side of the box I cut out a U shaped piece about 6" wide, enough for her to be able to get in and out of the box. I also covered the cut edges with tape so she wouldn't scrape herself. Now that she is older (2yrs) I use sections of newspaper. Seems like I have anever ending supply of clean newspaper, what with relatives and neighbors all saving them for me. I make up thick sections and put down about 6 of them at a time. When she does her business, solid waste gets picked up and flushed, and then the paper goes in the garbage can. There is never any odor from her litter box. Also to give her some privacy I bought a piece of display board (cardboard that is used for school science projects) the kind that folds, like a folding screen. I cut out a door for her and placed the cardboard around her litter box. She is completely litterbox trained. When the weather permits I do take her for a daily walk so she gets some exercise. Hope this helps. (10/22/2005)

Litter Box Training a Puppy
lovethosehounds,
What a clever idea you had. I think that sounds great. Someone else, on another site I posted this on, works with Min Pin rescue and they use a baking pan and newspaper too. But I don't think she puts as much down as you. I think your idea is even better. Thanks so much for your feedback!
(10/25/2005)

By Jessica
Litter Box Training a Puppy
I bought wizdog, price was right, but my dog would not use it. I could have trained her eventually, but I didnt like the thing. Sent it back they were nice about a refund. bought a Pup-head. My dog used it right away. I use it on our boat so it has been a great find! (12/20/2005)

By Carol Shetland
Litter Box Training a Puppy
I have been litter box training my puppy for a week plus now with nothing more than a dog litterbox and puppy pee pad in it and I put shredded papers from my work office (great recycling of it) :-) We shred alot of documents and I re use them for doggie litter - it works great! My pup will not use the pee pad alone - it must have shreds on top of it -. It helps make clean up of solid waste easy, and after my pup has urinated a few times - then I replace the pad with a new one . It helps also to train the pup to understand words - when I put him in the box every time i say "go potty" - He is catching on quick . I know this because when I say the word potty, he gets alert and starts to look for the box. Consistency, patience, and persistance are key in any traing to be successful. (08/07/2006)

By Shannan
Litter Box Training a Puppy
My babies are small chihuahuas also, both about 3 lbs each. I live in the northern midwest and we have SNOW in the winter. They are way too small to go outdoors in the winter. The breeders always used the piddle pads and I did too, until they were too expensive.

At first I tried to change them over to newspaper laid in a large box I had cut down to about 2" high, but they were not happy with that. Then I realized they were use to soft "tissue"feeling on their paws, so I laid some cheap paper towels on top of the newspapers and they don't seem to mind.
I cut a vinyl picnic table cloth under the box and lined the box with it too. This keeps the floor and box in good condition and I can wash it in my washer when it gets kind of icky.
It has worked for my chi's. (08/07/2006)

By PrairieLady
Litter Box Training a Puppy
Snuggles has been paper box training for 2 days and is doing extremely well. she is an 8 week old pug puppy. we put her in the box and say the command. she tilts her head and ears and whines. she goes in the box on her own. when she goes we praise her with kisses and a cheer. it takes persistence. we are crate training, too. we use the two methods together. as, soon as she comes out of the crate, plays, 8 minutes after she eats and when sniffing around we set her in the box. we use newspaper, instead of litter. (01/22/2007)

By blkpug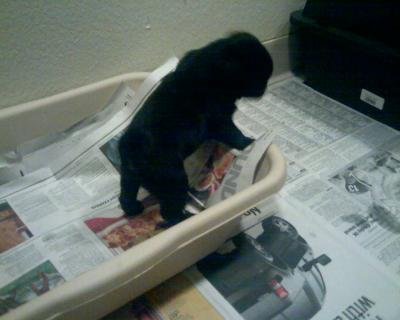 Litter Box Training a Puppy
Thank you for posting the feedback. I will be picking up my morkie puppy next week and have been trying to find information on litterbox training. I found a litter box for puppies at the pet store, but now I know I can use the news paper or wee pads in lieu of doggie litter...

Thanks again for the information (03/10/2007)

By Morkieboy