I am looking for any help with keeping the stray cats that live on our porch out of my flowerbeds. There are 9 of them that my two daughters keep feeding! I have tried moth balls but they just push them aside and do their business. Please Help.

Anne-Marie from Rushville, Indiana

Answers:
Keeping Cats Out Of Flowerbeds
Try citrus scents or cayenne pepper. (06/30/2008)

By Lisa
Keeping Cats Out Of Flowerbeds
Cats don't like citrus smells, so orange, grapefruit or lemon peels should work. You have to keep adding fresh ones to keep the odor strong.

To keep cats from spraying on my house, I doused the affected area with lemon scented Mr. Clean. It seemed to do the trick, and washed off the spray as well. (07/01/2008)

By Louise B.
Keeping Cats Out Of Flowerbeds
If you poke a lot of bamboo shish-kabob skewers in the soil, pointy side up, the cats won't want to land on them and will poop elsewhere.
(07/01/2008)

By Nance
Keeping Cats Out Of Flowerbeds
How about hiding a few small mouse traps? If you catch them, spray with water. Cyote spay in a bottle, might work. (07/01/2008)

By Janet
Keeping Cats Out Of Flowerbeds
NEVER use cayenne pepper or Tabasco sauce. It burns their eyes so much that they will scratch their eyes right out to get rid of the pain! Try coffee grounds. It works for me. I dump ALL my coffee grounds outside, around my plants and all over my garden; safe for kids, and cats don't like the smell. (07/01/2008)
By Dena Roberts
Keeping Cats Out Of Flowerbeds
I have three raised beds and two feline fur balls that give me fits if I forget to show them who is boss. Two things work. Keeping the top of the soil wet deters them from interest in stepping in, most of the time. But the number one trick even works with wild rabbits and deer. And you're gonna think I'm crazy, but... this has worked for three years now. I keep a plastic instant coffee jar in the bathroom. (I really don't even know how to word this decently enough!) Let's just say - my hubby donates a urine sample twice a week. First morning's is the best. Before it becomes too warm outside, I distribute the "sample" around the raised beds, dribbling down the sides of the lumber. The rabbits even seem to make a point of going out of their way to avoid the beds when they run through our back yard. I had a doe show up at the pasture fence one morning for about a half-hour. Boy did she have her eyes on my snap beans! Sprinkled down the fencing for a couple hundred feet. She hasn't been back. (07/07/2008)
By WeldrBrat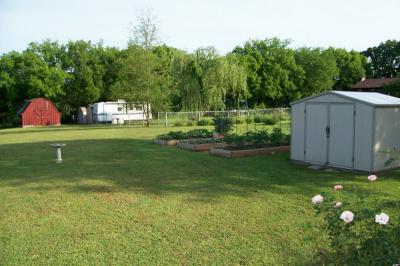 Keeping Cats Out Of Flowerbeds
Find s store which sells hazelnut shells for mulch. They shells are sharp and they won't want to walk on them. I use this type of mulch and it keeps all animals away from my plants. It doesn't cut just hurts enough so they won't put their weight on the shells.
(07/08/2008)

By deethundercloud
Keeping Cats Out Of Flowerbeds
I remember when I was small I can still remember my mom chasing the rabbits from her flower bed with the broom because they wanted her bulbs. Reading this gardening article both back some memories. Yes the pee does work. (07/15/2008)

By Barbara J Snyder