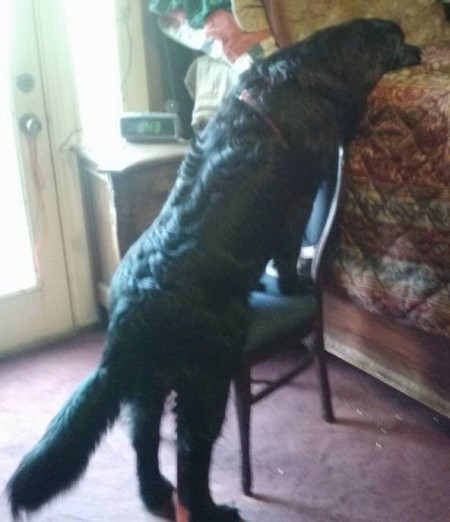 Your Pet's Age
Just celebrated his first birthday.
Your Pet's Breed
Newfoundland (Newfie)
How and when did you get your pet?
I feel in love with Newfies at age four when I saw Peter Pan. I wanted "Nana" to be my dog and nanny. After years of searching rescue sites with no luck, I had decided it was not meant to be. Three years ago, we ran into an old friend that had a Newfie. He told us he had purchased his dog from a breeder in the corner of the state. I have never paid for a dog and too many pets needed adopting, so that was that.
Two years later, I accidently found the same breeder on the internet while looking at rescue dog sites. They foster other dogs waiting for forever homes. I called the number and found that not only do they not run a puppy mill, but help as many dogs and horses as possible. The owner also graduated with my parents from high school 51 years ago.
On a whim I checked their website a few months later when we were going to be in the area to visit my family. They had a litter of seven puppies and they all had K names. We have seven children all with K names. It was a sign. Kennedy came to live with us a month later. He adopted us as his family and I think he is very happy with his selection. :)
What does your pet like to do for fun?
Newfie's are long distance swimmers. They are used by many Coast Guard and water rescue teams all over the world. Kennedy loves the water. He has three lakes to pick from here and he has been in them all, repeatedly. He has claimed our fish ponds as his splash area. Most days are spent laying over the air conditioning vents on our marble foyer in the summer eating ice. His winter was spent rolling in the snow from sun up to sunset.
Do you have anything else to share about your pet?
Our precious puppy weighed 8 pounds when we met him, 19 pounds when he came to live with us, and a "tiny" 187 pounds on his first birthday!! My hubby is 6'5'', Kennedy and he are the same height now when Kennedy stands on his hind legs for kisses. He fits perfectly into our family!
Add your voice! Click below to comment. ThriftyFun is powered by your wisdom!

July 10, 2014
0

found this helpful
What a handsome boy your Kennedy is! And I absolutely loved the story of how you got this wonderful addition to your family. Please give the big guy a "SMOOCH" for me!

July 31, 2014
0

found this helpful
He loved your smooches! :)
Add your voice! Click below to comment. ThriftyFun is powered by your wisdom!