Kitchen Crochet Trio (Magnet, Coasters, and Hotpads)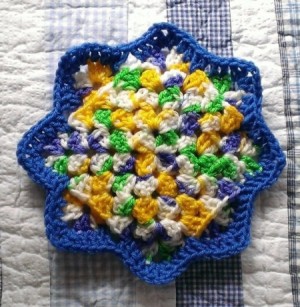 I made three items today for you to enjoy.
The first is a mini hot pad magnet. The second is a larger version for a coaster.
The third is a variation of a hot pad I had never seen before buying one at a thrift store.
Total Time: 2 hours or less
Yield: 3
Source: The hot pad was my inspiration and the rest were just thinking outside the box.
Supplies:
size H hook ($0.00)
1/2 skein yarn of your choice ($.50)
1/10 Stick hot glue gun and stick
scissors
Testing darning needle
Steps:
Magnet
For the magnet, chain 8 and make 7 singles to the start of the chain, then make 7 back to the end. From here, make "round and round" rows till you have 3 rows. Fold it in and make sure you can close it like the bigger one. When you know this, chain 4 for the loop and then pull your yarn through for a 1' tail.

Turn right side out, and with your darning needle whip stitch the back closed. Hot glue a magnet on the back!
Coasters
For the coaster, do the same, but with 17 chain, making your coaster 16 stitches wide. Your coaster will end up being about 3.25" by 3.25". You can make it a bit bigger or smaller if you want by just adding 2 to the chain for 19 or deducting 2 for 15.
Hot Pads
Now you are ready to tackle the hot pad.
With a chain 4, make 2 double crochets (hereafter as DC) in the 1st chain.
NOTE: I make my granny's with three DCs and no space between. I think this is a fuller granny and you don't have to think "did I do a chain 2 or 1...".
Make 3 sets of 3 DCs in the same chain around and join. Chain 2 and turn your work.
This makes it lie flatter by going front and back so it never needs blocking. Now I realize a hot pad wouldn't need blocking, but if you ever make an afghan or anything that might require it, this eliminates that step.

You have now got the pattern down. Make a chain 2 on each corner, and make your granny a five row pattern. Make another just like it.
When you have the two done, begin on the next to the last space on one, insert your yarn, chain 2 and make a DC in each of the next 3 stitches, and 2 on the corner for a total of 6.

NOTE: I chose a variegated for the main color and a solid for the border. I didn't match the blue perfectly, but having just moved I didn't have any white yarn in the house.

Now lay the other granny perpendicular to the first one, and capture the same spot on this one as you did on the other. Repeat that stitch in the same manner making sure you do it in the same stitches.

Keep going till you come around to the beginning. There should be the same pattern of stitches all the way around with no puckers or gaps.
Here is the original. I used a smaller hook as I didn't want mine that big. You can use a larger hook or thicker yarn and yours will be about this big.
Add your voice! Click below to comment. ThriftyFun is powered by your wisdom!
Add your voice! Click below to comment. ThriftyFun is powered by your wisdom!
Published by ThriftyFun.
© 1997-2022 by Cumuli, Inc. All Rights Reserved.
https://www.thriftyfun.com/Kitchen-Crochet-Trio-Magnet-Coasters-and-Hotpads.html