I have 4 day old kittens with fleas. How can I treat them?
Dadof Four from Chattanooga, TN
Answers:
Kittens with Fleas
I am going to try the Dawn dish liquid idea. Guess it don't matter if it is concentrated or not. Maybe concentrated would be better, cause it works on grease. lol
Thanks (06/11/2006)
By April
Kittens with Fleas
Dawn dish soap has ammonia to help break down the grease, and fumes to go with it! Some animals get bad reactions to it. For my dog, I use Basic H by shaklee (one part to one part water) to make a shampoo, and it kills the fleas and conditions the skin. It also deters mosquitoes away. It is great for anything in your house, from OOPS to Windex/Pledge! You can check it out under Personal Care in my website: www.shaklee.net/healthy_home101
Note: One quart of this stuff lasts a real long time, with no caustic fumes for sensitive noses. It is all organic, so no worries of toxic waste products! Plus it is 100% money back guarantee. And look at the Basic G, it KILLS Feline Leukemia (easily spread between cats) and disinfects up to three days compared to bleach, without the nasty affects! (06/12/2006)
By camo_angels
Kittens with Fleas
Wonderful suggestions. I found 2 kittens about 4 weeks of age full of fleas. Used the Dawn dish soap and haven't found any since. Thanks for the great ideas. (09/06/2006)

By
Kittens with Fleas
Yeah- The dawn dish soap does work. Also- any brand of BABY shampoo works. It is inexpensive and doesn't hurt their eyes or skin. When they clean themselves or Mother cat is cleaning them it wont hurt to ingest. Unlike harmful chemicals where cats have been known to die. It really works. When the bath is done, use a fine toothed comb to remove dead fleas. Also, a shallow pan of sudsy water (using DAWN) with a small candle in the center will attract all stray fleas to the glowing beacon in a dark room. The next day, a bunch of dead fleas can be disposed of and forgotten about. Do as many times as needed. Cats do hate baths, so good luck! (09/26/2006)
By Abbe, Cincinnati
Kittens with Fleas
I heard that on a TV add that not only does dawn work on kittens and cats but it works on ducks too. I think I'm going to try it with my kitten. sounds like a good Idea. thank you everyone for the tips.
Erin (10/09/2006)

By Erin
Kittens with Fleas
Not sure if vinegar is good -- most cats detest the stuff. You could permanently annoy your pet doing this.

We gave them a dawn bath today. We're also going to try the salted bedding (washed frequently), and borax (or borax + diatomaceous earth is supposed to work even better), and the vet gave us some Advantage which is an oil you put on the back of their neck. It's supposed to be the best of the synthetics.
Wish us luck I'm apparently allergic to fleas and had many huge itchy red welts for the first few days... :( (10/23/2006)

By Pete (3 foundlings, with fleas)
Kittens with Fleas
IN REGARDS TO THE SALT ARE PEOPLE USING REGULAR TABLE SALT?

Editor's Note: Yes, normal table or plain salt. (11/10/2006)
By NEW KITTEN
Kittens with Fleas
I got a kitten on the 2nd of July, and a few days ago, I noticed some fleas. Just 10 mins ago, I bathed him, but the fleas are still there! I tried combing him, but his fur is too thick, and the fleas just burrow in his fur. HELp! (08/19/2007)

By
Kittens with Fleas
Question - Will the salt in the carpet/bedding or the Borax in the carpet harm the kitten? Do you have to isolate them from the room while you use this treatment?
I used Dawn on my 2 month old kitten and it did not kill any fleas (I just read that I needed to leave on for 4 minutes). They did come up to the head/neck and I was able to pinch off and kill. (09/03/2007)
By Amy
Kittens with Fleas and Salt Treatment
I too just found 2 abandoned kittens around 4 weeks old. They have a lot of fleas. How exactly does one use the salt method (amount to use, leave it on for how long, wipe it off or comb it out?) Also, if the kittens are in the garage will the fleas migrate into the house easily? Can the fleas jump on human clothes, skin or hair and be transfered into the house. Please help!
(b)Editor's Note:(/b) Do not put the salt on the kitten but on the carpets. Fleas can jump quite a few feet and lay eggs very fast so multiply quickly. (09/17/2007)

By Bugphobia
Kittens with Fleas
I tried the dawn on my kittens today, so I'm gonna cross my fingers and pray it works. (11/17/2007)

By Anita
Kittens with Fleas
I will try the dawn soap. Just wondering if anyone has used tree tea oil? We used it to finally get rid of lice at our house. It was a miracle so thinking it might work on fleas too?! (11/24/2007)
By ksnow
Kittens with Fleas
I just tried the Dawn soap on my new kitten. I got her wet then put the soap on working it in. Left it on for about 5 minutes while I worked it though her fur from the neck down then rinsed her. 7 fleas dropped off in the water. Combed her with a flea comb and haven't found anymore yet. (01/20/2008)

By Hpeter
Kittens with Fleas
Several years ago, I had found a kitten with fleas. He was sick and anemic. The Vet had told me to use PALMOLIVE DISH DETERGENT. I did and it worked.
That along with feeding him chicken noodle soup help him get better. (01/20/2008)

By RENNILOVER
Kittens with Fleas
My cat had her kitties yesterday, 5 total and I am noticing the babies have fleas. How long should I wait to try the dawn thing. I wouldn't want the babies to get sick from the cold but am also concerned that the fleas might be burrowing in their cavities. Please advise me! (04/24/2008)

By mokita
Kittens with Fleas
I haven't used dawn soap on my kitten yet but does it work and am I suppose to use a flea comb in the water while the soap is on her? (05/04/2008)

By gabby
Kittens with Fleas
I took in a stray about a year ago that had kittens and grew attached to the little runt who later died from the fleas that infested it even after I tried every trick. My own cat had 4 kittens not too long ago and when I noticed that they had a few fleas I decided that I wasn't going to put them through all that. I applied Advantage to the mother and with what got on my fingers (she has long, thick hair and I usually have to rub some in) I just rubbed it on the back of the necks of the kittens. It wasn't much at all but it worked and it worked fast. I know your not supposed to use it on babies but I had tried everything else, thankfully it worked and none of the babies were hurt from it. (05/06/2008)

By Christine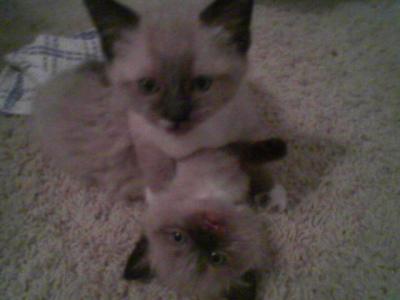 Kittens with Fleas
I have just adopted a little guy who was rescued by a very nice Lady and now realize he is infested with Fleas. I was wondering if Dawn works better than Baby shampoo? Also is Dawn as safe as Baby shampoo? I just don't want to hurt the little fellow with treating him with something that is potentially harmful to him. (06/01/2008)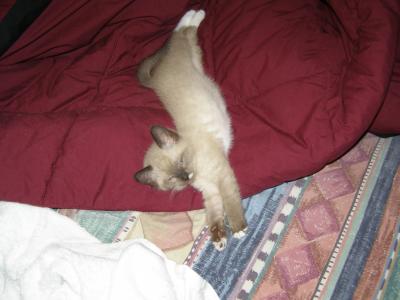 Kittens with Fleas
Buy a flea comb. baths will only work if you leave the kitten in the soapy water up to their neck for a few minutes which is hard with little kittens. DO not put anything onto the kittens who are less than 8-12 weeks old and always consult with your vet. Fleas jump high so once you find one immediately put the comb in a bowl of soapy warer to drown it then flush it down the toilet when you are finished. Fleas multiply quickly and can be deadly to kittens dont ingore this problem they will infest your house. (06/30/2008)

By rachelle.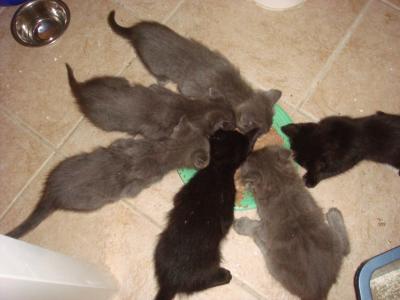 Kittens with Fleas
I have an 6 week old kitten. notice he had fleas. Right away I put him in an plastic small storage bin (this is his bath tub). And filled it with warm water cool to touch. All the way up to the neck line. Brought local kitten flea shampoo. So I left the kitten in the water for about 5 minutes, and the dead fleas were floating in the water and fell to the bottm. But be careful I took the kitten out the water and wrapped him in his towel to dry. They were some survivers. When I unwrapped him they crawled into the towel. So I had to take a tweezers and pick them out and sink them into the water bath. Also sprayed the house (07/13/2008)

By Chinkie Eyes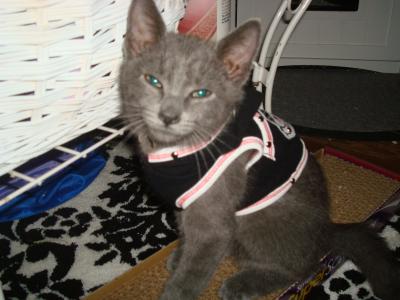 Kittens with Fleas
I just got a kitten today. He is 7 weeks old and was given to me completely infested with fleas! I brought him to a groomer to get rid of them and was still infested. They gave me a spray that I could use to help kill and comb them out with a flea comb, so I did that also. A friend also swore up and down that sprinkling baby powder on their fur and combing it through will kill off any survivors. Waiting a few days to put on the kitten flea collar. I haven't tried the dawn dish soap bath but if this all doesn't work, I will try it. Question: is it really ok to bring the kitten in the house? I don't want my place infested with fleas! :( (07/25/2008)

By Courtney