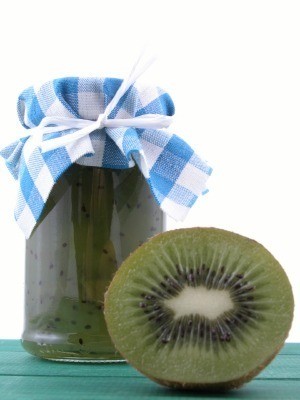 My mother and I were experimenting and made this jelly. Its the best tasting besides regular strawberry preserves I've ever had.
Ingredients:
3-1/2 cups Kiwi-Strawberry juice
1 package (1-3/4 oz.) powdered fruit pectin
juice from 1 lemon
4 1/2 to 5 cups sugar (taste to see how sweet you want it)
Directions:
In a Dutch oven combine Kiwi-Strawberry juice, juice from 1 lemon, and pectin. Bring to a full rolling boil over high heat; stirring constantly. Stir in sugar; return to a full rolling boil. Boil for 2 minutes, stirring constantly.
Remove from the heat; skim off foam. Pour hot liquid into hot sterilized half-pint jars, leaving 1/4 inch head-space. Wipe rims and adjust lids. Process for 5 minutes in a boiling-water canner. Yield: 6 half-pints or 3 pints.
The processing time listed is for altitudes of 1,000 feet or less. Add 1 minute to the processing time for each 1,000 feet of additional altitude.
Servings:
48
Time:
15 Minutes Preparation Time
about 20 Minutes Cooking Time
Source: My Mother
By SHARON from Vian, OK
Read More

Comments