Knitted Wire Heart Pendant

DianaHM
Silver Answer Medal for All Time! 440 Answers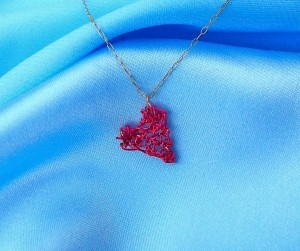 From a damaged radio, I had a piece of ruby-colored copper wire. I thought that I could make a cute heart pendant out of the wire of this color. This time I decided to knit this pendant. The usual knitting practically does not work with the copper transformer wire. So I had to figure out how to solve this problem. And, as you may have guessed, I did it. In this craft DIY, I share my method with you.
When knitting with wire, do not try to pull the wire out using a knitting needle. Do this with a crochet hook! Pull out the loop of the desired length using crochet hook, then put the loop on the knitting needle. When I write in this craft DIY knit stitch/knit (k), I mean do it with help from the crochet hook.
Total Time: 15 Min
Supplies:
23 in copper wire with diameter 0.2 inch, I used copper transformer wire from a damaged radio
2 knitting needles, size 0
1 crochet hook, size 8
pliers
wire cutters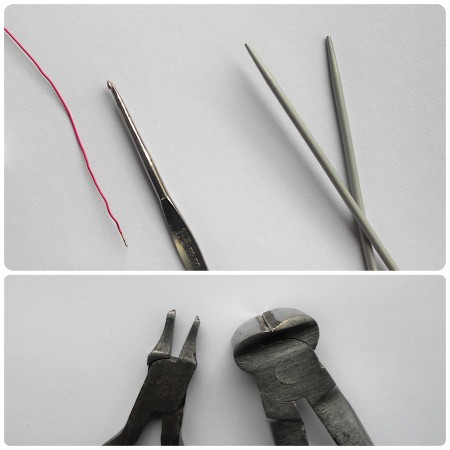 Steps:
Cast on 2 loops.

1st Row: remove the first stitch on a working knitting needle, 1 increase (knit 1 stitch (k1), but do not remove the loop, knit 1 stitch in the same loop). In total you will have 3 stitches (3).

2nd Row: knit back k3. (3)

3rd Row: k1, 1 increase (inc), k1. (4)

4rd Row: knit back k4. (4)

5rd Row: k1, 2 inc, k1. (6)
6rd Row: knit back k6. (6)

7rd Row: k1, 1 inc, k2, 1 inc, k1. (8)

Cut the wire, take out the knitting needles and split the loops in half to form on the top two halves.
Using the crochet hook, thread the outermost loops through the adjacent loops of the first half.


Form the second half of the heart. If your chain is thin enough, then you can thread it through the loops of one of the halves of the heart. But it's better to make a bail (see next step).

Cut a piece of wire and thread it through the loops of one of the halves of the heart. Wrap the wire around the crochet hook and twist the ends of the wire.

Cut twisted end and hide it inside loops. Turn the bail a little.

Your knitted wire heart pendant is ready.
Published by ThriftyFun.
© 1997-2022 by Cumuli, Inc. All Rights Reserved.
https://www.thriftyfun.com/Knitted-Wire-Heart-Pendant-1.html