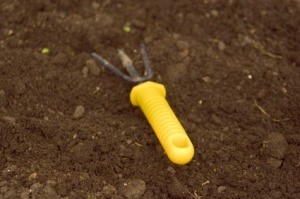 I have been recycling all I can with cans. For a while we were crazy about those huge cans of cheese sauce you can buy at the store. I must have bought twenty or more before we became burnt out on the cheese sauce. I didn't want to throw them away.
I took them out and lined them up along the house intending to plant things in them. I knew they did not have any drainage holes and I knew they would only hold water loving plants. I filled them with our mostly clay soil, and I mean clay. You could make pottery out of our soil.
I filled a bunch of these with our soil. Then I changed my mind when I saw how long the water pooled on top of the dirt because of the clay content. So my solution was to turn them all upside down last fall and deal with them the next season. I put them on upside down on the ground against our house. They were in a line.
Well I am out there clearing up the ladyfinger weeds. I like the ladyfingers but they take up a lot of soil and I clear them out from around my patio peach tree.
So I go to get some soil and I find one of these old cans and it is full of garbage soil I think. I turn it over, and OH MY GOSH! It is perfect potting soil, smells good, is loam not clay and it is just perfect. I had enough soil this way this year to fill all three fan metal boxes full of potting soil that was made this way. All I did was turn over a can the year before at the end of the summer.
You can bet I will be making lots of soil this way this year too, at the end of the year. I was so excited! Of course I will be ammending the soil anyway and finding out about PH and such. I wanted to share this and at the same time give a picture of the gardens I have out of fan boxes. I have not painted them yet but I am going to.
Notice the quality of the soil in the fan boxes, compared to the soil in the regular clay like garden in the chicken wire garden.