Thank you for answering my last question, you were really a great help. If i may bother everyone one more time about my pit bull pup. I am trying to leash train him, but when I start I always hold it above his head so he can't see it. But somehow he still manages to roll around and bite it (I think he thinks it's a toy). Should I spank him? And also he has a problem with biting clothes and growling! I just do not know what to do exactly with him. Please answer my questions again. Thanks,
Michael From Carolina
Answers:
Leash Training a Puppy
Michael,
Here's a link to a site that might help you & I both train our puppies: http://www.dog-play.com/leash.html.
Best of Luck
Marla
http://www.forgetmenotaromas.com - Our fragrances leave lasting impressions. (03/11/2005)

Leash Training a Puppy
You should never hurt your dog, especially a puppy. Why would you want the dog to fear you, & especially a puppy. They don't know what to do, you have to show them. The pup is just trying to play. Maybe the site given will help you. (03/11/2005)

By Vicki
Leash Training a Puppy
Never hit the dog, he loves you and sees you as his master but should never be afraid of you.
I suggest you go to a professional trainer. The dog is a pit bull they do have a bad reputation. A trainer with knowledge and experience in handling different types of dogs would be helpful throughout the dogs life. (03/11/2005)
By sandy
Leash Training a Puppy
For leash training, try a Halti or Gentle Leader training collar. All pet stores have them and they are GREAT! Since your dog is such a handful and he's only a pup, I think you should take him to an obedience class. If you don't teach him proper behaviors now, it will be much harder to break bad behavior when he is bigger. (03/11/2005)

By Linda
Leash Training a Puppy
He's only very young yet - persistence will pay off. Every time he displays some behavior you don't want say 'NO!' in a growly voice to get his attention. Be consistent - don't make a game of it sometimes and then don't allow him to do it others. All pups can be bitey and chewy - not necessarily an indication of their future nature. He should learn to respond to your voice and there won't be any need to spank him. If he responds well to you, which in such a young pup would be just pausing and paying attention, pat and praise. He will grow out of the chewing and biting if he learns this is not acceptable behavior. Leash training is covered in dog training books - haven't you bought that book yet?!
Regards
Jo (03/11/2005)

By Jo Bodey
Leash Training a Puppy
Never ever hit a dog - or a puppy - it will make all problems worst - POSITIVE training only - seek a trainer or go on internet and find "positive" training. (05/21/2005)

By Jeanne
Leash Training a Puppy
For our 8 week old pug's 1st day of leash training she rested and dragged the leash around, just to get use to it . (01/22/2007)

By blkpug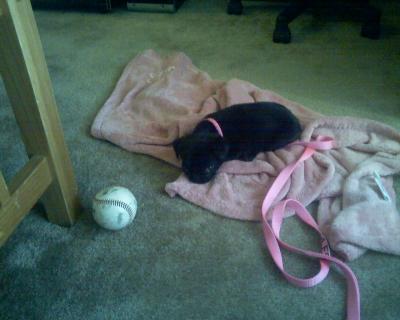 Leash Training a Puppy
Michael, it sounds like your puppy thinks the leash is a toy. Blkpug has a great solution.
Obedience school can be really good if you haven't trained a dog before. I think it's more about training the human than the dog. Just be careful about where you take him to school. Some classes are great and other schools are more into tough love.
Positive training only. Sure a big human can hit a little dog. But that doesn't make it right. And dogs are so smart that especially with a muscular breed like a pit bull he may well learn from being hit or hurt himself that aggression solves problems. You don't want that. (07/09/2007)

By Sheraone