I think the first and most important step in teaching your cat to walk on a leash has to be to use a harness - never simply attach a lead to your cat's collar as cat collars are designed to be easy for the cat to twist out of should he/she be caught on something. Try taking your cat outside with just a lead attached to his/her collar and your little Houdini will be off and away in seconds!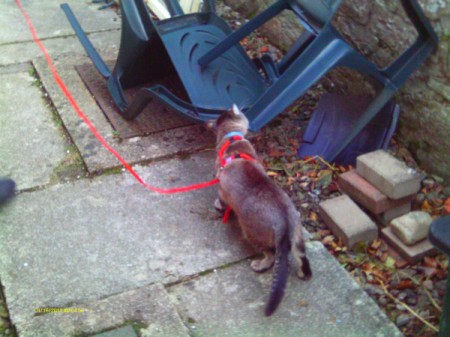 As you can see from the pictures, we use a harness on our Siamese-Abyssinian cross, and he is so comfortable on it that he will flop down for a nice sunbath:)
We started off training our cat by putting the harness on the living room floor near his toys so he could sniff it out. We progressed over the next few days from putting the harness on him, but not buckling it, to buckling it, then onto adding the leash so he could feel the weight of the lead.
Yes, with each new step he wasn't happy at first which is why we took things slowly and waited to progress to the next step until he stopped trying to free himself. This waiting never lasted more than a day or two between steps as he was rewarded with cat treats whenever he settled down. Most cats will respond nicely to a wee something tasty!
Finally, after a week of accustoming him to the feel of the harness and lead, we took him to the back garden for his first 'walkies'. LOL, the minute he was out of doors he started rolling and fighting the harness, even tried half-heartedly to chew through the lead to free himself, but over the next week he got to the point where he would run to us purring to have the harness slipped on, the lead snapped on, and the back door opened!
IMPORTANT: Your cat is NOT a dog - he must be permitted to be the participant in walkies who decides where the two of you go; you can't expect him not to want to explore, sniff, stop, and sit for a while, etc. He won't ever be your happy and willing morning jog companion, for example.
But if you prefer to keep him safely inside unless out with you on a harness and lead, letting him control where he goes really helps a cat get some safe outdoor time. Our lad travels with us and greatly enjoys supervised exploration of new places thanks to the harness and lead.
Finally, readers should know the lovely and healthy cat we trained to be comfortable and happy using a harness and lead is a formerly semi-feral cat abandoned by his owners early his life. He attached himself to a caravan park where he permitted residents to cuddle and feed him, but for the most part he lived on the moors, fending for himself for over four years.
When he began raiding caravan kitchens, tents, and BBQs early in his fifth year he was deemed a problem and a real furever home was sought for him. We were chosen and will be forever grateful this handsome and loving cat is a part of our life! He's eight now and is doing wonderfully:)