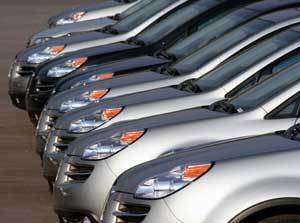 Purchasing a new vehicle can be quite a tedious task requiring much research in order to profit. From researching makes of vehicles to loan rates, the information can be overwhelming. How then can one best decide if leasing or buying is the right decision? Take this questionnaire to find out.
Can I handle the idea that I will pay on a car continuously without ever owning anything?
Most people find the answer to this to be the decision maker. Can you live with the idea that you are paying on something that isn't yours? If your answer is no, then leasing is not for you regardless of any other promising factors it offers. Leasing is renting. Although there are options to buy the car, most leases end without anything left to show for the years of payment.
Do I like trade in my new cars as soon as the loans are paid in full, therefore, constantly making payments and always driving new cars?
Anyone answering yes should seriously consider leasing a vehicle. By purchasing a new vehicle and then using the trade-in to finance another new vehicle as soon as the loan is paid, you are doing something similar to leasing. However, with a lease you may be able to drive the new vehicles more often, turning over leases quicker than paying off car loans.
Do I pack on the miles?
If driving is something you do in abundance, then reconsider leasing. Most leases carry hefty penalties for going over a set mileage. Anyone with a long work commute or frequent long trips should approach the lease with caution.
Do I have money to put down on the new car?
If a trade-in or down payment isn't available, purchasing a new car can be near impossible. Leasing allows a person to drive away in a new vehicle with a lesser down payment. Along the same lines, if the monthly payments on a new car are too steep, then leasing offers payments that are almost half the amount of the loan payments. How? Because the lessee is only paying the depreciation of the car's value over the course of the lease. In other words, you only pay for the value lost on the car in that period of years. Along those lines, ask yourself this:
Do I put "excessive wear" on my car?
Stained carpets, dents, paint chips, these are all considered "excessive wear." Have this term clearly defined in your lease papers because it all lessens the value of your car at the end of the lease. Less value means higher penalties at the close of the lease. If you purchase the car, you have the same problems trading it in on a newer vehicle down the road.
Do I buy a car to build equity?
Most car loans are too high to build significant equity quickly. Interest is paid first, so if the vehicle is traded in before the loan is paid, there often isn't enough equity accumulated to justify the value of the car. For instance, a $24,000 truck can be traded in for its value of $12,000 four years into the loan. The value of the trade then pays off the balance of the loan leaving the car owner to break even. After four years of hefty payments, the former owner is left where he started.
Read More

Comments

My husband wants to lease a new car. We've always bought cars before and now that we have two small children I don't think leasing is a good idea for us. I know we won't put the milage on the Car/SUV but the kids will probably spill in it. What are the pros and cons of leasing?
Thanks,
Amanda from Niles, OH
Answers

February 2, 2006
0

found this helpful
Find out first what the cost is for miles over lease
allowance. If you put excessive miles on a car
in a year then you will know ahead of time.
ASK,ASK, ASK any questions about fees and lease
vs. purchase and write the answers down.
My husband is disabled and cannot do auto work
so we leased. However we had one bad LEMON
which was stressful but the company finally took care of it. Just be careful and research.
We own our auto now and it works for us.
Good Luck.
By Carol (Guest Post)
February 3, 2006
0

found this helpful
For me the worst part at the end is you have nothing to "trade in." It is more economical to buy a used car, and then run it into the ground..

February 3, 2006
0

found this helpful
We leased a mini van 8 years ago; it was the worst thing we could have done! We thought we would NEVER eat up all the miles; we were over; we quit driving it for 2 months to avoid going over, and finally went to a car dealership to purchase a new vehicle and BUY our way out of the lease, rolling the pay off costs into our new car - what a MESS!
I think that pay off of the lease is still rolled into my current car payment 2 cars later...NEVER AGAIN!
By (Guest Post)
February 4, 2006
0

found this helpful
please DO NOT lease. We leased two cars a few years ago and when we saw what we would owe at the end and the the cars were not going to be worth it at all we ended up turing them back in and going through chapter 13. Now we are paying for cars we do not have, our credit is ruined and life will never ber the same again. Please do not lease!!!!!!
By Marian (Guest Post)
February 4, 2006
0

found this helpful
We leased cars two times back to back. I was completely against leasing, but my husband did it anyway. We went over the mileage the first time and came pretty close the second time. When the end of the lease finally came up, we bought a car......but we had nothing to trade in.
I feel all that money was wasted over the years. The reason for leasing was that if anything happened to the car, all we had to do was bring it in, but we still paid for a lot of stuff to keep the car in shape.

February 13, 2006
0

found this helpful
Consumer Reports Magazine has a lot to say about the pros and cons of leasing vs. buying. Their advice may help you make a decision that's right for your family or at least give you some proof to back up your argument so you and your husband can compromise.

April 3, 2011
0

found this helpful
In my opinion a Lease is not good because after the lease ends you have nothing. Buying is better also keep in mind the lemon law applies to all new and used vehicles. So if you do lease or buy, and repairs are needed keep all records and be sure if the complaint is the same one, make sure it is written down exactly the same way every time. I am an automotive Lemon Law expert witness and have seem where a complaint is written down a little different, it causes a problem when the law suit was filed and we were in trial. So don't sign anything unless it states what you said exactly. If you buy don't buy the extended warranty unless it states (seals and gaskets are covered). This one little statement can save you hundred of dollars if you get an oil leak. Also ask for a Free loan car and a Zero Deduction when and if you do buy an extended warranty, be sure to read it in the contract and see it. A free loan car and a Zero Deduction can save you hundreds of dollar as well. I have seen in trial where the seller of the warranty said he did not ever remember saying everything about seals and gaskets was covered. So be careful there are a lot of crooks selling warranties that are not worth the paper they are written on. I am also a writer for Yahoo Community Network and advise people of this scam. Good luck and God bless you.
Answer

this Question
I have a '05 Chevy Impala that is leased and it is up in March. My question, does anyone own one and know how reliable are they? Mine has been an awesome car, just now before the lease turn in the front suspension sounds loose, and when the heat goes on it sounds like water is running through the dash.
I am in between keeping it and low balling the dealership a price and if they take it then great. Or should I just look at getting a cheaper car that is used and pay it off in a year or 2, the Impala would be about 3, I would offer $9500.
mom of 2
Answers

January 4, 2008
0

found this helpful
I've never leased a car, but aren't they responsible for repairing the car until the lease is up? If so, get it to the shop and get it fixed. Also check the passenger side floor, if it is damp, get rid of the car, this means the heater core has gone out and it is a very expensive componant. When my son's heater core went out, it wasn't but a very short time that the car started over heating and soon he blew a head gasket and after being repaired the car never ran the same again.
Check your lease, your warranty and everything possible to get the car in the shop before the lease is up. You do not want to be stuck having to pay that kind of money for those repairs.
Personally, the way I look at cars, no matter what happens in life, you are always going to have a car payment. If you pay one off, something is going to happen to it and you are going to be stuck with a high repair bill, over and over again. It is frustrating, so my idea is to by pass the frustration and keep a car that is in good running condition and very dependable and once it starts having problems, trade it off.
The front sound could be the front struts, which are also very expensive to have replaced. The parts are not that high, it is the rediculously high labor fees because they are so hard to change. But it could be as simple as a pebble in the brakes, but don't bet on it.
I did have a Chevy Malibu years ago and I hated the car. But I do not like GM or GMC products. but that is my personal preference, I will say they are usually cheaper to repair than other vehicles.
Again, read the lease agreement, the warranty and get the car checked out by a dealership that is not holding the lease to find out what is wrong with the car, they might charge you around $100 for a diagnostics test, that should give you the exact list of the problems. That will give you something to present to the lease holder.
Good luck and please let me know how it turns out. I'm curious to know if I guessed right on the problems.
Tina

Jess
Silver Post Medal for All Time! 267 Posts
January 5, 2008
0

found this helpful
My experience with leasing was a nightmare and I will never do it again. I would turn it in when the lease is up and take any money to buy a good used car (preferably with a warranty). There is a standard warranty just like if you buy a new car, so any repairs that are needed outside of that are your own fault. The good news is that they are going to do an inspection of the car that is very cursory (if my experience is any judge), and shouldn't care about the problems as long as it drives and the car looks fine.
I don't believe that the dealer had much to do with the end of the lease, it was all done by the finance company (GMAC or whoever you send your bills to). We called, got the total to buy it (which was just a little bit lower than buying a used one from a lot) and there wasn't any negotiation allowed. Take it or leave it.
I would call the company directly and see what the actual payoff total is. I would also take it to a mechanic if you do decide to keep it to make sure it doesn't die on you as soon as you pay it off.
Because of the rising gas prices (with no end in sight), there are a lot of newer used cars on the market that people have traded in for a hybrid or more energy efficient car. You might be able to get an even more awesome car for less than $9500
Good luck, let us know how it turns out.

January 5, 2008
0

found this helpful
We had an 01' Impala. Worked and ran great for appx. 3/3-1/2 yrs and than little things started happening until finally in 07' we traded it in, not trusting the reliability of the car anylonger. I don't believe in leasing~ ANYTHING!
Answer

this Question
I have a 4 year-old Toyota 4Runner with 33,000 miles that will be at the end of the lease next July. I have never had any problems with the truck and I would love to keep it, but it would cost approximately $17,000 at that time and I will only be able to pay $4,000 in cash. Is it smarter to finance $13,000 on a lesser vehicle that is brand new or only slightly used with a warranty?
I have checked into financing the $13,000 for 36 months and can afford to make those payments but that will mean paying for this vehicle for 8 years, yuk. I knew this was a mistake from the moment I did it, but now I have to get out.
Thank you.
Jill
---
Jill is right. When she signed the lease three years ago, she set herself up for this problem. Leasing is attractive because allows people to drive cars that they really can't afford. That's because you're only paying to use the car. During the course of the lease you build no equity in the car and have to return it to the dealer at the end of the lease.
Using Kelley's Blue Book (www.kbb.com) for pricing info, we found that a 4Runner depreciates nearly $12,000 in the first four years. That's the portion that Jill was paying for. Unfortunately for her, the first few years are the most expensive years for any vehicle. That's one reason dealers push leases. It is very profitable business for them.
Jill has four basic options available to her. She can buy a new car, lease a new car, buy a used car, or buy her existing 4Runner. Let's look at each choice.
Buying a new car will be the most expensive option. A new car will mean the highest yearly depreciation and the highest monthly payments. But, the biggest advantage is that once the car is paid for it belongs to Jill. Once she's finished with the payments she can drive the car payment-free for as long as she likes. She'll also have the benefit of the new car warranty.
If Jill chooses to buy a new 4Runner or similar vehicle, she'd be borrowing $25,000 ($29,000 purchase minus $4,000 down payment). On a four year loan the average payment would be $588 per month. That means that the new car payment is nearly 50% higher than the used car payment. And she'd have an extra year's worth of payments on the new car.
A sharp dealer could reduce Jill's payment on a new car by showing her a 6 year loan. That would reduce her payment to $403 per month. Basically the same as the used car payment. But, that would mean paying over $4,000 in interest over the life of the loan and making six long years of payments.
Another new car option would be to buy something less expensive, like a Toyota Carolla. For $17,000 (the same price as her used 4Runner) she should be able to get good, reliable transportation. Plus have the warranty.
Leasing a new car would get her a lower payment. But, after a few years of lease payments she'd be right back where she is now - without a car.
Buying a used car would keep her payments down and allow her to own a vehicle once the payments are complete. If Jill finances $13,000 on a used car or buys her present 4Runner (figuring $17,000 purchase price minus $4,000 down payment) her monthly payment would be $401 for 36 months.
The disadvantage, as Jill pointed out, is that she could be making payments on a 7 year-old car. But, at the end she'd own a 4Runner worth over $11,000. And, if she were worried about repairs she could buy a 4-year extended warranty for about $1,000.
Probably the best long-term choices for Jill would be to buy her 4Runner or to find a used vehicle. The payments are affordable and she will own her vehicle when they're done.
With her 4Runner she'd be buying a used car that she's very familiar with. It is also a car with lower than average mileage.
If Jill decides to buy her car she can negotiate with the leasing company. Depending on the circumstances they may be willing to let her buy the car for less than the price in the original lease agreement.
Ultimately Jill needs to decide how much she enjoys that new car smell and the comfort of a new car warranty. The safest financial deal would be to buy her leased truck or a similar used truck depending on where she can get the best deal. Next best would be to buy a less expensive new car. No matter what she decides we hope that she enjoys many trouble-free miles.
Answers
By sandy (Guest Post)
March 4, 2005
0

found this helpful
according to larry burkett from crown financial mnst. never lease a car. you dont own it those 4 yrs. you are paying them to let you drive it then you have to pay for them to give it to you again.

March 6, 2005
0

found this helpful
What Jill needs to look at is the current book value of the 4Runner. If it is worth more that what she has to pay to buy it out she is better off purchasing the 4Runner. Only she knows how she has treated this vehicle. Only she knows what the problems are. If she has maintained it, she can sell it privately and pocket the extra (book value vs buy back) This would then give her some money for a down payment on another vehicle.
Answer

this Question