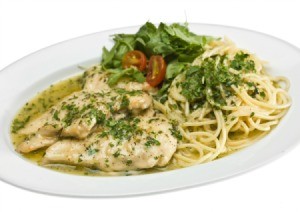 Ingredients:
1 lb skinless, boneless chicken thighs, cut in to 1/2 inch strips and then in to 2 inch bites.
3 Tbsp. extra virgin olive oil
1 1/2 tsp. minced garlic
3 Tbsp. cornstarch
2 cups chicken stock
1/4 cup lemon juice
1 Tbsp. Dijon mustard
1/8 tsp. pepper
8 oz. angel hair pasta
Directions:
Stir the cornstarch, stock, lemon juice, mustard and pepper in a medium bowl until the mixture is smooth.
Heat the olive oil in a skillet over medium low heat. Add the garlic and cook until garlic is just beginning to brown. Add chicken and cook over medium high heat until the chicken is just browned, stirring often. Remove the chicken from the skillet and set aside.
Stir the cornstarch mixture in the skillet. Cook and stir until the mixture boils and thickens. Return the chicken to the skillet and cook until the chicken is cooked through.
Meanwhile, bring water to boil in a pot and cook the pasta al dente according to package directions. Drain pasta well with lid over the pot instead of using a colander. Add the chicken mixture, toss, and serve.
By Deeli from Richland, WA