I bought a large fry pan with a glass lid. Not a quality pan, but I think it's worth what I paid for it, with one exception. Looking down into the pan, you can see that the inside bottom is convex. It is raised in the center and becomes lower towards the outer area. I used it just once.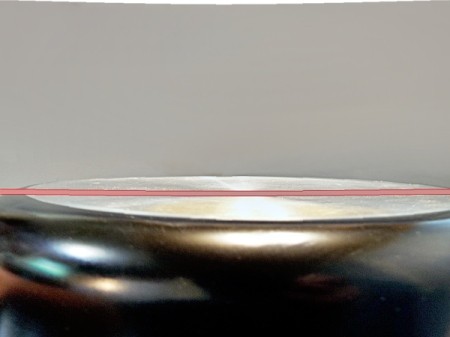 I don't use a lot of grease. I added what was enough to cover the bottom of the pan. Due to the pan bottom being convex at center, all the grease ran to the outer edges.
I had plans to return the pan. I never got around to it. Now, it's too late. The pan would be fine for cooking anything that required lots of grease or liquid. It's no good for frying with small amounts of grease.
I googled the internet for suggestions on how to level the pan bottom. They all required things like hammers and 2x4s. I don't want to use these methods and risk ruining the non stick interior.
Have any of you encountered this problem, and if so, how did you handle it? The only thing I know for sure is that I would have to heat the pan to a temperature hotter than I would ever use it for frying. If I didn't do this, the pan would revert to the convex shape when I heated it up to a normal frying temperature. And I'm afraid this high temperature would harm the non stick surface.
Any ideas?
PS
I read reviews on this now discontinued pan and learned other people had my same complaint. It probably would have done no good to exchange the pan.
There is no grease on the pan bottom. That is a camera effect.