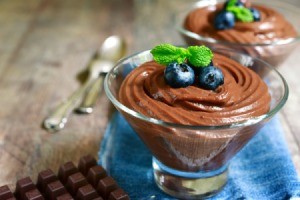 I came up with this recipe to satisfy the chocolate cravings of a couple of friends who are always dieting. When they came to my home for dinner, I was always stumped for a chocolate dessert (one of my specialties) that would meet their needs. Everyone loves this; it is quick, easy and cheap to make. And has a very "grown-up" not too sweet flavor. And nothing artificial. Enjoy!
Ingredients:
about 1/3 bar bittersweet chocolate, 65-75% cacao. (This is eating chocolate, like Ghiradellis, nestle dark, etc., the big flat bars NOT baking chocolate)
2 cups non-fat milk
3 Tbsp. corn starch
1/2 tsp. instant coffee, dry (an be decaf or reg)
pinch of salt, optional
Directions:
Heat 1 1/2 cups of the milk over low flame, with 3 " squares" of the eating chocolate in it (about 1/3 of the bar, according to how chocolaty you like it).
Stir until chocolate is melted then add coffee and salt, stir till dissolved. Remove from heat.
Pour remaining 1/2 cup of cold milk into cornstarch and stir till dissolved - no lumps.
Put chocolate milk back over low flame and slowly stir in cold milk to which cornstarch has been added. Continue to stir till pudding begins to bubble and thicken. It will get even thicker as it cools. (it is very yummy when it is runny and warm poured over plain cake!)
Pour into custard cups or other 1/2 cup serving dishes. Refrigerate till chilled.
Makes 4 servings - about 110 calories each, 4 grams of fat, 2 grams of sugar. About 25-30 cents per serving! (If I get everything on sale I can make this for 15-18 cents a serving)
Servings:
4
Time:
5 Minutes Preparation Time
10 Minutes Cooking Time
By plumcottage from on the beach in NJ