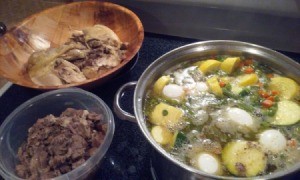 I just wanted to share a recipe that I use for my five month old Shih Tzu puppies, Cooper and Bentley.
In a large crock pot, I use a whole natural chicken along with beef stew meat, chicken livers and chicken gizzards with added water and olive oil. That cooks about 8 hours.
Then in a stock pot, I boil 3 large yellow squash, 3 large zucchini, and 3 large sweet potatoes. I use fresh carrots and green beans with peas added, I also use 9 boiled eggs. Then on hand, I have a can of all natural pumpkin to add to this. I use 6 cups brown or white rice. I debone the chicken, you don't want splinters in their food. After all is cooked, keep in mind that I don't throw away the broth from the meat. We don't want the food to be dry.
It all cools for a bit, then I use my food processor and blend it all together. I don't make it too soft, but it is blended quite well. After that, I add the rice and pumpkin, mix it really good with my hands, put it into containers and freeze. They also get their multi-vitamins.
Since they have been on this diet, they are extremely happy and very healthy puppies. I consulted with my vet and she loves this diet. I'm not sure if you have picky eaters, but I have found my dogs to be very picky. I was spending a small fortune to find a healthy food in the stores and they would lose interest so fast. I enjoy watching them go crazy while their food is cooking. The best is watching them gobble it down. I hope you enjoy.