I am looking for homemade dog food recipes for Yorkshire Terriers.

Gordon from Union City, NJ

Answers
By Mitzi (Guest Post)
May 28, 2007
2

found this helpful
Best Answer
I am feeding my 8 year old Yorkie Webster boiled chicken, brown rice and diced carrots. I boil the chicken with no spice, debone and pull off all the fat. I was putting that in a blender and pulverizing it to death but am am now pulling the meat into little pieces and mixing it with brown rice and the carrots. I do put the cooked carrots in a small chopper and chop them into small pieces. Making 1 chicken, 2 servings of brown rice and 4 or 5 carrots gives me enough food for 2 weeks. I also free feed Webster Wellness dry dog food to ensure he gets all the vitamins and minerals he needs. Hope this helps! Mitzi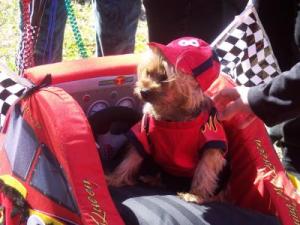 June 1, 2007
1

found this helpful
Best Answer
My vet told me to try this recipe and my yorkie, Oso loves it!
One ground turkey roll. Bake it with no spices. Let cool then slice. Put some in the fridge and some in the freezer.
I serve it with small baby carrots, boiled and lukewarm. He loves his special meal.
Also another veggie fav is green beans. I buy cans and slice them up small and he just goes nuts over green beans. The vet says they are good for him.
He gets dry pedigree and some wet pedigree mainly
so I use little slices of turkey for healthy treats.
This is Oso hogging the shot of our Jack Russell Cookie.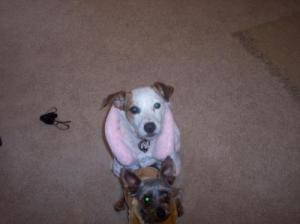 August 16, 2007
1

found this helpful
Best Answer
Think I will try the carrots chopped too. Maggie Mae and Jackson Fletcher are my 2 chihuahuas, both about 4#. Wal Mart has chicken hind quarters in 10# bags for about $4 a bag. Every two weeks or so I bake a bag, cool, skin and debone the meat. Usually I chop it up in small pieces and freeze it in zip lock bags or small yogurt containers.
Sometimes I add a bit of rice or left overs. Maggie likes peas and Jackson likes green beans. Webster looks like a hoot! Got to love the little critters. I am so thankful they let me live with them!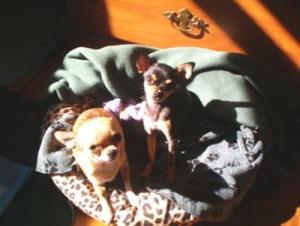 By angela (Guest Post)
March 22, 2008
1

found this helpful
Best Answer
I have a beautiful 1 yr old yorkie named Willow. She is the love of our life. I have researched so many types of dog foods and was sickened by some of them. Iams is one of them. I watched a video where dogs were treated so cruelly. I cried. I found a dry dog food called canidae that is holistic and uses human grade meats and lots of veggies.
I also make my own for her. It has turkey. I buy a turkey breast with lots of carrots, green beans and brown rice. Willow loves this. I warm it up for her and add it to her kibble. Always check the ingredients in their kibble. Never buy foods with "by-products" in them. I don't want to eat beaks and hooves and our pets shouldn't have to either. Enjoy your pets. They are our true loyal friends!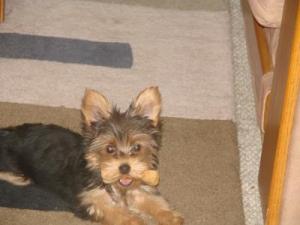 By Annette Wright (Guest Post)
July 4, 2008
1

found this helpful
Best Answer
I have 6 Yorkies and have always cooked for them. I use boiled chicken, brown rice, carrots, scrambled eggs a little powdered milk and a couple of calcium tabs ground up with the chicken. I use 76 per cent meat. I also make dehydrated beef sticks from ground lean beef for treats.
I just recently lost one of my dogs at 18 and have another at 17 and my Vet cannot believe how good he looks.The only food I would consider other than mine is Paul Newman's or Solid Gold. Every now and then I give my Yorkies some Cod Liver Oil.
Answer

this Question

I have an 11 week old miniature Yorkie. I've tried giving him kibble and it makes him ill. I then put him onto a chicken/white rice diet and he livened up, but I have since started to introduce the kibble again and he's not got any energy and has been running to the toilet a lot. I'm looking for homemade recipes as I want to make sure he's getting everything he needs.
TIA
Answers

Judy
Gold Post Medal for All Time! 677 Posts
August 20, 2019
0

found this helpful
Best Answer
We used to boil ground beef and serve it with white rice to my sisters dog with a delicate stomach.

Pghgirl40
Bronze Feedback Medal for All Time! 196 Feedbacks
August 20, 2019
0

found this helpful
Best Answer
Best to talk to your vet and get an approved recipe for a pup that is so small and going to be such a small adult dog. 11 weeks is very young and the vet may need you to add mother's milk (something you can get at the vet or some tractor supply places) to whatever you are going to feed him. This will need to be adjusted as the pup grows also!
Every dog is different. For example, my dog gets pancreatitis from ground beef, ground lamb or ground turkey so if we need to give him homemade food, the vet gave us the right proportions of white rice and white meat of chicken.
My friend had a tea cup yorkie that could only eat cottage cheese and rice and her vet gave her a recipe for the amounts for that.
Another friend could only feed her (big) dog some kind of special vet recipe "raw" diet. She got her supplies from a dog that nutritionist her vet recommended because he had all kinds of health issues.
Prayers that your vet finds the right combination the first time out!! Sometimes it takes a bit of tweaking, especially in a small pup.
Post back with an update!

poehere
Bronze Post Medal for All Time! 105 Posts
August 21, 2019
1

found this helpful
Best Answer
There are many dogs who can not eat Kibble dog food and it makes them sick. I have 6 dogs at home and my vet has told me a long time ago that it is best to feed them plain white rice or even pasta with some cooked beef scraps I buy at the market or even some boiled or cooked chicken with no seasonings on it. I have been feeding my dogs like this for over 20+ years and they are all healthy and have lived a very long life. I believe this is better for the animal than the food you can buy for them.

Lizzyanny
Bronze Feedback Medal for All Time! 226 Feedbacks
August 21, 2019
0

found this helpful
Best Answer
I had a dog that had many food allergies. I tried everything and finally ended up cooking brown rice and adding canned pink salmon (not too expensive) It had lots of oil and bones that were cooked to pieces in the canning process. I added a vitamin that the Vet recommended. My dog never chewed his skin again and lived to be 17 years old.
petlover
Bronze Feedback Medal for All Time! 128 Feedbacks
August 23, 2019
0

found this helpful
Best Answer
Avoid liver... as this could give the dog the runs. Try warming the food in the microwave before serving as this releases the smell more. ( do not over heat ). Try a little chicken stock on the food. Wee dogs can be fussy but well worth the effort. Try making a meat casserole especially for the dog, then freeze in serving sizes to make it easier for yourself.
Answer

this Question
I have heard that it is not good for Yorkies to eat homemade dog food, made with meat and veggies? Aren't they better for the dog than most dog food? Considering how they make dog food and what they put in it. What is right? Can you please tell me.
Trixie
Answers

June 9, 2008
0

found this helpful
Best Answer
I have not heard of any homemade dog food that is breed specific. We have had amazing results with our diabetic basset since switching her to homemade cooked food. Last week, we were running late and I had some commercial food that someone had given me for one of our rescue bassets. I gave our girls a cup full of the commercial and her blood sugars skyrocketed. We had to give her double the insulin. We returned to the homemade cooked food and her blood sugars are normal again with half the insulin injects needed.
You must be careful with anything containing garlic, onions of any form, avocadoes, raisins, dates, coffee, tea, etc. I found out that even when using tomato paste or tomato sauce, you must check the label. Some brands have pure tomato puree while others add garlic, onions and preservatives.
About 2 months ago, I was making them turkey meatballs and I grabs the canister of bread crumbs from my pantry. Keep in mind that these are the same bread crumbs that my family eats. I happen to start reading the label and it was loaded with preservatives and even corn syrup. Why? Its bread crumbs. I started making my own bread crumbs for everyone. Now I have noticed that I look at ingredient labels more when shopping.
If you need some easy and quick, but very nutritional recipes - just let me know. I would love to share what I have learned over the past 2.5 years.
Picture is of our 2 bassets and son on vacation in a hotel room. They don't get to be on the bed at home...so they were treated like queens on vacation.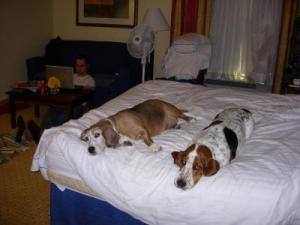 June 9, 2008
0

found this helpful
Best Answer
My dog has bad skin allergies so I thought I would switch to my home-made food. I found what seemed like a good healthy recipe, it was potatoes, carrots and ground turkey, I forget the proportions of vegeys to meat, but she contracted a bladder infection soon after starting the new diet, my vet said she was getting the wrong proportion of protein to carb and that caused the infection. My poor dog has been on cortisone for 3plus years now, I finally took her off, feed her "Eagle Pack" holistic select anchovy,sardine and sweet potato formula dry dog food, also I give her Benedryl twice daily, she hardly ever scratches now and her coat has grown back beautifully, I highly recommend this for those who have bad skin allergies, cuz that cortisone is bad news for the long term.
By junebug_000 (Guest Post)
June 10, 2008
0

found this helpful
Best Answer
Just make sure they get the correct vitamins and nutrients they need and not too much fat. It can be difficult to get a balanced diet from a homemade diet if you don't know much about nutrition. Store bought dog foods are balanced for what a dog needs. Just remember about all the food recalls on human foods too. Just because you make your dog food doesn't make your dog safe :)

January 6, 2009
0

found this helpful
Best Answer
My little Westie, Nik, got a bad reaction from the contaminated dog food scare last year. I have now switched him over to mostly homecooked food like chicken , fresh veggies, some brown rice, sweet potatoes, as well as some vitamin suppliments. I still give him some organic kibble but have found that he is doing better on what I make. HTH
Answer

this Question