By Mitzi (Guest Post)
May 28, 2007
2

found this helpful
Best Answer
I am feeding my 8 year old Yorkie Webster boiled chicken, brown rice and diced carrots. I boil the chicken with no spice, debone and pull off all the fat. I was putting that in a blender and pulverizing it to death but am am now pulling the meat into little pieces and mixing it with brown rice and the carrots. I do put the cooked carrots in a small chopper and chop them into small pieces. Making 1 chicken, 2 servings of brown rice and 4 or 5 carrots gives me enough food for 2 weeks. I also free feed Webster Wellness dry dog food to ensure he gets all the vitamins and minerals he needs. Hope this helps! Mitzi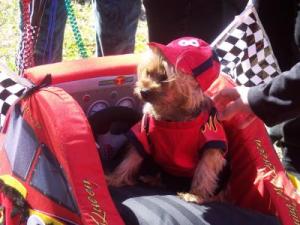 June 1, 2007
1

found this helpful
Best Answer
My vet told me to try this recipe and my yorkie, Oso loves it!
One ground turkey roll. Bake it with no spices. Let cool then slice. Put some in the fridge and some in the freezer.
I serve it with small baby carrots, boiled and lukewarm. He loves his special meal.
Also another veggie fav is green beans. I buy cans and slice them up small and he just goes nuts over green beans. The vet says they are good for him.
He gets dry pedigree and some wet pedigree mainly
so I use little slices of turkey for healthy treats.
This is Oso hogging the shot of our Jack Russell Cookie.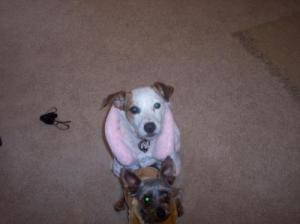 August 16, 2007
1

found this helpful
Best Answer
Think I will try the carrots chopped too. Maggie Mae and Jackson Fletcher are my 2 chihuahuas, both about 4#. Wal Mart has chicken hind quarters in 10# bags for about $4 a bag. Every two weeks or so I bake a bag, cool, skin and debone the meat. Usually I chop it up in small pieces and freeze it in zip lock bags or small yogurt containers. Sometimes I add a bit of rice or left overs. Maggie likes peas and Jackson likes green beans. Webster looks like a hoot! Got to love the little critters. I am so thankful they let me live with them!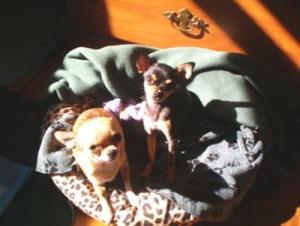 March 29, 2017
0

found this helpful
My mother had a Chihuahua identical to the little black and tan one she weighed about 2 lbs her name was Maggie may as well. My mother passed away last November and Maggie May was adopted she would be 6yrs old in April
By angela (Guest Post)
March 22, 2008
1

found this helpful
Best Answer
I have a beautiful 1 yr old yorkie named Willow. She is the love of our life. I have researched so many types of dog foods and was sickened by some of them. Iams is one of them. I watched a video where dogs were treated so cruelly. I cried. I found a dry dog food called canidae that is holistic and uses human grade meats and lots of veggies.
I also make my own for her. It has turkey. I buy a turkey breast with lots of carrots, green beans and brown rice. Willow loves this. I warm it up for her and add it to her kibble. Always check the ingredients in their kibble. Never buy foods with "by-products" in them. I don't want to eat beaks and hooves and our pets shouldn't have to either. Enjoy your pets. They are our true loyal friends!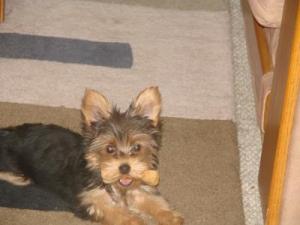 By Annette Wright (Guest Post)
July 4, 2008
1

found this helpful
Best Answer
I have 6 Yorkies and have always cooked for them. I use boiled chicken, brown rice, carrots, scrambled eggs a little powdered milk and a couple of calcium tabs ground up with the chicken. I use 76 per cent meat. I also make dehydrated beef sticks from ground lean beef for treats. I just recently lost one of my dogs at 18 and have another at 17 and my Vet cannot believe how good he looks.The only food I would consider other than mine is Paul Newman's or Solid Gold. Every now and then I give my Yorkies some Cod Liver Oil.
By Lynda (Guest Post)
August 27, 2007
2

found this helpful
I have a Multipoo and he is so cute & so smart. But all of you please make sure you do not buy anything from China. Read very carefully. Usually in small letters it will say Made in China. I use Iams for small dogs and also put in carrots and rice. Brown or white is good for all dogs. Also, I went online to look for natural doggie treats made in The USA only. Give them only things made in USA. Also rawhide should only be made in USA. Just be very careful with our little babies. We love them so and they depend on us!

August 31, 2007
0

found this helpful
Lots of home cooked recipes for animals on my blog and they are all free. Start here and work your way through the blog for some great recipes and ideas. flip195.wordpress.com/.../
Do not feed corn to your dog, dogs can not digest corn.
Any dog needs 3% of it's ideal body weight per day in food, I like to spilt it into 2 meals minimum to avoid bloat. Each meal should consist of at least 50% meat, I perfer 75% but thats just me.
By Karen (Guest Post)
May 30, 2008
0

found this helpful
Go to yorkietalk.com and check out the health and diet section.
By punchkin32141 (Guest Post)
November 6, 2008
0

found this helpful
Hi, I have a very sickly yorkie. So I am going to try homemade food, I came up with ground turkey, ground round - mixed added carrot and green beens, my vet suggested I use a little fresh garlic, as it will keep the fleas away and add flavor plus its healthy for them. Am I missing anything, something for flavor? Or does that sound ok, oops and brown rice. Doesn't seem like it would have much flavor. He is 9 months and I have had 7 vet visits.
August 26, 2016
0

found this helpful
I have been told do not give them garlic, so may want to check that out. Hope your baby gets better soon. Pacreatitis is a very serious thing we lost a Yorkie to it so if he or she is ill find a vet quickly.
December 18, 2016
0

found this helpful
NO garlic!! It builds up and is very toxic to your furbabay.

May 12, 2018
0

found this helpful
pureed pumpkin is full of fibre and healthy to add to food

October 6, 2018
0

found this helpful
Boil the meat in water to remove the fat, then drain out the water
By gina (Guest Post)
November 20, 2008
0

found this helpful
My Yorkshire Terrier has Liver disease. I just found out from her vets so I need food she will eat. She won't eat the food the vets giving her so now I am looking for some good Recipes for Yorkshire Terriers plz can someone help me here is my e_mail adds ginawichert AT yahoo.com