June 9, 2008
0

found this helpful
Best Answer
I have not heard of any homemade dog food that is breed specific. We have had amazing results with our diabetic basset since switching her to homemade cooked food. Last week, we were running late and I had some commercial food that someone had given me for one of our rescue bassets. I gave our girls a cup full of the commercial and her blood sugars skyrocketed. We had to give her double the insulin. We returned to the homemade cooked food and her blood sugars are normal again with half the insulin injects needed.
You must be careful with anything containing garlic, onions of any form, avocadoes, raisins, dates, coffee, tea, etc. I found out that even when using tomato paste or tomato sauce, you must check the label. Some brands have pure tomato puree while others add garlic, onions and preservatives.
About 2 months ago, I was making them turkey meatballs and I grabs the canister of bread crumbs from my pantry. Keep in mind that these are the same bread crumbs that my family eats. I happen to start reading the label and it was loaded with preservatives and even corn syrup. Why? Its bread crumbs. I started making my own bread crumbs for everyone. Now I have noticed that I look at ingredient labels more when shopping.
If you need some easy and quick, but very nutritional recipes - just let me know. I would love to share what I have learned over the past 2.5 years.
Picture is of our 2 bassets and son on vacation in a hotel room. They don't get to be on the bed at home...so they were treated like queens on vacation.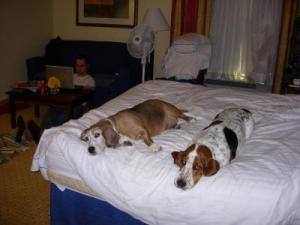 September 1, 2019
0

found this helpful
Would love some of your recipes.Thank You.
June 9, 2008
0

found this helpful
Best Answer
My dog has bad skin allergies so I thought I would switch to my home-made food. I found what seemed like a good healthy recipe, it was potatoes, carrots and ground turkey, I forget the proportions of vegeys to meat, but she contracted a bladder infection soon after starting the new diet, my vet said she was getting the wrong proportion of protein to carb and that caused the infection.
My poor dog has been on cortisone for 3plus years now, I finally took her off, feed her "Eagle Pack" holistic select anchovy,sardine and sweet potato formula dry dog food, also I give her Benedryl twice daily, she hardly ever scratches now and her coat has grown back beautifully, I highly recommend this for those who have bad skin allergies, cuz that cortisone is bad news for the long term.
By junebug_000 (Guest Post)
June 10, 2008
0

found this helpful
Best Answer
Just make sure they get the correct vitamins and nutrients they need and not too much fat. It can be difficult to get a balanced diet from a homemade diet if you don't know much about nutrition. Store bought dog foods are balanced for what a dog needs. Just remember about all the food recalls on human foods too. Just because you make your dog food doesn't make your dog safe :)
January 6, 2009
0

found this helpful
Best Answer
My little Westie, Nik, got a bad reaction from the contaminated dog food scare last year. I have now switched him over to mostly homecooked food like chicken , fresh veggies, some brown rice, sweet potatoes, as well as some vitamin suppliments.
I still give him some organic kibble but have found that he is doing better on what I make. HTH
By (Guest Post)
June 14, 2008
0

found this helpful
I give my yorkie green beans and carrots. Those are two fav foods for my yorkie, jack russell and shih-poo. They love the carrots raw, steamed and I heat green beans let them cool. They love those better than any "dog treats".
By Harriet (Guest Post)
September 27, 2008
0

found this helpful
Is it good for Yorkie to eat garlic in homemade foods? What is the best homemade foods that a Yorkie can eat? Thank you
September 3, 2019
0

found this helpful
Garlic and onions should never be fed to dogs. The best way to get a good diet for your dog would be to talk to the vet. They will know best.