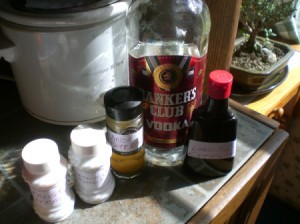 Did you know that you can make your own extracts cheaply? It's so easy and they are so expensive! All you need to do is buy a bottle of plain, unflavored vodka (the cheapest is fine) and use your own leaves, peels or spices, or buy spices at your grocer or health food store!
I used opaque salt and pepper shakers that I had never used and also saved my bottles from previous extract purchases (before I started making my own). If you want to use your own, that's fine. Just make sure they are not see through. Glass is my preference, even though extracts are sold in plastic commonly too.
Just cut up your leaves: spearmint, peppermint, vanilla beans, lemon or orange peel and place in your bottle. That releases their oil and essence! Fill up the rest of the container with the vodka, shake it every few days and wait. I keep mine on my kitchen window since it doesn't get direct sun to remind me to shake them regularly.
The longer you wait, the more intense the extract! It does take a few months (2-3) to extract the strongest flavor so if you'd like to give a wonderful holiday gift to someone, you can get started now to have it ready by December! If you give it as a gift, I would strain the leaves or peels out of the extract before giving them to someone.