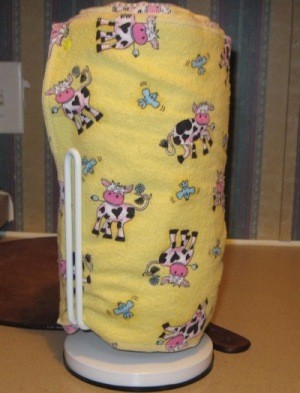 Do you use a lot of paper towels? Here's a way to help cut down and save money in the process. Get some flannel and some terry cloth from the fabric store; about 3 yards of each. Use cardboard or plastic to make a 10 by 11 inch template and cut it out. Cut about 20 each of flannel and terry cloth squares.
Now place them with a flannel and terry cloth together, fronts of the fabric facing. Leave a 3-4 inch space on one side to allow room to turn them right side out and then sew all the way around using 1/2 inch seams. Remember to leave the space for turning. Clip corners, avoiding the thread. Turn the towels right side out and with a stick, chopstick, or screwdriver make the corners as straight as possible. Line up the sides and pin them every 3-4 inches, making sure to turn in the fabric from the open space.
Sew a topstitch seam around the outside of the towels about 1/4" from the outside edges. Repeat this 3/8" in from the outer edges. You should now have several un-paper towels with terry cloth on one side and flannel on the other.
If desired, put snaps on opposite sides at the corners and in the middle so you can attach them together, roll them up and put them on a standing paper towel roll. It's great. They are soft, absorbent, and reusable, which saves money and trees. We also have small ones made from fabric leftovers from the large ones. We use these for wiping sweat from foreheads, napkins for meals, and for the grandkids. They also make great coasters.
By simpleadditions from Wright City, MO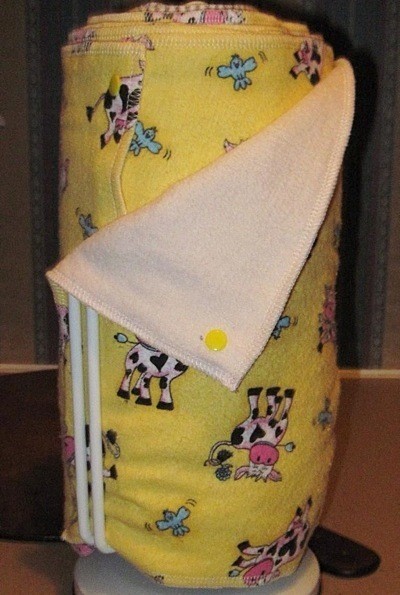 Comments

OliveOyl
Bronze Feedback Medal for All Time! 138 Feedbacks
July 6, 2010
4

found this helpful
I just keep a stack of hand towels at the kitchen sink and that's what we reach for to dry washed fruit & veggies, wipe up a wet counter, dry your hands, etc. Mine aren't as pretty as the cute cows. I have odd colors and some have stains that won't come out but I still use them. I've had some for close to 30 years.

Janet
Silver Feedback Medal for All Time! 399 Feedbacks
July 7, 2010
2

found this helpful
What a great idea. Thanks for sharing.

July 7, 2010
1

found this helpful
This is a great saving $ idea. I've done a similar idea by using old towels and cut them in smaller pieces and stitched the edges.
Thanks!

January 5, 2012
3

found this helpful
For the one who goes ugg, I know, some of these comments are like two years old, but in case. Some of us use cloth towels to be eco friendly not just cost effective. It is way more detrimental to the world to create paper, especially paper that is bleached. It poisons the water supply of those near the factories and uses way more resources and water than washing a few measly towels, not to mention the porduction of all that plastic packaging. Also it is cheaper than buying paper towels since they are reused, making laundry soap is cheap and you dont need much per load.
Washing on hot does the trick to sanitize, and you can also sun bleach them for extra sanitation now and again. I do what I can so my daughter and future generations can live in a cleaner world.
Netflix has an awesome series called eco trip its on instant watch, just watch the one that follows production of paper napkins
Read More

Comments