You can make your own lip gloss for a fraction of what you would normally spend on make up.

Take some Vaseline and mix in the right amount of food coloring.

For reddish tints mix lots of reds. For a purplish, maroonish color mix in red with a hint of blue. Mix in yellow food coloring with a lot of red for a light peachy orange color. Get creative!

Keep this mixture in the fridge for 2-3 minutes to make the colors set.

Buy some small round containers with lids from the dollar store for your creations.

Another way to store the lipgloss is to clean out an old water color paint set. Keep each color in the water color paint container and use a brush to apply to your face.
Voila! Now you have some stylish lipgloss.

By Neha from Dayton OH
Answers:
Make Your Own Lip Gloss
You could also use Kool-aid and the bonus is that its flavored. Or try beet juice for red
and coffee for brown, the possibilities are amazing. (08/22/2006)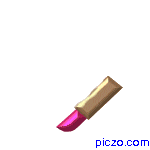 Make Your Own Lip Gloss
Another additive for lip gloss is cinnamon oil, it plumps up the lips. Use only a very small drop per container of gloss. Too much can cause a stingy sensation. (08/23/2006)

By Angie
Make Your Own Lip Gloss
Vaseline or any petroleum product will actually dry your lips and you will have to keep putting more and more on to get it to work. Of course the big companies don't want you to know that. If I were you I'd try something with natural ingredients in, like hemp oil. You may have to shop to get hold of it, but believe me, your lips will thank you for it!

I can recommend yaoh.co.uk. Their balms are incredible, totally natural and you will find you need to use it a lot less than anything made with Vaseline or equivalent. They smell divine too!
No, I'm not vegan, and I don't work for them, I just know a wonderful product when I use it. (02/28/2007)

By chickybiker
Make Your Own Lip Gloss
Add a couple of drops of flavouring, eg. vanilla essence for a great smelling lip gloss! (11/21/2008)
By Becky