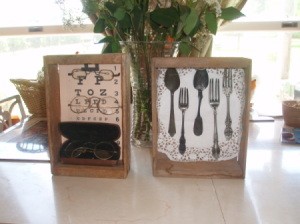 A collection of at least 3 similar items that have special meaning to you, family pieces or just interesting and fun collections for your home!
Approximate Time: 1 hour
Supplies:
at least 3 similar items for a collection
a small wooden box or even a cute cardboard one!
wire
interesting material or paper, an old magazine or newspaper
something to poke a hole into the back of the wooden boxes
Instructions:
I had old pieces of silverware from garage sale hunts and some special items from family members. I simply twisted a wire around them and punched a hole through the back of the box and slipped the wire through to secure them to the box. You could even use a nice, small cardboard or tissue box for this too!
I went on my computer to find a clip art Eye Chart to print out as the background on the eyeglass memory box. Finding a similar theme with your items is a nice touch, I think!
One pair of the glasses were my own dad's, so this collection had special meaning to me. Even brand new, colorful $1 store colorful eyeglasses could be used for a modern decor or a young person's room, just for fun.
Regarding the background: a clip art of colorful close ups of veggies could have been nice for the forks or other utensils.
Anything can be a collection: keys, pins, buttons, shells, you name it! It doesn't need to be priceless artifacts, just something you like or has special meaning to you. Don't leave them in a drawer somewhere. Display them for all to see! It's a great way to personalize your home and give it a personality too.
By Donna from NEPA
December 9, 2005
0

found this helpful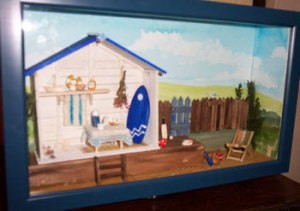 These are 3D memory boxes of miniature hand-crafted scenes. They feature particular themes like the beach huts, garden sheds, and Mediterranean courtyards. I have done personalised boxes with views of people's houses. All the contents are original and handmade.
By Jan from Norwich, UK
June 24, 2005
0

found this helpful
Memory boxes are a wonderful way of preserving small bits and pieces of your most treasured memories. They are easily made using thin wood or particle board and then stained or painted. My boxes are 11 inches x 14 inches with one main T-shaped shelf, 3 "cubbies" in the top right hand corner, plus 3 medium "cubbies" below the top shelf, and 2 small cubbies on each side. They can be stained or painted, covered in glass to prevent dust, or left open.
In the picture the one on the left contains mementos of my parents. It contains photos of them with their grandchildren, 50th anniversary photos and mementos, a poem of tribute to them, and dried roses from their funerals. The other box contains mementos of my children with photos, baby booties, graduation tassels, wedding mementos, and sports pins. I cherish these so because I can look at these and in one glance see reminders of little things that meant so much to me throughout my life.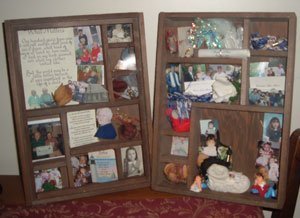 By Sharon, KY
This is a great gift for the new mom or grandma or to start a new tradition. A Mother's Day Box is a wooden box that will store all the Mother's Day cards, pictures, dried flowers, etc., every year from the child (ren).
Read More...