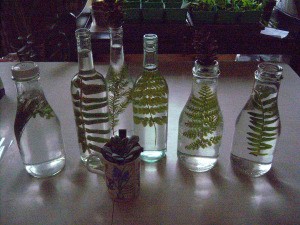 Here is a super pretty and inexpensive centerpiece for Mother's Day, bridal showers, or a natural wedding table.
They are empty wine, glass milk, or yogurt containers (from my recycyling bin!) filled with water, then I picked and dropped in various ferns, pine branches, or eucalyptus branches (unfortunately not pictured here, but I know they'd look great!)
You may, or need not, add a cork on top or you could hot glue a pine cone to the top as pictured on one bottle!
I also dropped a tiny potted succulent plant (that was for sale for $1.99 at CVS right now/spring 2018) into a pretty flea market cup (that I bought for a quarter) for an extra pretty botanical look!
We are using them at my daughter's bridal shower since she is a naturalist and is getting married in a conservatory!
Simple but so pretty, I think! Vote for me if you agree!