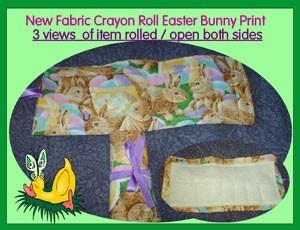 These crayon rolls are so easy to make and you can use any theme fabric that kids like such as Dora, SpiderMan, etc. Here I have made an Easter theme one, great for the Easter baskets.
Supplies
cotton fabric
polyester batting fabric
sewing machine with basic straight stitch
grosgrain ribbon (15 inch long)
Instructions
You choose your length depending on how many crayons you will be placing inside the slots. These directions are for a 8 slot crayon holder.
Cut a piece of fabric that is 20 inches long and 5 inches wide.
Fold the fabric piece in half with right sides together and sew three sides together with a machine top stitch, turn inside out and then turn under the open end about 1/4 inch and sew it up closed.
Then top stitch around the whole piece of fabric rectangle on the outside edge (this adds strength to the piece).
Cut a piece of polyester batting fabric, size 5 1/2 inches wide and 9 inches long. You then want to lay your batting on top of the printed cotton fabric so that it is centered with some of the printed fabric showing around it's outside edges and fold up the bottom of the batting to about 2 inches (this will become your pockets for the slots to hold each crayon).
Sew on the batting by first stitching around the outside square of it, then you will sew down each slot (the part you folded) about 1 1/2 inches apart across the piece in sections until you have your 8 slots to hold the crayon. It's best when sewing your slots to sew from the bottom of the roll up so that you can stop where the slot ends at the middle of the batting center.
After all sections are stitched to create your slots, clip all the loose strings.
Now roll up your crayon roll loosely and the outside fabric end that you see will be where you sew on your ribbon for tying the roll together in a bow.
Take your grosgrain ribbon, fold it in half, take the center and sew it to the center outside edge section of the fabric print that is left after you rolled it.
Crayons are 3 1/2 inches long so when you slide them inside the slots half of the crayon will show the other half will be in the slot. Now roll up your crayon roll and tie it with a bow from your attached ribbon.
Note: Use the same color thread in both your bobbin and the machine top spool so it matches your fabric color choose. Here I used white. These are so great for kids to carry anywhere; restaurants, sleepovers, etc. I sell these on eBay in lots of themes and they love them. They just wash and dry as usual in your everyday wash. Time to make one takes about 30 minutes if you have all your supplies needed ahead of time. Great for parties as favors or gifts. I hope you liked my Easter Project for kids, they love them! Happy Easter :-)
By Julie from Greeneville, TN
Read More

Comments