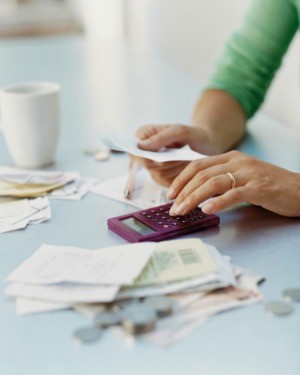 Every day I take the opportunity to look around my home and decide how I can make a difference in the cost it takes to make my household run. It can be as simple as turning off a light when someone else walks out and leaves it on, or it can mean taking that leftover mac and cheese and adding hamburger, onion powder, garlic, and some milk to make my own "Hamburger Helper".
I'm kind of old fashioned as well. I use dish towels instead of paper towels, hang the clothes on the line when it's nice, open a window instead of turning on the air conditioner, and always use cold water in my washer for laundry.
My shopping sprees consist of going to Goodwill, the Reuse/Recycle Center where everyone can get free items that have been taken there, or yard sales. I have yet to buy a new outfit; even from Walmart, LOL! I won't buy cookies or cakes, because I make those at home. Until we had the drought this past summer, I always canned my own garden produce; such as tomatoes, green beans, etc.
One of the funny sides to this essay is that, while there are "new" ideas coming out all the time on how to save money, time, or energy. I have been carrying out these same ideas for years and ask myself, "If I already do all of these things, what else is there to do to save?" I hope this has been helpful and I appreciate you taking the time to read it.
By katiedid from Laurel, IN
Do you have a frugal story to share with the ThriftyFun community? Submit your essay here: http://www.thriftyfun.com/post_myfrugallife.ldml
Read More

Comments