This is a 2 part project. I made a magnet and cookie/candy party favor.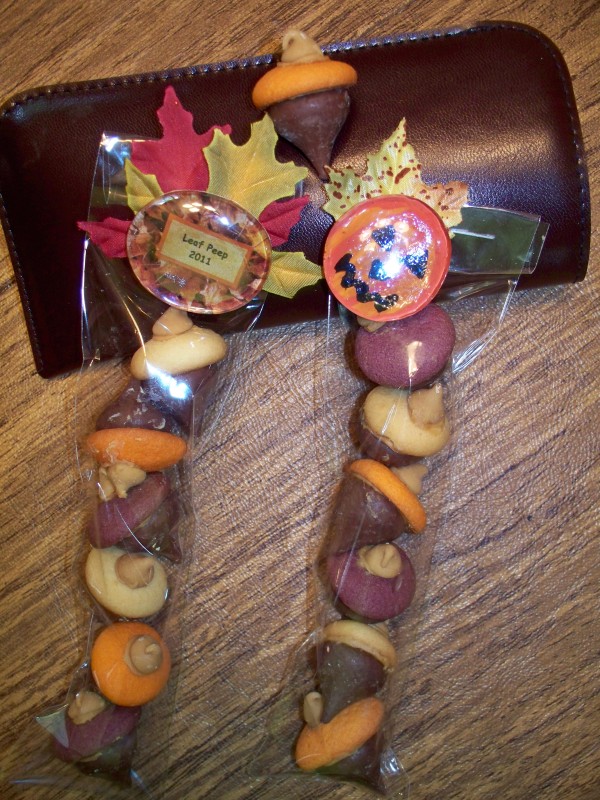 Approximate Time: varied
Supplies:
glass flat-back marble(s)
alcohol
printer or acrylic paint
photo paper - if printing design
white glue
hot glue
small magnets
faux leaves
Hershey's Kisses
mini vanilla wafers
peanut butter morsels
peanut butter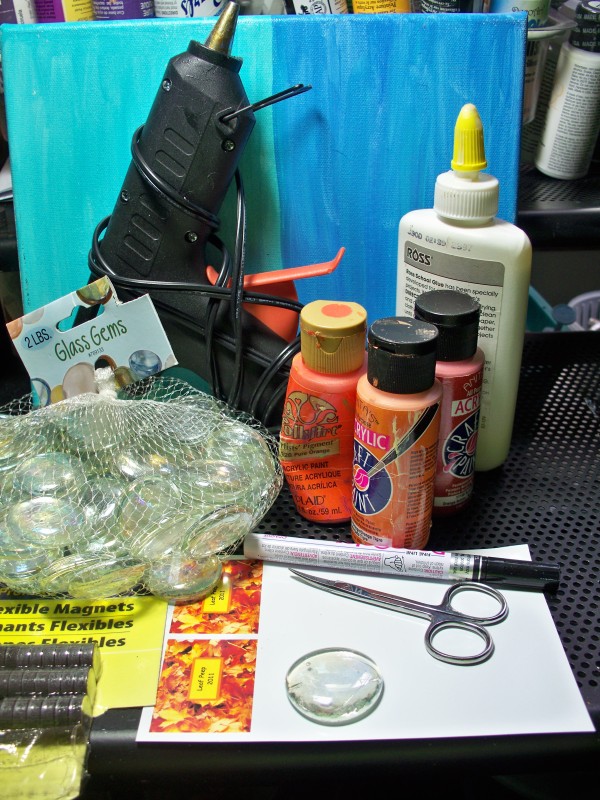 Instructions:
I made 2 kinds of magnets. The first is a painted design: jack-o-lantern and the second a photo design leaf pattern.
Jack-O-Lantern
Clean glass marble with alcohol.
Paint facial features, eyes, nose, and mouth of jack-o-lantern in black.
When dry, paint accent lines in a dark orange.
When that's dry, paint the entire back with 2 coats in a lighter shade of orange.
When dry, use hot glue to affix leaf and magnet.
Photo Design Leaf Pattern
Clean glass marble with alcohol.
Print out picture or use one from a magazine or other source. I used a leaf background and added text for my event. My text was set at 7 points font for the name, Leaf Peep 2011. I used inexpensive photo paper and printed it on the back side so there wasn't too much ink. I printed out individual squares, as many as I needed or as fit on the page.
Wait until the ink is dry.
Apply white glue, and place flat side of marble on top. Let dry overnight. If back of paper is damp, turn over and let that side dry as well.
Cut excess paper off around marble.
Use hot glue to affix faux leaf (optional) and then a small magnet.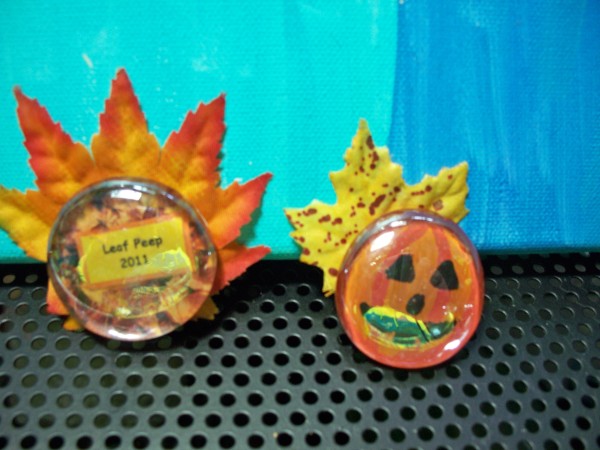 Instructions for Cookie/Candy Favor:
I assembled the "acorns" using mini vanilla wafers. They now come in fall colors...yay!
Unwrap Hershey's Kisses.
Adhere to mini vanilla wafer with a small amount of peanut butter.
Adhere a peanut butter morsel to the top with peanut butter. It should resemble an acorn.
I had cello bags on hand that I used for pretzel rods, and they were the perfect size to drop the cookie/candies in. I used a glue dot to stick the magnet on the package of cookie/candies. You could also just used folded up adhesive tape.
It was a very low cost project and I think it is going to be a really cute favor to hand out at my luncheon.
By Toni Landau N. from Saylorsburg PA
Comments
October 23, 2011
0

found this helpful
As a recipient, I can tell you it made a lovely party favor. The treats were yummy and I've got the cute magnet on my fridge as a reminder of the party!
October 26, 2011
0

found this helpful
I just love this idea. My Relay for Life team will definitely consider doing this as a fall fundraiser!
Cute, cute, cute! Thanks for sharing.
October 26, 2011
0

found this helpful
The best kind of gifts are those you can consume and keep always. This one is perfect. Thanks for the ideas and sharing the great photos. PBP