Onesummer
Bronze Post Medal for All Time! 219 Posts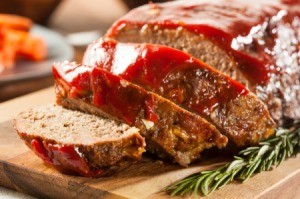 Does anyone have an easy meatloaf recipe that kids love? My kid does not like onions and bell peppers or anything thats crunchy in their meatloaf. Any suggestions?
Onesummer
Answers

November 17, 2006
0

found this helpful
Best Answer
For my meatloaf I use either bread crumbs or oatmeal along with the egg and meat. My kids notice the oatmeal more and tend to complain so I try to use bread crumbs. I do a couple of things that make them "like" meatloaf. One thing that I do it to put it in a large cake pan but only around the edges. The meat makes a border on the outside of the pan leaving a hole in the middle. After the meat is cooked I then drain any grease or juice from the pan and fill it with mashed potatoes or some kind of vegetable. I then cover all of it with cheese and pop it back in the oven until the cheese is melted. The other thing that I do sometimes is to make the meatloaf in a muffin pan or small loaf pans. There is something about that they can have a whole one for themselves that makes them seem special.

November 17, 2006
0

found this helpful
Best Answer
I don't have a meatloaf recipe but I know what you mean by kids not liking 'Onions and Crunchies' in their food!!
The best way around this problem is to use a grater (using the smallest holes) and grate the onion. Kids associate the crunch of an onion to the taste but they cannot detect the taste if it's grated!
If you don't have a grater or don't feel like going through the hassle, use your blender. Word of caution though.. using a grated onion makes your recipe stronger because of the juice, so use less.
By (Guest Post)
November 17, 2006
0

found this helpful
Best Answer
I use Ann Landers' recipe for the same reasons + husband.
2lbs ground round or whatever
2 eggs
1 1/2 c. bread crumbs
3/4 c. ketchup
1/2 c. warm water
1 pkg Lipton onion soup mix (they won't notice the small amount of dried onions)
Mix and place in loaf pan
Cover w/2 bacon strips
Pour 1 8 oz. can tomato sauce over all
Bake 1 hr. @ 350 degrees
Makes enough for 6 picky eaters
Good luck
Jimmie

November 17, 2006
0

found this helpful
Best Answer
I have the perfect, easy, kid-friendly recipe for you! I have a family of 4 and I use about 2 lbs of ground beef, 1 can (divided) cream of muchroom soup, 1 egg, and 1 envelope dry Lipton onion soup mix (which I crush since my kids hate onions too). I only use about 1/2-1/3 of the can of crm of mush. soup. Mix all well in a bowl, shape into loaf, you can take the remainder of the mush.
soup and smear in on the top of the loaf which makes a great gravy, or if you dont want to use that then you can make a sweeter topping (which my kids prefer) Depending on how much you want to use, mix together Ketchup & brown sugar... its awesome!
bake at 350* for about an hour or use a meat thermometer.

Carrie
Bronze Feedback Medal for All Time! 174 Feedbacks
November 17, 2006
0

found this helpful
Best Answer
I noticed that there are some universal truths in these posts.
Use ketchup instead of tomato anything. It's sweeter; kids like that.
I also add one rounded cooking spoon of clear jelly--either currant or apple. Remember what I said about sweet?
I use oatmeal and more than one egg in a large (at least 1.5 lb.) meatloaf. Use real rolled oats, not instant.
I personally use ground sirloin, so that half your meat doesn't drain off in liquid. It may cost more than hamburger, but you get to have your meatloaf and eat it, too.
For onions, I use dried onion flakes or chopped dried onion. It and the oatmeal soak up liquid. Of course, you can simmer the dried onions, and just add the juice, if all you want is flavor.

November 21, 2006
0

found this helpful
Best Answer
I chop my onions and peppers very fine in an inexpensive ($8 - 10.00) food chopper, or sautee them until soft. I use two lbs. 80% lean ground chuck and one lb. good (lean) hot pork sausage (or mild, sage, whatever your family prefers). And instead of bread crumbs or oatmeal, instant potato flakes work great.
Also, try using your favorite barbecue sauce instead of ketchup. Happy cooking, and good luck with those picky young-uns! (I understand; my daughter was like that when she was little and her mom encouraged it... now she's 36, still picky, and bringing her three kids up the same way!)

October 9, 2007
0

found this helpful
Best Answer
I have 5 children & 5 grandchildren. A few of the grandkids are picky eaters. I'll use half to 2/3's the usual amount of onion & bell pepper & puree them in the blender. I only use half to 2/3's because pureeing them makes the flavor stronger. Then add my seasonings & extra cracker crumbs. I have restaraunt-sized muffin tins & I'll pack these w/ meatloaf & bake 'til done.
Other times, I'll pat them into hamburger steaks (smaller for the grandkids) & put them under the broiler, fry them in a skillet, cook over coals, or bake them in the oven--they think grandma makes the BEST hamburgers-heheheheh! Sometimes I'll brush with a mixture of catsup, mustard, & brown sugar.
Read More

Answers