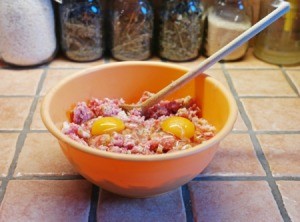 Do you have any special recipe for meatloaf? I don't like ketchup recipes for meatloaf though.
By Krissttina Isobe from Honolulu, HI

Answers

February 11, 2011
0

found this helpful
Best Answer
Hi there,
I also have a recipe using stove top stuffing. It was one I found in a magazine many years ago, and I have not been able to find it again online (I've somehow misplaced my original). Luckily I have it memorized, because it is one of hubby's favourites.
This makes a really tasty, and moist meatloaf.
In any case, you need:
1 to 1 1/2 pounds ground beef
1 can of stewed tomatoes (Italian style), drained
1 pkg of stove stop stuffing
1 pkg of onion soup mix
1/4 to 1/2 cup grated parmesan or italian blend
cheese (optional)
Preheat oven to 350.
Mix everything together in a bowl.
You can just use regular stewed tomatoes if that is all you have. You could always add some Italian seasoning instead. Skip the cheese if you want a lower fat recipe. This works well with ground chicken too, if you don't want to use beef.
You might want to reserve some of the liquid from the tomatoes to add, if you are using more meat (or ground chicken) and you want it a bit moister. In fact, I forgot to drain the tomatoes before, and it tasted fine - just a lot more moist.
I usually cook these in mini loaf pans, because I like the individual loafs and they cook in less than half the time. You can also use a muffin tin or just a regular meatloaf pan.
Muffin or mini loafs take about 25-35 minutes. Full-size should take about 1 hour to 1 hour and 15 minutes.
Hope you enjoy it as much as we do!

February 11, 2011
0

found this helpful
Best Answer
I have a very good basic recipe that my mom (who owned) restaurants would make. She never put ketchup in her recipes. It could be put on later We ate meatloaf sandwiches for lunch a lot. We made both brown gravy and red gravy both were made with tomatoes and onions.Only her brown gravy had Worcestershire sauce in it. It seems the Ketchup recipe had been popular for years now. I do not make it as I do not like a sweet tasting meatloaf.
I remember dear the Abby columns that had a couple of meatloaf recipes many years many years ago, even one with bacon. But we made a regular basic meatloaf and it was always asked for. One is for an Italian style and one is for the meatloaf with brown gravy.
I learned to always preheat oven to 325 degrees so the meatloaf starts to cook as soon as you put it in.
2 lbs of chopped meat
1/4 cup of milk (makes the meatloaf tender)
1 egg
1 onion
2--3 cloves garlic/ 1/4 garlic powde
1/4 black pepper
1/4 tspn oregano
1/2 -1 teaspoon or salt to taste
1 cup Italian style bread crumbs (plain bread crumbs if you want a plainer style meatloaf)
fold rather over mix or the meatloaf becomes tough and not tender to eat.
Use canned tomato sauce to cover meatloaf bake at 325 degrees for 35 minutes tune up heat to 400 for 15 minutes at end to brown for 15 minutes.
Use Worcestershire sauce to help make a brown gravy we like to use the bits on the bottom of the pan to make a delicious brown gravy. I brown the onions and mix in 1 Tbspn cornstarch a in cold water and add 1/2 Worcestershire sauce , salt and pepper to taste. mix on stove top till nice and if you want a dark brown gravy add coffe to darken it a bit.
For the red gravy we just poured the tomato sauce on the meatloaf and added fried onions later on to the top with some added water to make a stock type gravy.

February 11, 2011
0

found this helpful
Have you tried the recipe using stove top stuffing? It took a few tries for friends to persuade me as it sounds rather odd, but I am sure glad I tried it. I have seen it both in the traditional meatloaf shape and also as meatballs in a muffin tin with a blob of sauce and then grated cheese on top but that makes clean up harder.
Here is a link to the original recipe www.kraftcanada.com/.../meatloaf101.aspx

February 12, 2011
0

found this helpful
Our favorite meat loaf recipe is one that was on the oatmeal box years and years ago. It is as follows:
1 lb. hamburger
1 can tomato soup
1 egg
1 t. onion salt
3/4 c. uncooked oatmeal
Mix together and put in loaf pan. Bake at 350 degrees for 1 hour.
Read More

Answers