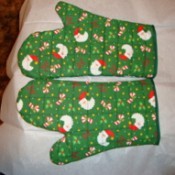 I made this for Christmas gifts for all my family and friends last year and they loved them. If you start now and work on it in your spare time, you can be done with it way before Christmas.
You can get a pattern at your fabric store for less then $2.00. The pattern will tell you how much material and what other items you need to make the oven mitts and hot pads.
I made 16 sets of oven mitts and 16 sets of hot pads in 2 weeks. If I had thought of it sooner, I would have been able to take my time making them. This year, everyone is getting Christmas aprons and place mats.
Approximate Time:
1 and 1/2 hours
Supplies:
outside decorative material
material for inside lining
batting
bias tape
pattern
thread
Instructions:
Cut your material pieces out from your pattern, cut your pieces out for your batting.
Oven Mitt:
Lay down 1 piece of outer decorative material and put batting on top followed by lining.
Pin these pieces together. This will give you one side of a oven mitt.
Put bias tape on top edge of mitt making a loop to hang the mitt with.
When you have the decorative material, batting, and lining stitched together quilt the mitt glove section.
Follow the same steps and this will give you the other side of the oven mitt which will make 1 mitt.
Put both oven mitt sections with decorative sides facing each other and stitch together.
Turn oven mitt right side out and you have 1 finished oven mitt.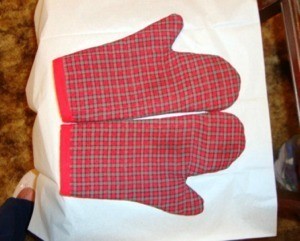 Hot Pads:
Follow the same steps putting the decorative material, followed by the batting then you will need to place another piece of the decorative material facing together with the first piece of decorative material.
Stitch this together leaving a small opening to allow you to turn it right side out.
You can put a decorative bias tape edge around the hot pad and leave enough to make a loop for hanging.
You can also, just leave an opening to turn it right side out and place a piece of bias tape inserted inside slightly to make the loop in the opening and stitch across close to the outside of the hot pad edge to close and secure the loop.
Quilt the material outsides of the hot pads, but do not quilt your bias tape edge.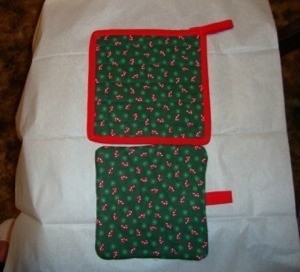 This was a really fun and easy project and once you have made one it is much easier and does not take any time to make more.
By Patricia from Houston, TX