I was recently invited to a stork party and wanted to take a special gift for the soon-to-be-born baby boy, without breaking the bank in the process. I came across a lovely white tee shirt and decided to do some fabric painting to turn the tee shirt into something special. I chose an African design, but any other design will work just as well.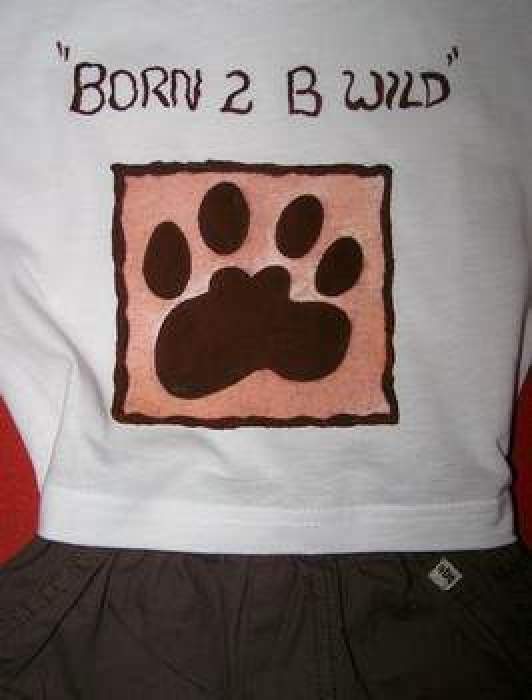 Approximate Time: 1 hour
Supplies:
one white tee shirt for a baby
I bought one for a baby of 3-6 months.
a light blue water erasable pen to draw the design on the tee shirt
fabric paint in two colors: brown and orange
one fine paintbrush
a few sheets of white paper
iron and ironing board
Instructions:
Before starting with the paint project, rinse the tee shirt in cold water to remove any sizing in the material. Do not add fabric softener.
Allow the tee shirt to dry properly and iron it lightly to remove any wrinkles from the material.
Draw a design onto the front of the tee shirt, using the light blue water erasable pen. I chose the footprint of a lion, but any other design may be used.
Add a few clean sheets of white paper between the front and back parts of the tee shirt, so that the paint won't smudge the back of the tee shirt.
Paint the lion's footprint with the brown fabric paint. Use the paint in undiluted form.
Allow the paint to dry thoroughly before continuing with the next step of the project.
Make a watery mix of the brown and orange fabric paint, and use this to color the background.
Again, allow the paint to dry thoroughly before continuing with the next step of the project.
Add a caption phrase that will fit in with the design. In this case, I added the words "Born 2 B Wild." Finish it off by adding a decorative border around the design.
Allow the paint to dry again.
Set iron on tee shirt's recommended maximum heat and iron the tee shirt on the reverse side.
By Benetta from Pretoria, Gauteng
November 13, 2008
0

found this helpful
I enjoy painting with acrylics on shirts. They are only gifts for family and friends, but are well received and used. I think it would be interesting to make a larger linoleum carving and put it on the back of a shirt! You could change colors too. When I paint on shirts, I usually use white shirts, they show off color best, but for me and men, I choose grey, sometimes black! Today, glow-in-the-dark acrylics can be used as well, fun for Halloween!

The T-shirts can be cheaply acquired at Wal-Mart, etc. and end up being cheaper than a canvas, and more people get to see my work! A good tip is that usually on the shirts for women I do the prints on the front, for men the back.
Scott
June 15, 2004
0

found this helpful
I paint elaborate t-shirts for friends using Tulip fabric paints, but the paint starts peeling off after only a few washes. I tell them to use cold water and to air dry, but it stills peels. Is there more durable paint that withstands a lot of washing?

Ash from Canada
Answers
By Tawnda (Guest Post)
June 16, 2004
0

found this helpful
My mother used to paint pillow cases as well and she used to mix vinegar and water together and put it into a spray bottle and sprayed it over the dried paint before it was ever washed. This always helped for some reason. She says it works on fabric pens and fabric markers as well.
July 29, 2004
0

found this helpful
Do you set the paint before washing? Applying heat over the painted area will set the paint into the garment. You can do this by either pressing the garment using a pressing cloth (iron until the paint gets warm) or putting in a hot dryer for about 5 to 10 minutes or until the item gets warm. Doing this will prevent the paint from peeling off, it actually bonds to the fabric. Good Luck
Maryann
November 15, 2004
0

found this helpful
ok, I know its not politically correct, but we did a flannel shirt camouflaged with duracoat. Lauer custom weaponry. (http://www.lauerweaponry.com).
So far, its been washed 4 times in regular washing machine hot/cold. still perfect. We put it on by making mask with blue 3m tape, then airbrushing.
Its REALLy permanent.
I don't know how many colors there are, but I used 4 to make a vietnam tigerstripe.
Hope it helps.
Mike
By Emma (Guest Post)
December 13, 2004
0

found this helpful
Hi, Do you wash your t-shrt before painting on it. Do you use textile medium? This is mixed with your paint and I have never had any paint come off. I have been painting for 10 years.
By guest (Guest Post)
May 26, 2005
0

found this helpful
Don't use tulip paints. I had the same problem with tulip paints, so I switched and have had no further problems. Just about anyone elses paint stays better!
My favorite is JonesTones paint - I espeically like the glitter paint. I have a shirt now for two years - I machine wash on cold and even occasionally throw in the dryer and the paint still looks great!
If you can' find JonesTones, get a small bottle of several different brands (different color for each brand). Get an inexepensive shirt (maybe a child's shirt) to use as your test and paint designs using each brand. After it dries, wash it and dry it several time - do your worst. Then go with the brand of paint that holds up the best! Good luck!
PS - you only need fabric medium if you are not using paint made espeically for fabric - ie acryllic paint.
By Heather (Guest Post)
July 15, 2006
0

found this helpful
acrilyc paints work nice, and you DO NOT need a fabric medium. But you might try one as the paint dries stiff, so it might dilute it. Also try jacquard paints.
By fish bucket (Guest Post)
September 22, 2006
0

found this helpful
how do you iron the t-shirt, i heard that you need some other type of material on top...
By me (Guest Post)
October 5, 2006
0

found this helpful
Tulip paint isn't that bad. If you use tulip paint and it starts to peel then it means you are using too much.I did one shirt and i noticed i used too much and it started peeling but the next time i used it and didn't use so much it worked out perfect. I still do shirts using tulip paint and i haven't had any more problems.
By Ry (Guest Post)
October 17, 2006
0

found this helpful
Ok im thinking of getting into this painting t shirts thing. I ve got the plain t shirts but now the BIG QUESTION WHAT PAINTS TO USE???? After that i can either make a stenci but then what? HOW DO I PAINT WITH A STENCIL?
May 2, 2007
0

found this helpful
If you want to use stencils there is a fabric spray paint called simply spray that dries soft and does not fade out or peal. i got mine at www.fabricspraypaint.com
you can't airbrush with it but you can stencil or spray into a cup and brush it on. you got to work fast becasue it air dries.
By PainterAtHeart (Guest Post)
July 4, 2007
0

found this helpful
I also use Simply Spray paint, but I got mine at Michaels. I liked using the Tulip paint because it was better than dye, but then when I found out there was an aerosol paint rather than a pump paint...I switched to Simply SPray. The pump kind (tulip as you call it) is a bit stiff and it doesn't come out good. Teh bottle has a lot of paint in it, but it dries up inside, so I ended up wasting a lot of it. The Simply Spray stuff is a better value (to me) because it covers evenly and therefore I use less. Plus my finger doesn't hurt! I tried the Stencil Spray, too. I like it because it looks like screen print after. It was more "professional" looking...not homemade liek the other paints....
I saw a lot of instructional videos at www.simplyspray.com
I haven't seen anything for help on how to use the pump spray...
By Ritisha (Guest Post)
September 7, 2007
0

found this helpful
I have painted many t-shirts with fabric paints. It never comes off. Just let it dry for 2 days after painting and then iron on the reverse side of paint. Also, its better to keep newspaper underneath the cloth surface you are painting.. Happy Painting!
By NIC (Guest Post)
September 19, 2007
0

found this helpful
I am going to Africa to work in a school and am taking a large quantity of blank t shirts. The idea was for the kids to dip their hands in paint and put their own hand prints on their shirts. I am having difficulty finding what type of paint I can use that I can either by in bulk or make. Do you have any suggestions?
By Carolyn (Guest Post)
September 13, 2008
0

found this helpful
I like DecoArt SoSoft fabric paint. It doesn't require heat setting. You just have to wait 48 hours before washing it. I've used it on kids' shirts and it stays on wash after wash.
Read More Answers
February 22, 2001
0

found this helpful
I am doing a computer iron-on transfer and want to paint the transfer when it is on the sweatshirt. In other words, I need instructions on fabric painting sweatshirts. Thanks.

By Lori
Answers
March 3, 2001
0

found this helpful
Here is a link that will help give you instructions and let you know which supplies you need for painting on T-shirts.
November 25, 2008
0

found this helpful
Lori,
I've been painting on clothing for years and have tried just about every brand of paint on the market to see what works best and lasts the longest.
I hate 'fabric' paints because they make the fabric stiff and peel off in just a few washings. For clothing items that will be washed frequently use just regular ol' acrylic paints and do NOT add a fabric medium to the paints before applying because that too will make the clothing stiff. Use the regular acrylic paints right out of the bottle. The key to the clothing staying soft and the paint adhering more premanently (nothing lasts forever though) is ironing the clothing item from the back side (after it has air-dried a day or so) with a 'not too hot' iron setting. The heat will make the paint settle down into the fibers of the garment, thus preventing them from washing off so easily. Be sure to put a brown paper bag betwen the front of the garment and the ironing board.
A little bit of the surface paint will come off with the first washing but this is what makes the garment remain soft. Good luck and happy painting!
Becki
Answer

this Question

...